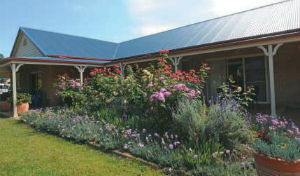 The tale of this large acreage property is the story of a gardener's garden

By Diane Norris
Nestled in a quiet cul-de-sac near the beautiful mid-north coast township of Wauchope, New South Wales, is the glorious garden of the world-renowned photographer, writer and naturalist, Densey Clyne.
The 10-acre property Densey moved to early in 2001 was part of a dairy farm subdivision. Only five minutes' drive away from the town centre, it was not what Densey had in mind when she moved from Sydney. Her dream was of 100 acres on a remote mountaintop with a view to the sea; a modern, easy-care house and a large, established garden. After months of fruitless exploration up and down the mid-north coast and hinterland, Densey began to realise that when you are at retirement age it's simply common sense to live a little closer to civilisation! Her agent suggested a property at Wauchope — the dream changed and it was love at first sight.
The house, purpose-built for sale, was only two years old and although some useful planting had been done the garden was still mostly paddock. However, some healthy young trees, a pergola with newly planted wisteria and a street-side border full of white daisies and other small shrubs gave much promise for the future. Densey moved from Sydney and the planning started.
There was little cover for wildlife on the property, so an essential first job was to plant a natural area for birds and other wildlife, and soon a woodland of young trees was established. Separate from the garden proper and needing little attention, this area now has a mix of mature eucalypts, wattles and sheoaks, left undisturbed for the wild creatures that share the garden.
Next came the job of converting an unwanted full-sized swimming pool into an ornamental pond. The pool was in a separate building that obstructed a beautiful rural view from the back verandah. Sadly, the quite attractive building had to go, but inspirationally the two ends were retained and transformed into shady pavilions where garden visitors now relax and enjoy the water view. Word got around quickly among the local frogs and soon the pond had its welcome population. Aquatic plants were introduced and over the years the pond became organically sustainable. Now with water lilies of several colours, irises, Pickerel rush and the charming floating fern Marsilea, it's a focal point in the garden and has inspired several visitors to do their own conversion.
From Sydney, Densey brought many favourite plants, including a truckload of bromeliads for which a large shade-house had to be built. This has become home to other shade-loving plants, some quite rare. They include a collection of carnivorous plants — pitcher plants (Nepenthes sp.) from southeast Asia and colourful Trumpet Pitcher plants (Sarracenias) — as well as some interesting aroids that include the amazing red-flowered (and somewhat smelly) Dragon Plant (Dracunculus vulgaris). The shade house is also a nursery for young plants — Densey enjoys propagating her favourites from seeds and cuttings for use as the garden expands and as gifts for friends.
In green oceans of lawn, collections of flowering shrubs and trees form large island beds and contain favourites from earlier gardens including crepe myrtles, bougainvillea, calliandra, plumbago, marmalade bush (streptosolen), hibiscus, magnolia and others. A tropical poinciana tree (Delonix regia) has survived the frosts of three winters while conversely some cool-climate shrubs have survived in sheltered places. Densey says, "It's all trial and error, but the mid-north coast climate has been very kind to me."
Many years ago, Densey took cuttings from an unusual shrub she found in the garden of a Sydney nursing home. Whenever she moved, Densey propagated and re-established this tall, spreading shrub Tibouchina longiflora with its large clusters of small, tri-coloured flowers and handsome leaves. Apart from an annual heavy pruning, this shrub is a trouble-free treasure. Another unusual plant transferred from Sydney is an uncommon and very beautiful canna lily called 'Cleopatra' with flowers on the same plant either plain red or mixed red and yellow-spotted and with strikingly variegated leaves.
Specimen trees planted throughout the garden include the blue-green weeping Bhutan cypress (Cupressus cashmeriana), Kashmir cypress, flowering eucalypts, Manchurian pear, Christmas bush (Ceratopetalum gummiferum), Alder (Alnus), Honey locust tree (Gleditsia tricanthus), frangipani, robinia, jacaranda, Tibouchina mutabilis 'Noelene', ginkgo (an unusual standard) and many others. Inspired by an American design, Densey recently had a charming circular bench constructed around the now mature Alder tree — a delightful place to sit in the shade and watch the seasons bring their changes.
The pergola is now a recurring springtime delight with masses of wisteria and native aptly named Bower of Beauty (Pandorea jasminoides) and the thornless climbing rose 'Ballerina'. There are three rose beds, two with David Austin roses and one with mixed floribundas, including some standards. Among climbing roses the most unusual is the almost-blue Veilchenblau climbing rose trained here as a shrub and always an attention-getter. Around the fence lines, a miscellany of climbers, perennials, shrubs and groundcovers were chosen mainly for their toughness, relying on natural rainfall and now needing little attention apart from weeding.
Densey's pride and joy is the cottage garden close to the back verandah. Here, in what she calls "controlled chaos", traditional perennials and annuals spill over onto the brick paths. Achillea, Pentas, foxgloves, petunias, phlox, Chinese forget-me-nots, Oenothera, heliotropes, wallflowers, Gazania and others compete for space but the end result is a kaleidoscope of colour through spring and early summer. In the back garden also is The Salvia Walk, a grassy path leading past beds bursting with colour as long-flowering Salvia shrubs compete for space with lantana cultivars, perennial Pentas, Agapanthus 'Black Pantha', Alstroemeria and in spring a froth of Queen Anne's Lace.
With such a large garden, maintenance is never-ending. A bore for the garden was a bonus but rains have been good over the past few years, which is great for garden plants but an ongoing task is to provide groundcovers to eliminate weeding. In the island beds these include Alternanthera, Centradenia, sweet potato vine, sedum and other succulents, and trailing natives including Scaevola and daisies of several kinds. Where appropriate, coarse leaf mulch is used, and in the cottage garden an annual cover of the finer eucalyptus mulch.
Native Australian plants have long been favourites of Densey's and they have a major place in the garden. However, as she points out: "This is a cosmopolitan garden, with specimens from most continents and many countries all happily rubbing shoulders." And there will be more exotics and natives to come because, as Densey says, this garden is a work in progress; there will be several more island beds, more flowering trees and an extension of the native garden. In the meantime, this 10-year-old garden is a source of inspiration and joy not only to its owner but to all who visit.