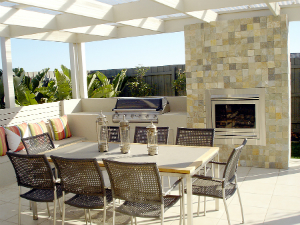 The modern outdoor entertaining area is equipped with everything from lounges to fireplaces and kitchens — making the space suitable for year-round use
An impressive outdoor fireplace, a barbecue that does everything except brew the beer, glass doors that glide completely out of sight, and shutters or blinds that go up or down for shelter. Welcome to the new-look outdoor entertaining space.
Add to that some discreet and atmospheric lighting, maybe a pool or spa, a designer dining table for the adults and some all-weather bean bags for the kids and you've got the ideal outdoor entertaining area — perfect for every season.
Kiwis have been heading outdoors for their entertaining in droves, and they don't let the weather put them off. That's what the fireplace is for, or if that's too pricey or you don't have the space, there's always a gas-fed outdoor patio heater, be it full-height or table-top.
The desire to use our outdoor areas year-round has also seen an increase in roll-down PVC blinds, outdoor louvres and shutters, as well as remote-controlled overhead louvres and similar roofing structures. You can open wide, have the area semi-enclosed or batten down the hatches, depending on the weather or the wind direction.
As landscape designer Jennifer O'Neill-Joyce of Gardens 2 Go observes, the outdoor living space has become a replica of the indoor areas. "There will often be some type of overhead structure for shelter. There will be a fireplace, around which are gathered sofas that look just like those you might have indoors."
There are many varieties of woven synthetic furniture now available in a huge range of sofas, chairs, ottomans and side tables. It looks like wicker but withstands the weather without fading, splitting or going mouldy. This furniture sports comfy cushions covered in all-weather fabric that can be left outside.
Of course, there are many other types of outdoor furniture depending on the style you choose for your outdoor living area. Marry classical wrought-iron with a French or Mediterranean theme, chunky teak or a day bed scattered with cushions for the subtropical or Balinese look, synthetic wicker for that resort feel, or glass and steel for a sleek and contemporary space.
Cooking outside is still hugely popular but you won't find just any old charcoal barbie. Sam Lockie of Landscape Transformations receives many and varied requests from clients, including fireplaces and pizza ovens on wheels that can be taken away when the property is sold. "Pizza ovens used to be a bit of a toy thing, but now they are quite serious. In fact, it's now a whole kitchen with people asking for benches, sinks, built-in cooktops and a small fridge."
Getting from inside the house to the outside has also become easier, with the popularity of large stacker sliding doors that glide completely out of sight. Seamless flow also relies on the flooring being on the same level, and maybe the same floor tiles used inside and out so when the doors are open, the area looks like one big space.
"People want their outdoor living spaces to look more refined and are tending to choose more sophisticated paving options, like large tiles rather than plain concrete," says Sam.
When it comes to plants, Jennifer finds clients still prefer a calmer palette of green foliage plants, rather than those with a lot of flower colours. Scented plants are always popular in outdoor spaces, particularly subtropical varieties like gardenia and frangipani, with their rich night-time perfume.
And like our indoor areas, accessories are a must. Beachy accessories have been a hit recently, along with Balinese- or Moroccan-style cushions, lamps and crockery.
With so many options when it comes to your outdoor area, the possibilities are endless. Whatever your style, theme or lifestyle requirements, creating the right outdoor entertaining area to suit your needs has never been easier. And with summer at our doorstep, why not entertain outdoors and bask in the glorious New Zealand sun.