With the home renovation complete, it was time for the impractical and dated garden to make way for a modern resort-style outdoor retreat — and in the hands of Steve Taylor and the team from Creative Outdoor Solutions, this is just what the family has received.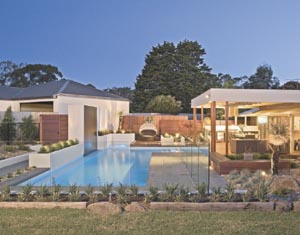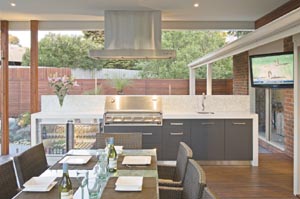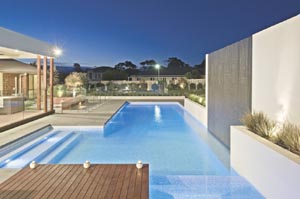 Central to the space is the large family pool and spa (built by Aloha Pools). From the in-floor cleaning system and remote-operated control system to the interior finish of 'Iceberg' Bisazza glass mosaic tiles and the large feature granite water wall (added by Creative Outdoor Solutions), it is the epitome of modern design.
The pool is surrounded by 80mm-thick Nero Notte granite paving (from Granite Works), raised rendered planter boxes, floating sun decks and frameless glass fencing (from Clearly Frameless). A feature fence of slatted merbau sits to the rear.
The alfresco entertaining area has it all, including a full outdoor kitchen (built by The Kitchen Place) with commercial bar fridges, BeefEater barbecue, Qasair rangehood, matching glass mosaic splashbacks, and 80mm-thick CaesarStone benchtops. Electric bar heaters, café blinds and a plasma screen extend the use of the space into the cooler months.
The contemporary plant palette relies on the textural interplay of a variety of native plants, including the grass tree (Xanthorrhoea), kangaroo paws (Anigozanthos), Banksia spinulosa 'Birthday Candles', dwarf Protea 'White King', Acacia cognata 'Green Mist', blue fescue (Festuca glauca), Libertia ixioides 'Taupo Blaze', several Astelia varieties, Lomandra confertifolia 'Little Con' and a hedge of weeping lilly pilly (Waterhousia floribunda). Into this mix, Steve has interwoven a few exotics, such as the feature dragon's blood tree (Dracaena draco), which frames the sun deck.
A 90,000-litre underground tank harvests all storm water. The collected water irrigates the garden, tops up the pool and supplies the home's total water requirements, except for drinking water.
At night, extensive ambient landscape lighting brings the space to life, creating the ultimate entertaining environment.