Attention to detail and luxurious living was the focus of this country home renovation
Hedger Constructions has revamped a classic country home in Marysville that not only sets a high standard for luxury homes, but also reflects the town's unique geographical setting.
The clients were intent on maximising the tranquil environment of the local area and wanted to construct a home that had the dual purpose of acting as a retreat from their hectic work lives, while also facilitating a short-term holiday rental, the "Amazing Bush Accommodation", for guests. Hedger Constructions implemented these components by integrating a sloping block and an external cladding of spotted gum and stone. The finishing touch was a rooftop garden that perfectly complemented the natural surroundings of the home in a seamless fashion.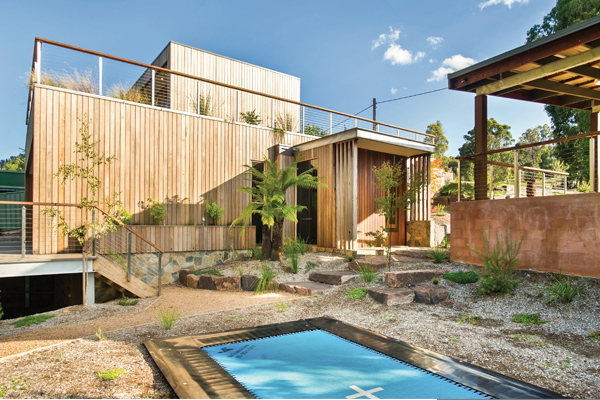 Attention to detail was very important to the clients and as the building progressed, so did their innovative ideas. A recreational area that included a fireman's pole, climbing wall, an in-ground trampoline and a multi-purpose room for yoga classes or other similar activities was added to enhance the overall family-friendly atmosphere, ensuring all occupants stayed entertained and energetic.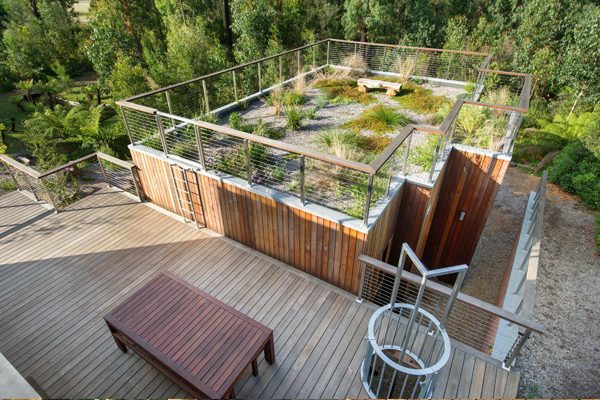 Internally the home was modular in design, utilising its spacious environment with a stunning modern kitchen, fully appointed bathrooms, and a double-storey formation that allowed for maximum privacy when required. An underground
storage area meant items could be obscured from view, preventing any clutter or mess.
Sustainability and energy efficiency were integral to the client's brief. To achieve this, recycled ironbark was subtly incorporated into the construction of the home. Its distinctive qualities helped it attain an 8.4 energy rating, particularly through its reinforced double-block concrete walls, ceiling insulation and the thermal abilities the rooftop garden provided. Doubled-glazing was also incorporated on all windows for added temperature control.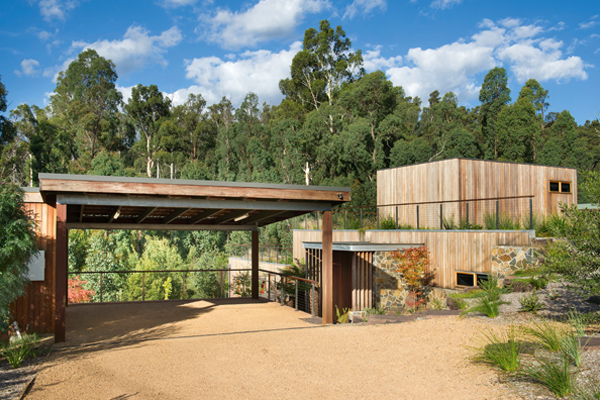 With a specialty in hills and sloping blocks, Hedger Constructions, in conjunction with designer Darren Cooney from Earthculture, finished the project with sweeping landscaped gardens that were significant in both their complexity regarding the slope of the block, and their linkage to the building.
This home exemplifies the importance of adhering to the client's vision and expectations, going above and beyond with unique features that would cater to everybody. It is the perfect getaway from the daily stresses that life throws at you, promising a relaxing environment that will help you stay cool, calm and collected.
For more information
Hedger Constructions Pty Ltd 41 Grant Street, Alexandra Vic 3714
Phone 03 5772 2750
Email info@hedgerconstructions.com.au
Website hedgerconstructions.com.au
Originally from BuildHome Victoria magazine, Volume 47