The use of a natural stone instead of man-made or reconstituted pavers opens up a world of options.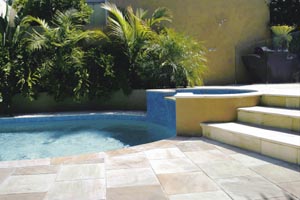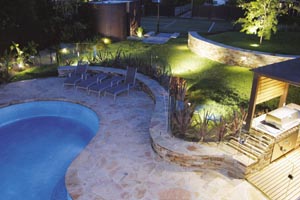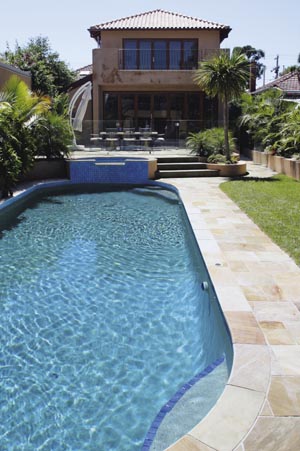 Selecting the right paving product to complement your pool is a complex task. You will need to consider what aesthetic impact the chosen colour and texture of the paver will have on your project as a whole.
You will also need to think about the safety issues such as slip resistance, the ability of the product to resist salt attack if salt chlorination is being considered, the availability of the product in suitably sized modules and in bullnosed or squareedged coping of suitable length and width. And we haven't even thought about the price yet.
Aesthetically, the variety of stone available provides a wide choice of colour and texture. The colour variations from piece to piece give the paving both character and individuality.
The size and shape of the selected tile will also have a dramatic impact on the end result. Using large square or rectangular modules will create an open feel to a large area and a degree of formality. Using random or crazy paving will present a more relaxed and earthy feel. A combination of different-sized squares and rectangles adds a softer, less formal look than a single-sized square or rectangle.
The paving selected to surround the pool in this contemporary Melbourne home is Yarrabee Desert Sand sandstone. This natural stone is available in many sizes and in bullnosed or square-edge coping lengths up to 1500mm long.
The natural split surface of this sandstone is ideal as the slip resistance is outstanding. It has also been tested to ensure the pool chemicals/salts won't harm it.
The modern, clean lines of the home extend through the paving and the square modules, laid in square pattern, accentuate the long, narrow form of the pool.
Curved sections of coping have been cut and bullnosed in situ to maintain the high-quality finish evident throughout the property.
Random Castlemaine Slate paving has been used to enhance the flowing curves of the pool and the garden design of this stunning Melbourne residence. To maintain continuity, the garden walls have been constructed using Castlemaine 'spalls' walling stone and capped with Castlemaine Random Paving.
The pool coping comprises Castlemaine Random Paving selected to a reasonably uniform thickness and rounded along the edge for comfort. This timeless stone sits as comfortably in this ultra-contemporary setting as it does in a rustic old-world garden or a commercial landscape. Again, Castlemaine Slate Paving meets all the non-slip and salt resistance requirements.
Yarrabee has more than 25 years experience in sourcing, importing and marketing natural stone products for flooring, paving and walling. Now with the acquisition of Castlemaine Slate & Stone Quarry, Yarrabee offers a wide range of products to suit most applications and carries a great range of pool and coping products.
Yarrabee's range includes sandstone, travertine, limestone, slate and Wistow bluestone from both Australia and overseas. Many products are stocked in a range of shapes and sizes, from 300mm x 300mm tiles to the larger format of 800mm x 800mm. Yarrabee also supplies bullnosed lengths up to 1500mm long, as well as crazy paving and various types of walling material.