Hoobler Stone has been adding character and charm to homes and commercial buildings throughout Australia for more than 30 years and has transformed shopping plazas, ski chalets, hotels, churches and McDonald's restaurants.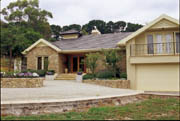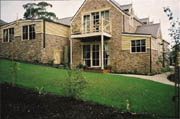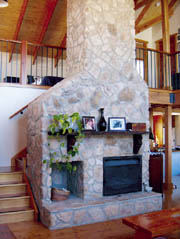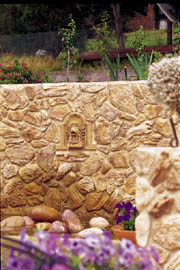 For your home the transformation can be quite simple and stylish, but stunning in its effect, as with the home pictured. Hoobler Stone was used for the exterior walls, retaining walls in the garden and a courtyard fountain feature.
Hoobler Stone can also be used to create a stone fireplace, convert a plain wall into a magnificent feature wall, or turn a weatherboard house into a delightful stone cottage.
Hoobler Stone is formed around hundreds of different random-shaped stones to achieve the appearance of real stone. Each piece is solid but flat-backed for easy fixing and is cast and fixed individually to give the appearance of solid stone construction. Because of its three-dimensional qualities and textured surface and the variation in colour and tone, each stone is unique. In fact, these days Hoobler Stone may be the only way to build with bluestone. And because Hoobler Stone is not stone but a cast-concrete veneer using special lightweight concrete, it is laid like tiles into a mortar bed.
For exterior walls, Hoobler Stone has proven its ability to withstand the extremes of the Australian climate. For paving around your home, special stones are cast with a flatter surface and these are ideal for swimming pool surrounds, garden paths, driveways and fireplaces. The design possibilities are endless and the veneer can be fixed to almost any type of wall surface, including timber, brick, concrete and fibre. It is useful for renovations and can be easily attached by do-it-yourselfers.
However, Hoobler Stone can recommend tradespeople who will submit an obligation-free quote to buy the stone. Hoobler Stone is proudly Australian-made and owned and distributes Australia-wide.