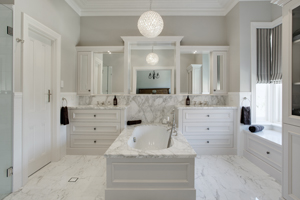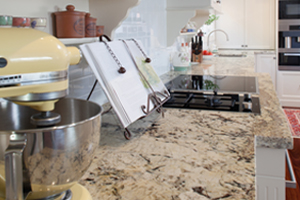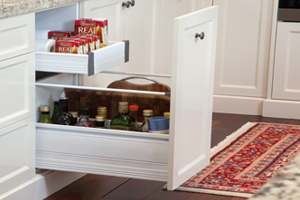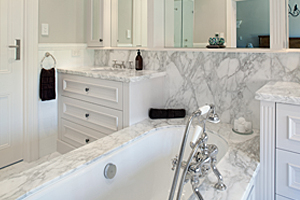 A home in Mount Lawley is magically transformed by The Kitchen Factory.
This magnificent home was purchased by our clients in a semi complete state. Instead of working with the ill-suited sections of this home, the clients wanted to recreate a paradise. They demolished what was not to their liking and started again.
The brief was to design cabinetry for the whole house that would sit comfortably with the style of the home but not be too fussy. Colours were chosen for the cabinetry to compliment the clients' sophisticated selection of stone. This beautiful stone work can be seen in the kitchen benchtops and throughout the main bathroom. With a clean and crisp white, this home was no longer ordinary; instead it exudes class and style.
This is a well used home and in particular the kitchen is enjoyed by the whole family, therefore two large sinks were installed and two ovens. Built-in slide-out shelves and pot drawers were used for easy access to all storage areas, while retaining a clever minimal look.
This home offers everything the clients wanted in functionality, while being a bastion of style and class.