Enjoying a resort experience at home is something we all dream of.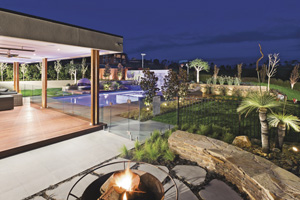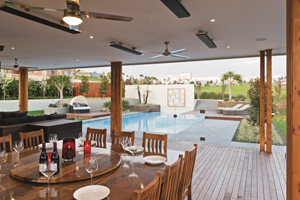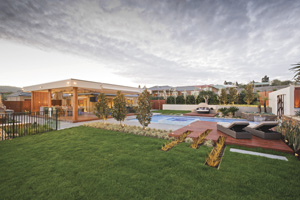 Thanks to the design ingenuity of Steve Taylor of Creative Outdoor Solutions, this family in Yarra Glen, a suburb nestled in Victoria's Yarra Valley, need dream no longer.
"The brief from the owners was to create the ultimate outdoor resort-style space," says Steve. "They wanted it to be an entertainer's delight on every level and a space that adults and children could enjoy."
While the owners were happy to leave the design to Steve, they were clear about the inclusions they wanted. On their must-have list was an outdoor kitchen and pizza oven, a family-sized swimming pool and spa, a hard court, an outdoor fire pit and a large, level lawn.
"They also wanted to experience all the luxuries you would expect inside a home, so a home theatre, surround sound and heating to the outdoor room were essential," adds Steve.
Describing the design as "Australian resort-style with strong, clean geometric lines", Steve says the large pool and spa function as the "spine of the property". But while the pool and its surrounding decks act as a magnet in the summer months, it is the outdoor room that flows from the rear of the home that is the year-round social hub.
The focal point of this covered outdoor entertaining area is a custom-built kitchen comprising an under-bench bar fridge, sink and plenty of storage. Taking pride of place adjacent to the outdoor kitchen is a custom-made table, fashioned from recycled timber and weighing an impressive 400kg.
For those crisp evenings and chilly winter days, the outdoor room boasts ceiling mounted café-style heaters from Heatstrip. For those hot, sultry days there are ceiling fans and, for pure indulgence, there is a plasma TV.
A wood fired pizza oven sits to one side of the alfresco entertaining area; to the other side there is an open-air fire pit with a stacked stone bench where guests can gather, campfire-style.
For comfort and convenience, there is an outdoor shower and bathroom. These are hidden from view in a portion of the garden boasting ornamental pears and fragrant gardenias. Also concealed from view behind a curved partition constructed of merbau slats, is a basketball court and a built-in trampoline along with water tanks and a garden shed.
Steve focused on a low water usage planting palette including two feature aloe trees, each underplanted with agave and echeveria. Throughout the garden you will also find grass trees, cycads, magnolias, bird of paradise, jacarandas, honey locust, Lomandra, variegated liriope and selected succulents.
Credit for the construction of the garden goes to Exquisite Gardens; for the alfresco area, Kyne Constructions; and for the pool and spa, Aloha Pool.