Florida comes to Sunraysia in this exquisite family home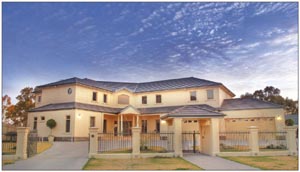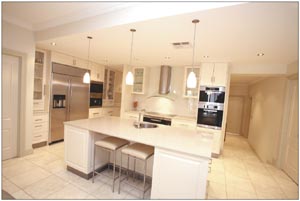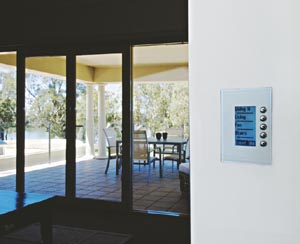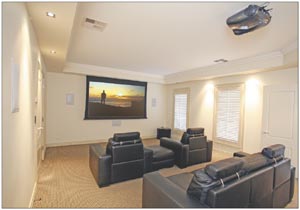 With his wife Barbara's design in hand and integration partners Smart Systems on board, James Harwood set out to create what has become an infinitely practical and family-friendly abode, and which recently received a Finalist award at the HIA State Awards ceremony. A place where kids and adults alike can invite friends over to enjoy its myriad entertainment facilities — all while soaking up the glorious Murray River views.
"We wanted to design a home with space for entertaining inside and outside," James explains. "We wanted our family to share and enjoy the home, and friends to be relaxed when visiting."
Barbara and James particularly wanted a state-of-the-art fully integrated home, with "music everywhere, even in the boatshed". Having been referred to Smart Systems through previous Luxury Home Design articles and from no less than five different suppliers, it was a match just waiting to happen. Barbara specifically wanted a large touch-screen to control all facets of the house, including house-wide audio, blinds, lighting, security, gates, home theatre, cameras pool, entry and televisions.
Rising to three levels, the fun starts in the basement, with a fully equipped gymnasium and timber stairs leading up to a fabulous heated indoor pool. Here, the stunning western red cedar ceiling is the perfect complement to the lighter, natural tones of the cobblestone-patterned wall/floor tiles, while a superb, custom-made glass canopy makes the most of the natural light.
Adjoining the billiard room through double-glass French doors is the truly amazing entertainment room. With its freestanding ILVE cooker and stainless-steel canopy, dishwasher, fridge, crockery/cutlery stores and even a fully stocked drink fridge, party planning becomes an absolute breeze. The area also features a stylish timber dining table, with seating for 12, that looks out onto the pool via a floor-to-ceiling glass wall.
The family room, which the Harwoods describe as being "the centre of the home", is yet another favourite, featuring a gas open fire with beautiful sandstone and marble surround, as well as French doors that open out onto a sensational outdoor living area. Next, there's the rumpus room, every kid's dream, with storage cupboards chock-full of games and toys, and even its own toilet and powder room. Here, double French doors open onto a spacious verandah.
The fully equipped kitchen comes complete with sleek CaesarStone benchtops and Miele appliances, including two ovens, steamer oven, microwave, coffee machine, ceramic cooktop and glass canopy. There's a Jennair built-in fridge freezer with water and ice maker, and close at hand, a butler's pantry with additional fridge/freezer, sink and dishwasher. A large island bench separates the kitchen and meals area, which includes a dining table with seating for eight people.
Last but not least, this level also boasts a large laundry with custom-made work table, separate shower and powder rooms for use from the entertainment and pool areas, and a home office with its own separate entrance from the front portico.
Climbing the Tasmanian oak stairs from Slattery and Acquroff, we find the parents' retreat with glass French doors opening to an expansive balcony area that showcases the sparkling Murray River views. There's also a library with bookcase and desk, providing a private and quiet study area.
The first floor also boasts three bedrooms with their own walk-in robes, as well as a guest bedroom with ensuite and a master bedroom orientated towards the river. Here, French doors open to a Juliet balcony overlooking the pool below and, of course, the master bedroom comes with its own ensuite and walk-in robe.
Tying all this together and making it a delight to use is the full electronic integration designed and implemented from the ground up by Smart Systems. Features include 16 audio zones and five audio-video zones as well as 16 AV sources, with the ability to route any source to any or all zones (PayTV and digital STBs, DVD players, MP3 sources and tuners). Intelligent lighting was installed throughout, with integrated security a must for safety. The family can individually control the temperature in each room and all blinds, fans and pool. Smart Systems worked with local supplier Teletune to implement that pinnacle of every smart home, the luxurious home theatre.
Smart Systems' Michael Staindl says the world's leading touchscreen control system, Crestron, was perfect for simplifying the complex requirements of this job and making it simple to use. All of the above functionality is available through the touchscreens. Of particular importance to Barbara were day-to-day aspects such as easily viewing anything around the home, from full streaming video to checking the boathouse cameras, what doors and windows had been left open or who was at the front gate. Barbara can also monitor the pool while the kids are in there, gain a house-wide view of what lights have been left on (and turn them off), check the blinds and air-conditioning schedule, control the audio including selecting sound tracks, and seeing cover art and select party mode for entertainment. Being in control of so many elements also lends itself to an environmentally friendly result, with the ability to turn off lights, close blinds and have security integration, which turns off all non-vital functions when armed.
Barbara describes the home's design as "Floridian" in style, with "contemporary provincial" interiors. A monochromatic colour scheme was favoured throughout, giving a clean, uncluttered look that doesn't detract from the magnificent Murray River views.
A gorgeous, fun-filled home with some of the smartest technology in Australia set in the most scenic of locations — now there's a winning combination.