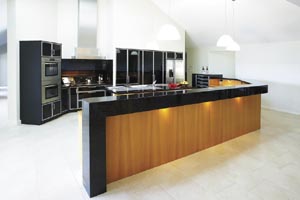 A bland, outdated kitchen has been pulled apart to make way for this new, sophisticated cookery. From the rich, grainy timber to the shiny, iridescent benchtops, the whole room now oozes modernity.
Being central to the main living areas, the kitchen not only had to be functional but it had to look great and create an impact, too. When time came to renovate the kitchen as part of the entire home's makeover, the owners turned to designers Riche Design and Jurek Polkowski with a brief to create a futuristic-looking room. Through the use of black glass, aluminium, granite and stainless-steel appliances, this look has definitely been achieved.
There are two things you can never have enough of in a kitchen: bench space and storage. Whether it's an intimate dinner or a feast for friends and family, a kitchen is easily cluttered by used kitchen utensils and crockery. This is one of the reasons that the owners insisted on maximum bench space, which has been cleverly implemented in the form of two island benches. As an added bonus, having two islands has enabled the kitchen to host double the amount of storage space.
The walk-in pantry contains assorted shelving and storage systems and laminate benchtops, which allows preparation to take place within easy reach of ingredients.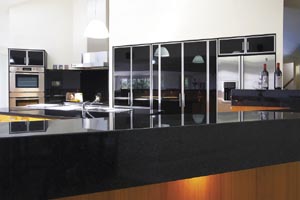 Everyday appliances have been hidden in a bench-height cupboard (where they can be used), keeping benchtop clutter to a minimum, ensuring the sustainability of the clean and tidy appearance.
Fact File
DOORS
PANELS Black laminate, timber veneer and granite
MOULDINGS Black pencil line
HANDLES Bar style made to measure in matt aluminium
BENCHTOP 20mm Black Galaxy granite with 40mm square-edge detail and timber
SPLASHBACK 20mm Black Galaxy granite and timber veneer
KICKBOARDS Recessed in black laminate and timber
FLOOR Tiles
LIGHTING Pendants and concealed lights