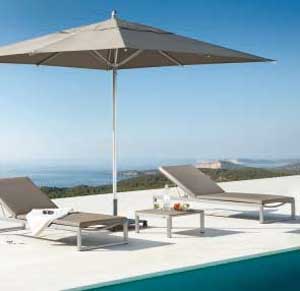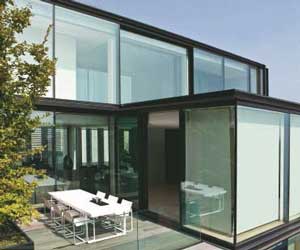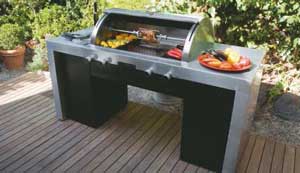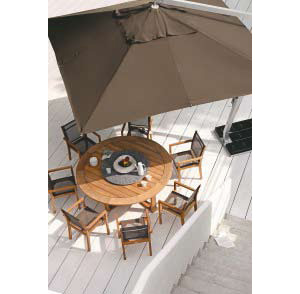 With the warmer months just around the corner, we speak to Cosh Living's director Colin Kupke to get the scoop on the hottest outdoor items this summer.
Cosh Living has brought the world's highest-quality contemporary furniture brands including Tribu, Manutti, Gloster and Sifas to the Australian market. These brands are continually developing and enhancing materials suited to the harsh Australian environment and Colin Kupke is the first to know about their new ideas. "The outdoor trend for this coming season is a combination of practicality, style and comfort," says Colin. "Popularity is shifting from traditional woven products and outdoor cushions to furniture covered entirely with waterproof nautical leathers, 'hot melt' fabrics and sling." Here, Colin shares some of his favourite items.
The Mirthe Sofa is an innovative collection by Tribu that provides an outdoor solution to the humble sofa. The cushions feature a special coating on the reverse side of the fabric that water cannot penetrate. They're extra-thick for added comfort and UV-resistant. White-varnished aluminum shells keep them in place on a breezy day for peace of mind. The sofa can be arranged to suit your style using the three basic elements. Cushions come in either white, UV-resistant, nautic Skai® leather, as seen on the most beautiful yachts, or nautical fabrics in silver and stone.
The Belgian Neutra collection is Colin's favourite arrival for outdoor dining. Not only is it extremely comfortable, it's also stylish. It exudes seamless class and is the perfect addition to any modern outdoor space with its flowing lines. It comes with two unique table surfaces to choose from — an opaque glass that is thermally hardened to provide optimal scratch and weather resistance, or Zimbabwe Black granite.
Keep the cook in your home happy with this new Porsche Design X-Series Barbecue. There are myriad musthave features to be found on this sleek and stylish make, including Crossray Infrared Burner Technology, LCD display with countdown timer, porcelain-coated cast-iron cooking grids, insulated double wall hood and fashionable LED burner lights. It's the perfect addition to any outdoor meal.
If you're looking for quality materials and fantastic functionality, look no further than Manutti Umbrellas. For outstanding relief from the harsh summer sun, this shade accessory will make a beautiful statement. It features a user-friendly windup system, dark-granite base with wheels, anodised aluminium structure which rotates 360 degrees for optimal shade, and Sunbrella fabric.