Offering the ultimate in bathroom luxury, this space from Select Solutions Tiles Bathrooms Kitchens was designed to soothe the soul.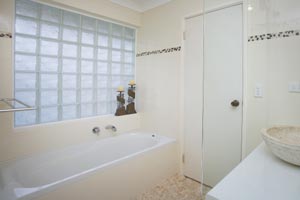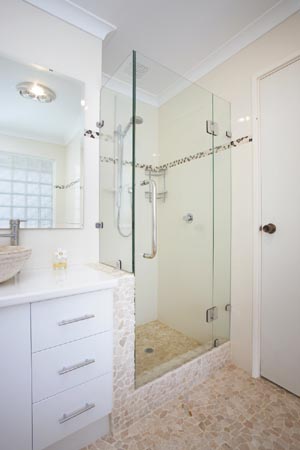 As a favourite medium for the Greek and Roman sculptors, marble has long been a symbol of refined taste, so it is little wonder the design team decided to use this material when creating this Asian-influenced space. From the ornate mosaic flooring to the spectacular basin balanced on the vinyl vanity, the clever choice of finishes gives the room a Zen-like atmosphere.
Opting for an interlocking floor to eliminate the square lines, the layout takes advantage of the room's sizeable dimensions, utilising every inch of available space.
A far cry from the former 70s style bathroom, where the owner used a wrench to turn on her shower taps, this new space was crafted using quality materials and the highest possible standard of workmanship. The Select Solutions Tiles Bathrooms Kitchens team has executed this design flawlessly, creating a modern-looking space with a light, earthy yet sophisticated air.
BASIN Marble bowl
VANITY Gloss white laminate Squareform top with vinyl-wrap doors and drawers in white gloss
WALLS 300mm x 600mm ivory tiles
FLOOR White interlocking mosaic marble
FEATURE White and grey mosaic border
COST, approximately, for design, manufacture, installation, appliances, plumbing and electrical, $25,000
Ron Tan Photography