A commitment to providing the highest-quality custom house designs at an affordable price has made Solar Solutions an industry leader.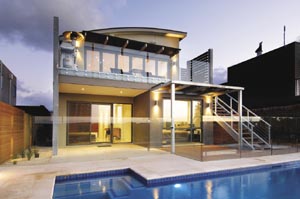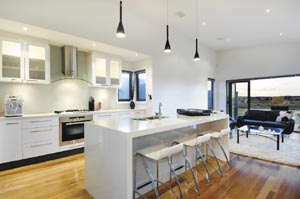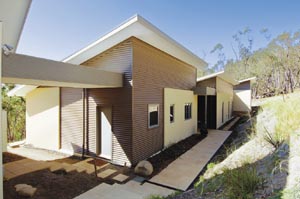 The stunning home featured below won the 2011 award for the most energy-efficient home in Victoria, voted by the Building Designers Association of Victoria (BDAV) and achieving a huge energy-efficiency rating of 43 points.
"To put this in perspective," explains Darren Evans of Solar Solutions, "You need seven points to achieve a 5-Star rating and 19 points to achieve a 6-Star rating. We exceeded these levels by using good design, which respected the existing environment on the site, and the right selection of materials."
Each house design by Solar Solutions is individual and aimed at suiting the style the client prefers, be it contemporary, country or coastal. The company's award-winning 3D visualisation techniques ensure there are no surprises on the site. Clients can view the home, select colours and "walk around" their new home before it's even built. This process helps them visualise their homes and enables the builder to understand all the construction details of a new home.
Using various products, energy efficiency can be incorporated into any house design without compromising the style. The main focus is to ensure your new home is a healthy environment that's able to reduce allergy conditions such as hayfever and asthma, as well as being comfortable all year round.
The individual design considers your local climate and surroundings that affect the site. Solar Solutions assesses your site, then designs your new home to keep it warmer in winter and cooler in summer without resorting to expensive heating and cooling systems.
New Eco Dwellings Planbook
Solar Solutions has just released the Eco Dwellings Planbook, which has been specifically designed to suit suburban house blocks. With 18 new plans and more than 40 elevations contained in the book, the layout system allows you to choose a house to suit your block.
"I am very excited by the new Planbook," Darren says. "It takes the common sense approach that we use in our custom-design service and gives the client the information
they need to select the right home."
Solar Solutions also has standard plan books and existing home upgrade packages.
The standard plans are designed to suit many different sites and are all energy efficient. The plan books can be ordered directly from the website.
"We have also just launched the new Solar Shop Online, where you can buy some of the common products that we use in our great energy-efficient homes and install them in your own home. Whether it's for an existing home that needs to be made more energy efficient or a new home, we have the products that can make your home cheaper to run and more comfortable to live in."
Company profile
Solar Solutions is a multi-award-winning company that specialises in energy-efficient and healthy home design. Solar Solutions' homes are custom-designed to suit the land the local environment. The company can also provide clients with high-quality building products at less than trade rate. Solar Solutions has been in business for more than 13 years and its company philosophy is simple: think about the site and the environment before selecting a design and look at the materials being used to ensure they are suitable for the project.