The hub of this home was transformed to reflect a rustic ambience.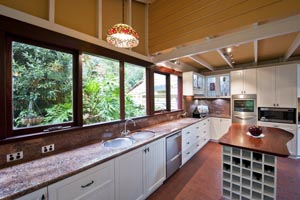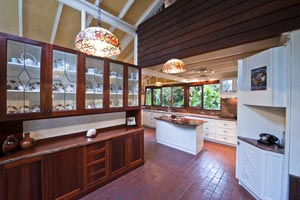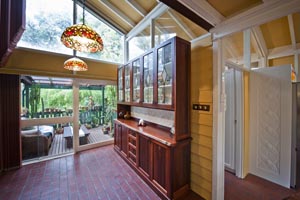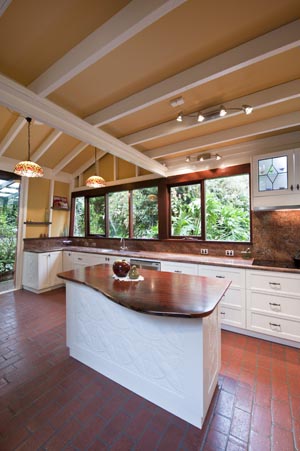 When the owners of this kitchen renovation came to Select Solutions, they had a clear idea of how they wanted their space transformed. The new look was to tie in with the rest of the home's style while incorporating tin, timber and granite for an overall rustic feel. It needed a breath of fresh air, with modern appliances, while complementing the 1970s pole construction.
The team at Select Solutions relished the opportunity to bring this vision to life despite the initial problems the area posed. The home is unique in its design and structure and the walls in the kitchen were pitched on an angle. This challenge inspired the designers, and what may have seemed like a hindrance to some companies, was in fact an intriguing feature for the people at Select Solutions, spurring on their design prowess.
The existing window frames were rotten and needed to be replaced; there were also exposed beams in the kitchen area. These were a feature the owners wanted to maintain to complement the desired rustic style. They're an eye-catching attraction that works hand-in-hand with the kitchen's high-quality finishes.
The benchtop utilises rich, dark Jupurana Florentina granite and includes a useful jarrah island bench that will stand up to its day-to-day use. The same granite was carried through to the splashbacks to play on a rustic vibe.
Cabinetry includes American Antique White-coloured farmhouse-style doors and Camellia tin inserts. It was discovered during the process that pressed tin was only available in certain sizes, which required the cupboard doors to be customised. To add to the tricky nature of this feature, voids were included to accommodate the sloping walls.
The diverse product range used is a stand-out feature of the home and raises the bar of kitchen renovation techniques. These durable finishes require little maintenance from the owners and appeal to the overall look of the home. The stunning piece of granite selected for the benchtop and the unique design and effect of the pressed tin are Select Solutions' favourite features of the design. Jarrah was used to replace the window frame and the existing brick flooring was polished to finish the look. Large kitchen windows flood the space with natural light and open the hub of this home
in a warm and inviting way.
Select Solutions has successfully captured the rustic, country feel the owners sought. The company stripped and renovated the area and also built a laundry and pergola just outside the kitchen window, which successfully marries with the rest of the home's space.