This design blends the built and natural environments seamlessly.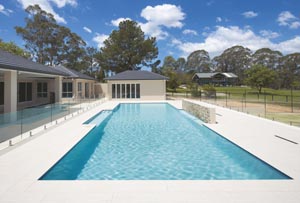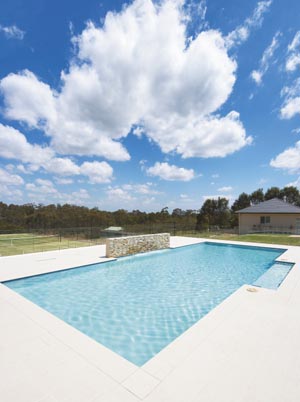 With an abundance of space on their side, the owners of this property wanted a large pool to fit in with its surrounds. The structured straight lines of the pool mirror the contemporary style of the house, while the light-blue tiles reflect the brilliant expanse of sky overhead and bring the whole landscape together.
Designed and built by the team at Sunrise Pools, the pool is the main feature in an oasis to which the family can escape, complete with a serene vista to look at beyond.
While the pool blends with its natural surrounds, it also manages to double as a focal point of the property by means of a water feature that can be seen from all areas of the house. The raised feature wall adds both visual interest and the soothing sounds of flowing water.
The natural stacked-stone walling also brings a look of nature to the built environment. A built-in ledge under the water feature is mirrored on the opposite side of the 15m long pool, providing the perfect place to sit and enjoy the water feature and tranquil backdrop.
As the owners wanted a pool for both leisure and exercise, a large-capacity electric heat pump and in-floor cleaning on the steps and ledges ensure the pool is ready for use year-round with minimal effort required.
The result is an example of the creative quality you can expect from Sunrise Pools. The company aims to design and construct projects using the highest-quality materials and the latest technology.
Sunrise Pools invests in staff with continual training and development and ensures effective communication while offering a level of customer service that is second to none, from quotation to project completion.
Since it was established 35 years ago by Peter Moore, Sunrise Pools has won more than 180 awards, including some at the recent 2009 SPASA NSW Awards.
The company builds 50 to 100 pools each year in the Sydney metropolitan area. It's a member of the Master Builders Association (MBA), Swimming Pool and Spa Association (SPASA) and Housing Industry Association (HIA).