Design excellence combines with water-wise planting in this sustainable oasis.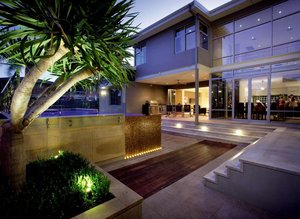 Two of Western Australia's leading landscape designers, Mondo Landscapes' Debbie Taylor and Beverley Harrison, were the owners' first port of call when the time came to design the front and rear gardens of this Perth property.
The clients' wish list was straightforward but comprehensive. They wanted a practical, contemporary design that would meet their lifestyle needs and give the family a stylish, liveable outdoor retreat at the back, and an inviting garden with street appeal at the front.
Screening to provide privacy for the above-ground pool in the rear garden was of paramount importance, as was the use of native plants. However, the exact nature of the design and the choice of hardscaping components, materials and colours were happily left in Debbie and Beverley's expert hands.
The design devised by the creative duo is lush and contemporary, with strong, clean lines and that much-desired resort feel. With sustainability in mind, the planting plan included a mix of hardy natives and drought-tolerant exotics, and five 3000-litre tanks were installed for greywater storage and to supply the new sub-surface irrigation system.
It's without doubt the Dracaena draco (dragon's blood tree), which had to be craned over the house into place, that is the key feature planting of the rear garden, but other gorgeous plant specimens abound, including Xanthorrea preissii (the double-headed grass tree) in the front yard, the densely foliaged Hibiscus tiliaceus that screens the rear boundary, and the Magnolia 'Little Gem', which contributes a flourish of fragrant blooms.
Jarrah was the timber of choice for the raised decking at the end of the pool, adding to the resort feel of the pool surrounds. This timber is locally sourced from the south-west of Western Australia and is renowned for its remarkable resistance to rot. The decking is complemented by the pool's spillover wall, which is clad in Bisazza mosaic tiles, giving it the appearance of a shimmering work of art.
To create an elegant look, Amber granite paving was laid in the rear entertaining space. For the driveway, Debbie and Beverley specified poured aggregate concrete with a charcoal cobble insert; a practical yet sophisticated choice. Of course, no modern landscape is complete without the proper illumination so subtle garden lighting was installed front to back.
The transformation that has taken place is something to marvel at. Today the owners have a contemporary front garden that perfectly complements the architecture of the house and the streetscape, and a private oasis at the rear of their property where they can entertain late into the night or pass the time in quiet solitude.
Photography Ron Tan   
Project particulars:
Design by:
Mondo Landscapes
PO Box 1483, Booragoon WA 6954
0417 171 198 (Debbie Taylor),
0409 209 446 (Beverley Harrison)
www.mondolandscapes.com.au
Construction by:
Omniscape
0419 938 993
colin@omniscape.com.au
Pool: Built by Future Pools, mosaic feature in Bisazza Bronze
Pool Bullnose: Designer Stone Sabbia
Granite Paving: Designer Stone Sabbia Granite
Wall: Dulux Red Box
Decking: Jarrah timber
Plants: supplied by Mondo Landscapes
Driveway: Exposed poured aggregate Cemex Wattle
Paving inserts (driveway): Designer Stone Nero Flamed Granite
Cobble: Designer Stone Nero Split-Face Granite
Lighting: all LED