We ask Ande Bunbury Architects how they created this light and functional bathroom from a once dark narrow passage.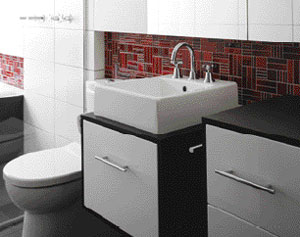 What was the house like before the renovations? The bathroom was a long and extremely narrow room. It was dark and a central shower blocked circulation and made the space awkward and tight.
What was the client's brief for the project? Add a bath as they were having a baby, separate shower, and to make the space feel as open and spacious as possible — a place to luxuriate in. Please describe the body of work completed. This was a refit of an existing bathroom and no walls or major structural changes were made, to keep costs down. The room was gutted, a larger window opening added, the flooring replaced and new finishes and sanitary fixtures installed.
What were some of the special design considerations of the project? We tried to increase the apparent width of the room by building alcoves into the walls, decorated with feature tiles, to add usable space. The shower area was made as transparent as possible to keep the space open and the apparent length of the room was minimised by returning the floor tiles up the face of the bath.
What was your inspiration for the design? The design is inspired by the simplicity of Japanese public bath house design. The bath is a deep Japanese-inspired soaker bath, which just happened to be narrow enough to fit across the room.
Why is this renovation special? Beautiful colours and quality finishes give the room warmth and serenity.
Photography by Erin Slattery
Project Particulars:
Designed by: Ande Bunbury Architects
03 8682 8792
info@abarchitects.com.au
www.abarchitects.com.au
Built by:
Chris Summons Construction
0409 011 883
Flooring: Perini Tiles, 500mm x 500mm chocolate ceramic floor tile
Walls: Perini Tiles, 500mm x 250mm white vitrified ceramic tile
Splashback: Perini tiles, feature red mosaic tiles
Sanitary fixtures + bathroom fittings:
Raymor Soul vanity
Liano basin
Karizma toilet suite from Tradelink
Mizu soaker bath
Dorf Bronte taps
Satinjet Hi Rise showerhead from Reece
Lighting: Rondo 200mm diameter with opal glass from Beacon
Windows: Lidco horizontal sashless slider, cedar frame