An ingenious application of angles and screening provides privacy within this seemingly open bathroom. Designer Royston Wilson has been commended for its innovation.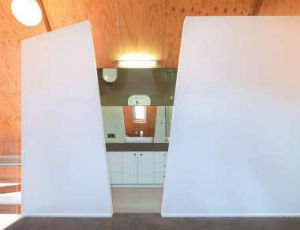 The owners of this St Kilda West home in Victoria wanted to transform their upstairs storage area into a mezzanine loft that provided extra accommodation with a bathroom. The challenge, however, was that they wanted to retain the existing cathedral ceilings.
The slope of the ceiling provided constraints that, in turn, became inspiration for the floorplan. Clever detailing and the incorporation of spacesaving fittings were employed to ensure the bathroom met all the couple's requirements, including space, privacy and noise reduction.
Designer Royston Wilson explains, "The mezzanine bathroom doubles as a powder room for visitors, so it was important not to leave them feeling exposed. The toilet was tucked behind a wall to make it impossible for guests to be seen, and the plumbing was insulated to eliminate any noise during flushing and filling, ensuring no discomfort is experienced by guests using the new bathroom directly above the living area.
"The new area is open but concealed at the same time. It has become an integral part of the house and certainly leaves a lasting impression on those who visit. What could have been a frustrating journey became a highly satisfying transformation."
Royston added, "I created a visual point of interest with angled walls and ceilings. The angled entranceways act to conceal the bathroom and walk-in robe while keeping the space open. A ball light above one part-height wall throws light into the bathroom, bedroom and space below.
"By placing mirrors on the slope of the ceiling, including in the shower area, light and reflections help disguise the size of the bathroom while adding a modern touch and achieving an amazing ambience," he concluded.
PROJECT PARTICULARS
This project was designed by
ROYSTON WILSON
Suite 4/927 High Street, Armadale, Vic
tel 03 9822 3173
web www.roystonwilson.com.au
Shower: Dorf Orbit System 5
Basin: Fowler Regent Inset
Taps: Dorf Arc
Toilet: Fowler Seido Icon Series II
Countertop: CaesarStone, Mink
Floor tiles: Glazed Porcelain, Lappato
Wall tiles: Arkitek Blanco
Paint: Dulux White on White