Recent additions to the Adesso bathroomware range means it can now provide a complete European-inspired bathroom solution without the European price tag.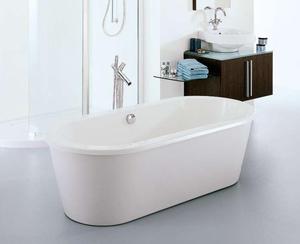 With the availability of endless new designs and trends, particularly those that are European-inspired, Australians have limitless possibilities to bring their dream bathroom to fruition — but usually at the expense of their budget. Adesso, a recent addition to the bathroomware scene in Australia, is providing the link between European dreams and Australian budgets.
Adesso's original offering of Italian-inspired tapware catered for a style-hungry and budgetconscious Australian market. A complete bathroom solution was then developed to complement this tapware, with an offering now including freestanding baths and three ranges of bathroom accessories.
The most anticipated items now available from Adesso are the two Bianco freestanding baths. Both Bianco baths offer the flexibility of installing in the middle of a room for an opulent focal attraction, or off to one side to maximise floor space. One bath captures the flowing curves of traditional style with an oval shape, while the rectangular shape of the second highlights contemporary lines for a bold statement. Either way, the smooth sides and one-piece design exude high-end luxury at a fraction of the cost.
Knowing that bathroom accessories elevate individual bathroom pieces to star status, Adesso introduced three very different designs in bathroom accessories. While each range offers 10 or more products, their individual style cannot be ignored. Mila accessories blend sculpted curves with thick bands of chrome, Memphis accessories project oval shapes through slender extensions, and Lucerne accessories imprint square statements on to minimal chrome bars. It is through these elements that an individual masterpiece can be brought to life — joining endless possibilities with tight budgets.
While investigating these possibilities, become reacquainted with the tapware, mixers, showers and spouts in the Adesso offering. It is with this mix of bathroom products that Australians can accomplish a stunning bathroom of stylistic white, while ensuring the critical budget stays in the black.
To find out more about this new wave of European elegance, call 1300 658 277, Mico Design on (02) 8354 0999, or visit www.tradelink.com.au.