Low cost decorating doesn't have to look cheap. Quick-Step's Diana Falzon shares her 7 simple tips for home decorating on a budget.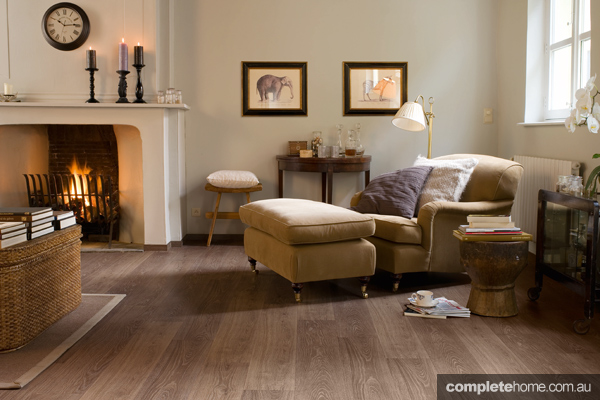 The opulent and glamorous looks depicted in the plethora of interior design magazines can be emulated in a more cost-effective way. With some research and street-smarts, you really do not have to spend a lot of money to give a room a whole new, refreshed look. By adding and changing some elements of the room, you'd be surprised how refreshed and revitalised it becomes. It is like your room has had a well-deserved holiday and has come back rested and tanned!
1. Paint
It is simply the classic solution for quickly and inexpensively updating a room because it is the most effective way to bring about the most change. Choosing a lighter or darker colour to your room can change the dynamic and mood. Make sure the paint is of good quality and cut costs by doing it yourself!
2. Wallpaper
Forget about seventies wallpaper, contemporary wallpaper styles ooze sophistication and make the room pop. Consider one focal wall behind the couch or behind the headboard in a bedroom. Wallpaper pulls a room together, giving it individuality and glamour.
3. Window coverings
If you want to bring a new colour to the space, or just get a fresh look, change up your window coverings. Whether it is a clean drape or layering an eclectic sheer, a tweaked window covering gives a room a whole new dimension.
4. Reupholster furniture
Changing the covers of dining chairs is a DIY job in the making. All you need is a few metres of fabric and a staple gun and, before you know it, bland turns to glam!
5. Live plants
Fresh flowers can become a costly weekly exercise, so why not invest in luscious live indoor plants to help transform a room. From a mini-citrus to an African Violet, indoor plants pump up the room.
6. Centrepieces
A bold new centrepiece on the dining room table is a quick way to change the feel of a space. Exotic-looking oversized pieces bring more height and dramatic interest to a room. Varying shapes and sizes in a room adds to the texture and keeps the eye moving. Keep it simple, but make it special.
7. Flooring
In order to create the right feeling in a room, you must take into account the floor colouring and style. The relationship between the colours of the furniture and the floor is also important to create atmosphere.
The floor should ideally be two tints lighter or a shade darker than the colour of the furniture. The floor and the furniture may consist of the same colour and wood type but it would then be best to put a rug of a contrasting colour in between.
Colours mainly determine the mood of your interior. Choosing the right colour combinations for your wall, floor and ceiling are an important set of decisions to determine the mood and the way you feel and experience the space. By mixing the colours of the wall, ceiling and floor, you can make a room seem larger, smaller, wider, narrower, deeper, higher, lighter and warmer.
Visit quick-step.com.au for more information.
By Diane Falzon
From Renovate magazine Vol. 8 No. 6