Built at the turn of the 20th century, this Claremont residence has been lovingly restored to bring polish to its heritage charm
Renovating a heritage home is never without its challenges. To best complement the original form and flow of the space, it is critical that new additions fit in well with the existing style of the space. Although this Claremont home, built in the early 1900's, underwent a major renovation to create a fully-functioning modern home, the owners worked hard to preserve the look and feel of the original era.
"I was so excited to find Montauk Lighting Co. when searching for light fittings during the renovation of our home," Owner Angela Yarker says,
My excitement grew as I scrolled through the light fittings on offer and realised that I could actually have the look I wanted and not have to settle for less!"
Here, we take a walk-through of the house and explore some of the amazing rooms that have been lit up by The Montauk Lighting Co..
The Entry
The entry of the Claremont residence features The Montauk Lighting Co's Darlana Small Lantern in Aged Iron. Combining modern detailing and old-world charm, this piece serves as a strong addition to the room.
The Sitting and Formal Lounge Rooms
For the sitting and formal lounge rooms, the Classic Ring One-Tier Chandelier provides the area with a stately look, while brighter light is provided by the Kelly Wearstler-designed Linden Table Lamp.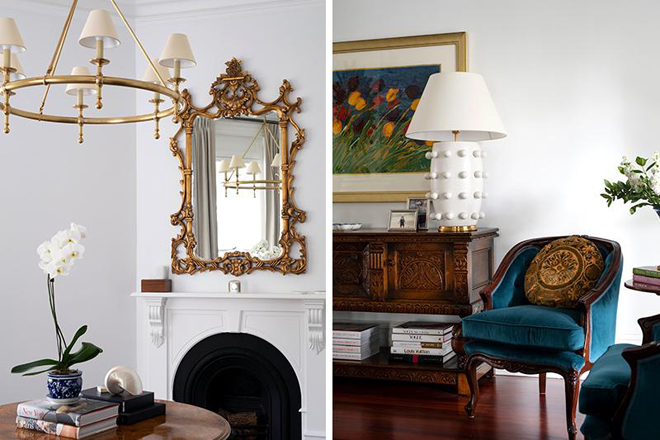 The Master Bedroom
The Darlana Open Frame Chandelier in Aged Iron, plus the Frankfort Floor Lamp in Aged Iron and the Gilded Accent have been incorporated into the interior styling of the bedroom. The Darlana Chandelier delivers a bold appeal, while the Frankfort serves as an effective statement piece with its elongated silhouette.
The Ensuite
Fitting perfectly over the timeless black-framed mirrors, the Bryant Four-Light Bath Sconce in Bronze complements the period-style cornices and tapware.
The Guest Bedroom
Opting for a lighter palette, the guest bedroom features the graceful yet refined styling of the Kelly Wearstler-designed Halcyon Accent Table Lamp in Crystal.
The Main Bathroom
Like the ensuite, the main bathroom complements Victorian tiles with the Bryant Four-Light Bath Sconce.
The Staircase
As a pivotal transition point within the home, the staircase of the Claremont residence needed to be bold to attract attention. Against a yellow backdrop, the Cannes Table Lamp in Gild was chosen, while the Darlana Medium Lantern in Aged Iron hangs from above.
The Landing
The Landing features the Bryant Sconce in Bronze with with Natural Paper Shade and Black Tape.
The Pool House
Hanging just above the bathroom mirror in the pool house is the Boston Functional Single Arm Library Light , a charming piece that beautifies the space.
For more information