Whether bathed in sun or starlight, this enchanting conservatory extension brings back the joy of conversation and reading.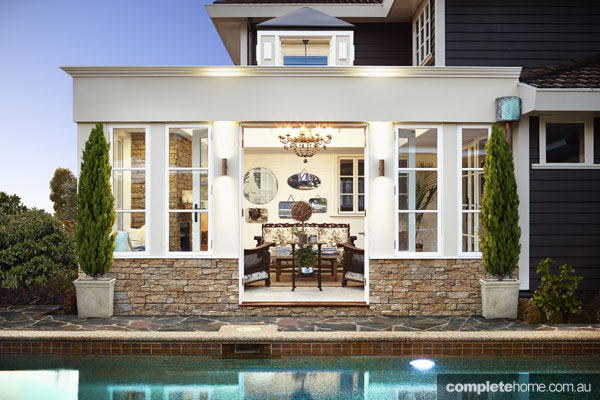 If Cinderella's living room was renovated, we imagine it might look something similar to this new conservatory extension. The room has a "modern fairytale" feel to it. Maybe it's the floating chandelier dripping with timber beads or the woodland touches. Maybe it's the turquoise pool lapping outside like a moat, or the walls of glass and dovecote-style roof, which create a blanket of sky above. Whatever the magic touch, it's hard to find a flaw in this wonderfully fresh and floral living room.
For the homeowners, this living space did not simply materialise with the help of a fairy godmother. Rather, it was the help and inspiration of Acorn Garden Houses and interior decorator Amanda Magliano that transformed a mossy slab of concrete into this chic conservatory.
"The client's brief was to make a space that could be used in winter and summer," explains Steve from Acorn Garden Houses. With the house situated near Mount Martha Beach on the Mornington Peninsula, the couple also wanted a room "that not only looked up to the sky, but towards the bay views".
The extensive use of double glazing with ComfortPlus glass fulfilled these goals; it allowed the room to seasonally regulate its temperature, preventing the soft furnishings from fading, and also open up to stunning 360-degree views. "Inspiration came from overseas magazines and watching UK home shows," Steve explains. "Lots of houses overseas seemed to have these beautiful buildings attached to their homes, enhancing the outdoors all year round."
The finished project stretches 6x6m, and while big and bold in stature, it is sensitive to the existing architecture and design of the home. Classic French doors open out to the pool and dining area, creating unity with the other living areas and allowing sunlight to stream into the rooms behind. The installation of a servery with bifold windows also allows easy serving from the kitchen, "essential for passing out those teas, coffees or a glass of wine!" adds Steve.
It's a design that cleverly weaves fine detailing with family features, a must considering the family has three children and a mischievous puppy. The ashlar limestone flooring creates an organic and neutral base to the room while also being "very user-friendly regarding traffic in and out of the pool area". The window seats carve out a cosy reading nook while doubling as storage space, and the beautiful Jacobean lounge suite provides ample room for guests while showcasing rich carvings and antique craftsmanship. Other quality and eclectic pieces like the solid granite fireplace, the collection of Art Deco-etched ship mirrors and old books with original bindings further imbue this room with rustic warmth and charm.
Overall, the conservatory is "a mix of old and new, a space to feel comfortable and lived in", says Amanda. "It has created the most-loved room in the home, bringing back the art of conversation."
Acorn Garden Houses
1300 655 659
acorngardenhouses.com.au
Originally from Home Design Magazine Volume 16 Issue 6