The 2017 4th International Green Interior Awards were held in Sydney, and Universal Magazines (publishers of Complete Home) was again thrilled to sponsor the event
Celebrating the integration and creation of green interior products with 11 award categories, those honoured included interior designers, stylists and decorators, along with top architects, manufacturers and suppliers who focus on eco-friendly products. In honour of the Green Interior Awards, we've compiled just five of our favourite winners from the night here at Complete Home:
1. Etsy Headquarters by Gensler, USA – Overall Winner
Category: Office — Large
The handmade revolution shows no sign of slowing down, and Etsy sits at the top of the yarn-bombed ladder. Etsy's new Brooklyn headquarters spans an imposing 225,000 square feet and acts as a living, breathing organism. The fully independent and regenerative ecosystem was designed by Gensler, who sourced construction materials compliant with LBC (Living Building Challenge).
As the largest Living Building Challenge Petal-certified commercial building in the world, Etsy Headquarters boasts a swag of other firsts. It ranks as the only LBC-certified building in New York City and the sole project to take out two trophies at this year's Green Interior Awards.
Inside, furniture from small-scale Etsy makers is prominent, while large-scale manufacturers were called in to secure first-time LBC-compliant documentation and reformulated product lines, and deal with Declare Label pursuits. The end product is a dynamic and sustainable building we'd all love to work in.
2. Emerald Star by Dwell Development, USA
Category: Residential — New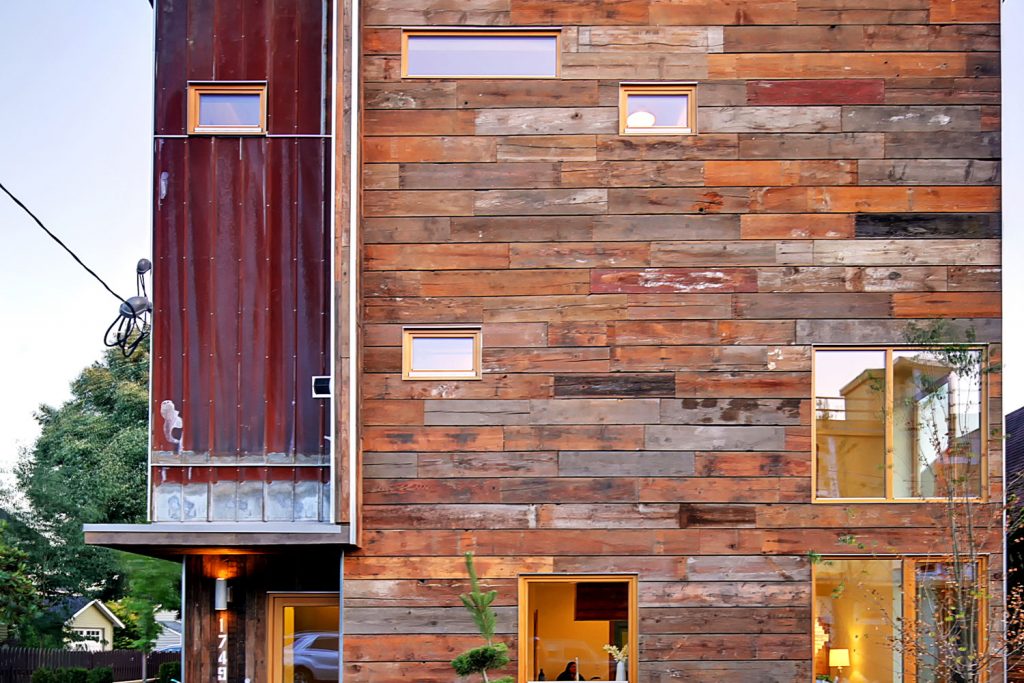 The team at Dwell Development took on the enormous challenge of achieving Emerald Star certification in 2015. Emerald Star is the most stringent green certification available, and demands pristine indoor air quality, 70 per cent reduction in water use and 90 per cent use of reclaimed materials or FSC certified wood, to name just a few requirements. The residential build took advantage of locally made countertops, tiles and cabinets, and sourced reclaimed wood and metal from a nearby cannery.
3. Alexandria Residence by CplusC Architectural Workshop, Australia
Category: Residential — New
This Alexandria terrace merges cutting-edge architectural design with off-grid green initiatives. Located on a tight urban site, the home stuns with a glass and timber batten front facade that functions as a circular staircase and greenhouse.
Green living and long-term sustainability were high on the agenda of both owners and architects. As such, the timber used was finished in non-toxic water-based sealers, while permaculture principles — like urban gardening and solar harvesting — were explored.
4. Graphenstone Australia — Paints for the Green Generation
Category: Product Innovation
Graphenstone's new range of Paints for the Green Generation took out top honours in the Product Innovation category, and for good reason. Committed to ecological sustainability, Graphenstone is working to clean up the construction industry with a range of products that enjoy a complete green life cycle. The Paints for the Green Generation range adheres to Cradle To Cradle Certification standards and is now the only paint in the world with a GOLD rating.
5. Skygarden House by Dubbeldam Architecture + Design, Canada
Category: Residential — Renovation
Green products take centre stage in this renovated Canadian home. The Skygarden House successfully reworked a dated home without affecting the existing shell. Smart interior design strategies were implemented to expand the interior without increasing the building's footprint. To achieve this, Dubbeldam Architecture + Design used products that enhanced the perception of space, and which reflected natural light. Low-VOC materials add to the sustainability of the home, and all the fixtures and equipment were chosen according to their efficiency capabilities.
Read more on the Green Interior Awards at greeninteriorawards.com.au