Congratulations Hubert Pareroultja for winning the overall $10,000 Bluethumb Art Prize! This is Hubert's second major prize of 2020 after taking home the Wynne Prize in September.
When asked how he feels about winning the grand prize, as well as the Landscape Award, Hubert replied, "Oh, I was pretty happy about that. Thank you very much." His winning circular painting departs from his usual style. "Circular painting is a bit tricky," explains Pareroultja. "You've just got to use your head. Think properly you know."
The subject of Pareroultja's winning landscape is a sacred place to him. "Mt Giles is my Father's country. It's a couple of hours west of Mparntwe; Mparntwe means Alice Springs in the Aboriginal language."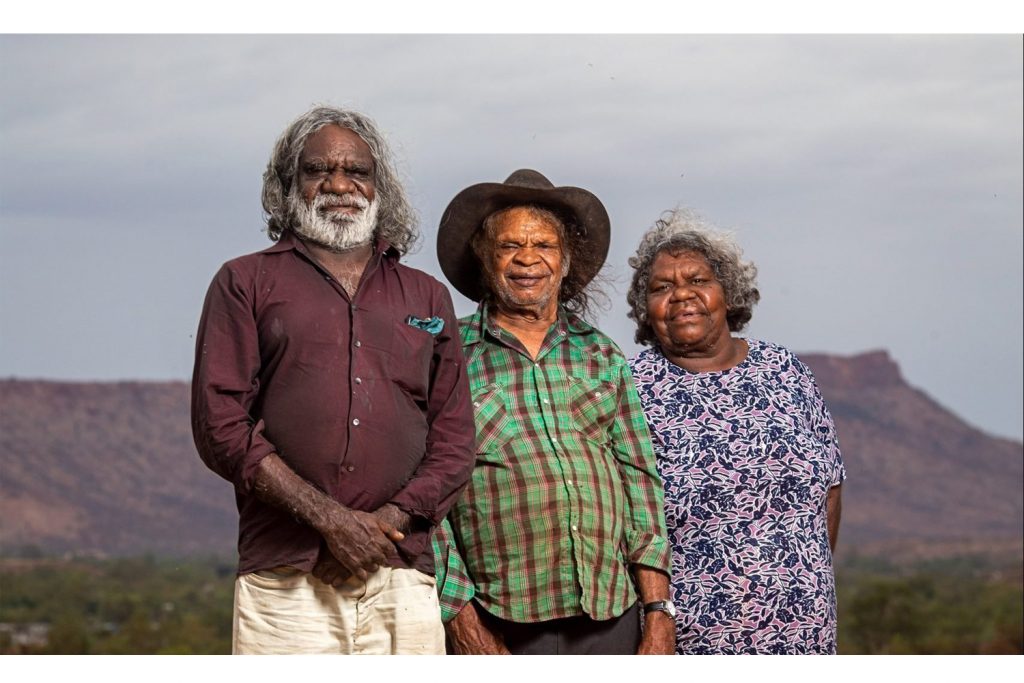 "I feel his appreciation and comprehension of his own Motherland is something that any other artists can't emulate," 2018 Bluethumb Art Prize winner and this year's judge Kim Hyunji commented on the piece. "The mystic and subtle colour palette and the circle framing beautifully capture the ethereal spirit of the landscape."
Hubert Pareroultja is a senior Western Arrarnta-Luritja man who lives at Kulpitharra / Lundara outstation west of Hermannsburg (Ntaria). He has been painting watercolours on his homeland since he was a young boy thus following in the footsteps of his father Reuben Pareroultja and Uncles Otto and Edwin Pareroultja – all acclaimed artists. When Hubert was a kid, he watched the original Hermannsburg School watercolour artist Albert Namatjira and his family as they painted.
Hubert paints many of the same locations that Namatjira and the Pareroultja brothers painted, in particular Hermannsburg, Mt Sonder and James Range. Hubert lives and works in the Western MacDonnell Ranges to this day.
Bluethumb Art Prize Runner-Up: Dianne Golding
This year the artist-led judging panel awarded the honour of runner-up to Indigenous artist Dianne Golding for her sculpture Young Mother with Sick Baby. "I'm infatuated with the [Tjanpi Desert] Weavers," Indigenous artist and judge Blak Douglas expressed. "These creations are so abstractly accurate that they defy abstraction and should be made compulsory as Christmas gifts to all Australian households."
Dianne Ungukalpi Golding is an artist belonging to the Ngaanyatjarra language and cultural group in Western Australia. She has made baskets for a number of years and first learnt from relatives in Warakurna. "I see a great potential in her works to capture and to give a voice to her community," Kim Hyunji said. "There is something special in the way she depicts the emotions of the subjects."
Photography Award: Smaller Like Man by Ed Fetahovic
Ed Fetahovic hails from WA and has a knack of finding mundane, everyday characters and placing them within these scenes to explore how everyday life can be beautiful and fleeting at the same time. Inspired by painter Jeffrey Smart's nature of shapes and voyage of the mundane, Smaller Like Man is an exploration of this idea and is the winning photograph of its category.
On hearing that his work had been awarded the Photography category, Perth-based artist Ed Fetahovic said he was "overwhelmed" by the news.
"Joining Bluethumb has been an incredible journey so far," Ed says further on his win. "As I build my confidence in my artwork I feel like I'll be able to grow a community of people who want to support my success. Being selected as the category photography winner amongst such a huge pool of talented people is not at all lost on me and I want to acknowledge all of the beautiful inspiring art I'm constantly scrolling through on Bluethumb. Thank you all!"
This Year's Prizes and Exhibition
In a year when art events have on the large been cancelled, postponed and made inaccessible, the team at Bluethumb have worked hard to make the Bluethumb Art Prize 2020 the biggest and best yet. With a $10,000 top cash prize and once-in-a-lifetime prize packages up for grabs, supporting Australia's thriving artist community has been at the forefront of the art prize's objectives.
In continuation of this year's shifting restrictions and Bluethumb's highly successful lockdown virtual events, the Bluethumb Art Prize awards ceremony took place on Instagram Live earlier this evening, on the 26th November, building on Bluethumb's highly successful lockdown events.
The winner's exhibition will be held next year at 1 Denison, North Sydney's newly tallest building. Stay tuned for more details in the new year!
Vote in the Bluethumb Art Prize 2020 People's Choice Award
Your Votes Matters! Have your say in the our awards. You can still vote for your five favourite artworks from our 180 finalists. Not only will you help the artists get one vote closer to winning our People's Choice Award, you'll also go in the running to win one of your favourite artworks valued up to $2,000! Click here to cast your vote.
For more information