This new suspension lamp, called Cosmic Leaf Suspension by Ross Lovegrove, with matching floor version from Artemide, is the perfect addition to any room.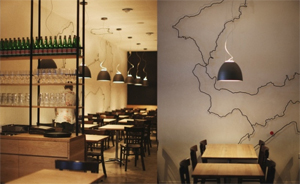 This is a large series that changes scale very naturally, primarily as a vertical device for capturing light. It appears as a digital leaf from another world, embedded with scales like a reptile or insect, which gather light and shadow on their body to seduce a mate. This dichroic, super-complex surface changes dramatically with dichroic colour filters, achieving magical light emissions never really seen before.
The larger pieces can be suspended from recessed or ceiling-mounted light fittings or simply place freestanding on the floor. The lamp base acts as a neutral element that does not compete with the leaf itself. Lastly, a single injection-moulded leaf in crystal techno-polymer is cordless and rechargeable for intimate placement next to the bed, on a restaurant table or simply next to the sofa in the home.
The diffuser is a transparent textured methacrylate sheet with a chrome steel stem. The lighting body is made of moulded and grey painted metal.
Artemide
1300 135 709
www.artemide.com.au