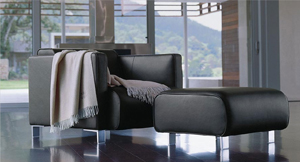 Rolf Benz luxury sofas are made in Germany and world renowned for their quality, style and innovation. Rolf Benz spells quality, boasting visible and invisible luxury with concealed functions for incomparable relaxation.
This is the Rolf Benz Dono, a modern masterpiece available in stunning leather or upholstery, with moveable backrests designed to slide into the surrounding frame for back support.
Ultimo Interiors in Osborne Park, Perth, has created Australia's largest and most beautiful Hülsta & Rolf Benz studio, assembling a showroom filled with stunning pieces from two of Europe's leading furniture houses.
For more information, contact Ultimo Interiors on 08 9201 2479 or visit www.ultimointeriors.com.au