This industrial-style modern home combines raw finishes and furniture with vibrant art pieces to create this family's ultimate beachside home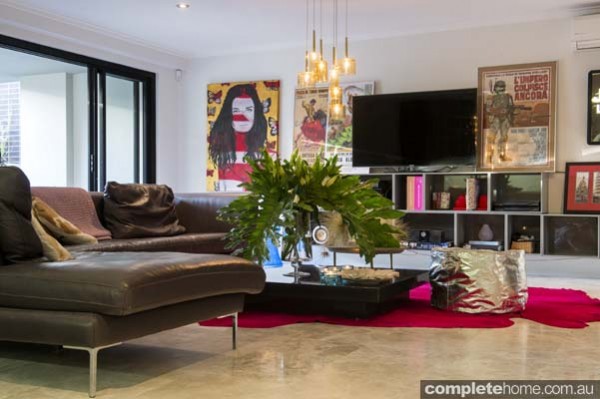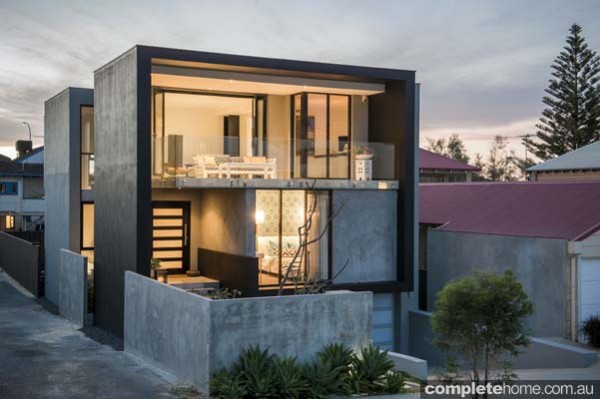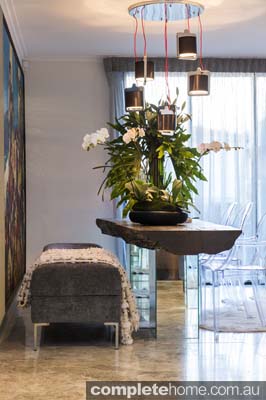 Located on a relatively small block in an enviable location just 20m from the azure-blue Indian Ocean in Cottesloe, Perth, this three-storey home has a modern, square structural design and a unique style that combines rustic natural timber elements with vibrant artwork and industrial-style polished concrete.
Inspired by its coastal surrounds, this new build manages to pull off its contemporary style without appearing too formal or imposing on the streetscape. "The beach heavily influenced design decisions," says Wanda of Accento Home. "Soft sand tones, driftwood and natural timbers all played an important part in maintaining the look the owners wanted to achieve."
Space and size were important factors when it came to building the house, which had to accommodate a family of four and include two sitting areas, four bedrooms, three bathrooms and a large ensuite. It also includes considerable outdoor entertaining areas, balconies and a pool, and the homeowners wanted their new property to capture the available view as much as possible.
Though it was a relatively small block, the design had to be such that the living spaces didn't feel too tight or compressed. The challenge was to ensure a flowing feel to the space and to disguise the restrictions of a narrow footprint while making the individual areas comfortable and easily habitable.
The pared-back and tonally-grey palette provides a neutral backdrop to the owners' colourful paintings and stunning decorative objects. The large art collection becomes a focal feature in the home and extensive wall space was a consideration in the overall design.
"In terms of the materiality internally and externally, we chose surfaces that were fairly neutral and quite raw," says Wanda. The internal floor and wall tiling is a natural Silver Pearl stone that was chosen due to its durability and aesthetics. Polished concrete can also be seen throughout the design and gives the home a modern, industrial edge. The internal walls are rendered in an off-white colour so the focal point is the art and furniture, while the external walls are rendered in grey and black. "This highlights the 'wrap' that encases the structure," says Wanda, referring to the effect of the contrasting black exterior render that frames the design.
From these base design elements came the decisions for the rest of the home. The Italian kitchen was designed to fully integrate all the appliances; there are two integrated fridge/freezers and a fully integrated dishwasher. Contrasting with the opulent marble Arabescato 40mm benchtops, the Grey Oak timber veneer and grey metallic gloss lacquer make for a stunning contemporary kitchen design that also features a mirror splashback, "chosen specifically to reflect the light and a glimpse of the view to the ocean".
The island bench in this dream kitchen can be accessed from both sides, with cabinetry and additional pantry storage in two large fully integrated larder units. With size economy a priority in all aspects of the design in this chic home, the drawers are fitted with space-saving accessories in orange wood timber. It comes as no surprise that the owners of this house are avid home cooks and so a practical pantry and wine cellar were also incorporated into the lower level. The sophisticated dark-grey-veneer cabinetry of the kitchen was also used in the study and bathrooms as the clients emphasised their desire for a cohesive property in both function and style. "We were asked to help the clients with budgetary decisions and make selections for the home that ensure continuity with its style, which I believe was achieved," says Wanda.
The various grey tones used throughout create a consistent and well-designed finish, enhanced by the use of texture to ensure a look that has depth and avoids being flat and dull. "We were mindful of bringing texture into the home," says Wanda. "We imported nu-buck lounge in a soft taupe grey and occasional chairs in a darker grey; the combination of this with the petrified wood in stools and tables creates a natural look."
This property is home to a youthful family of two busy adults and two teenagers studying at university. It reflects their character and style within a solid structure that makes excellent use of its block size and location. Its features accommodate their lifestyle and this modern abode is a place for relaxation.
"What makes this home special is its understated look that in real terms hides a large home behind its stylish facade, with usable living spaces and well-appointed bathrooms and kitchen — the best of Italian design and functionality," says Wanda.
more info?
Accento Home
9385 4575
wanda@accento.net.au
Photography Stephen Nicholls
Originally from Home Design magazine Volume 17.1