Meet the emotional and shy man behind boca do lobo one of the biggest brands in the world. Home Design takes to the couch and get some expert advice from Marco Costa.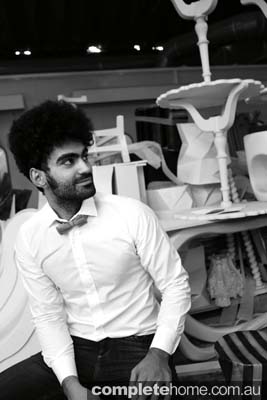 Seeing the designs that have come from Boca do Lobo, one may assume the designer is a confident, bold and out-there personality, possibly someone who could be a little over the top? However, you would be wrong. Marco Costa is "dedicated and passionate but shy". He is an old soul, fixated on the beauty of traditional design and techniques, and dedicated to revitalising these methods. He aims to bring them into the modern world to create a family jewel — a piece that creates an emotional connection with a person and that can be passed through the generations as a symbol of dedication, affection and love.
Marco has come a long way from drawing on the walls of his room as a kid. Misguided in 2004 by an academic journey into science, Marco was soon back on the creative track, studying Arts and Design at the University of Coimbra in Portugal. It was in 2009 that Marco's relationship with Boca do Lobo begun, describing it as his "opportunity to make my study about 'design, art and emotion' a reality … the concept and the mixture between past arts and contemporary techniques, that Boca do Lobo represents, is perfect for me".
This mixture between the old and new is very clear in Marco's designs. From the antique finishes and stacked design combination of the Frank chest of drawers to the black-gloss finish and traditional aesthetic of the Palace display case, each product tells a story from both the past and present. Marco particularly mentions the Heritage sideboard and its strong connection with Portuguese history. He however notes that his favourite piece is the Pixel cabinet, describing it as a "distinctive piece that has received many international recognitions, a piece that marks a special moment for the brand".
The creation of an emotional product is Marco's ultimate goal. He believes that "society is getting tired of industrial processes and mass production and, in a time where design takes short precedence in people's lives, my fight is to change this way of living".
more info?
bocadolobo.com
Words Karsha Green
Originally from Home Design magazine Volume 16 Issue 4