Going around the bend. Us too! Let us straighten you out and find the perfect window covering for your corner window.
Corner windows are a beautiful design feature in any home – helping to maximise views and create a connection to the outdoors. Yet, knowing what type of window covering to use on corner and bay windows can be a challenge.
Here are the 6 most popular window coverings for corner windows and bay windows.
Curtains
A Double Curtain that combines a blockout fabric and a sheer fabric is the ultimate solution for corner windows. The Curtains can be controlled separately to allow soft, diffused light during the day and complete blockout at night. Add Automation for convenience and control the Curtains via remote, smart device or our mobile and tablet app.
The benefit of Curtains is the tracks can be designed to shape around corner windows, providing a single, continuous track to mount your Curtains. In modern homes, Curtain tracks are generally fixed to the ceiling to create a sense of height. While in traditional homes, it's popular to fit these to the wall and conceal the Curtain heading with a Pelmet that is custom designed for a corner window. Both solutions completely cover the window and eliminate any light gaps.
Using a Double Curtain on curved tracks allows maximum control of light and privacy.
Plantation Shutters.
Another stylish and functional solution for corner windows is custom Shutters. Made from PVC or timber, we have the largest range of Plantation Shutters in Australia.
Plantation Shutters can be custom made to fit any size or shape window. Whether you have a corner window with a 45-degree inner angle or 90-degree angle, or a bay window, we can custom design a solution to suit.
It looks best when Plantation Shutters can be attached to the inside of the window frame, called recess fit, for a sleek and seamless look. However, if you have an obstruction, such as a winder, you may need to attach the Shutter to the outside of the window frame. This is called face fit and we have a great range of frames that can finish the look off beautifully.
The blades of Plantation Shutters have an almost 180-degree rotation, which offers great control of light and privacy.

Roller Blinds.
Roller Blinds are one of the most popular window treatments for any room of the home. They're incredibly versatile, can be automated and are cost effective.
While there will be small light gaps when using Roller Blinds in a corner window, they are minimal. For main living areas where you don't need complete blockout, this can be a streamlined and affordable window covering solution.
In this photo, we've designed Blockout Roller Blinds under matching Bonded Pelmets.
Cellular Blinds.
Similarly, Cellular Blinds can be used in corner or shaped windows, as well as sky lights, and these have smaller light gaps. Cellular Blinds suit modern and minimalist interiors and are an ideal choice for their thermal benefits.
Cellular Blinds are available in light filtering or blockout fabrics, making them suitable for main living areas and bedrooms. They also come in a range of designs – opening from the bottom up (like a Roller Blind), top down, or in both directions.
Roman Blinds.
For a softer – and often more decorative – option, Roman Blinds are a great window covering solution for corner windows.
We have hundreds of fabrics to choose from so you can design Roman Blinds to suit your interior style or colour scheme.
An added benefit of Roman Blinds is thermal insulation – helping to keep your home cooler in summer and warmer in winter.
Angled Pelmets.
No matter what window treatment you decide on for your corner window, Pelmets can be a fabulous way to finish off the look.
Our Pelmets are custom made and for corner or bay windows we create an Angled Pelmet to perfectly fit your space. Available in both Curtain or Blind fabrics, in bonded or padded styles, these are made to match your window covering for a seamless look.
As well as providing a tailored finish, Pelmets are also an excellent way to improve insulation and eliminate light gaps.
A combination treatment.
The final type of window dressing that's ideal for corner windows is a combination of solutions. This involves recessing either a Shutter or Blind within the window frame or fixing it to the wall above, and dressing the window with a Curtain.
Combination options include:
Roller Blind + Curtain
Cellular Blind + Curtain
Roman Blind + Curtain, or
Plantation Shutter + Curtain
A combination treatment gives you the best of both and can solve corner window challenges. For example, it's popular to have bay windows in bedrooms with a built-in window seat. In this instance, if the Curtains were designed to curve around the window they would need to be cropped, which some people prefer to avoid. Using recess fit Plantation Shutters works with the shape of the window and full-length Curtains on a track in front can be drawn closed at night for complete blockout. During the day, they can be drawn open and stack either side of the window for a stylish look.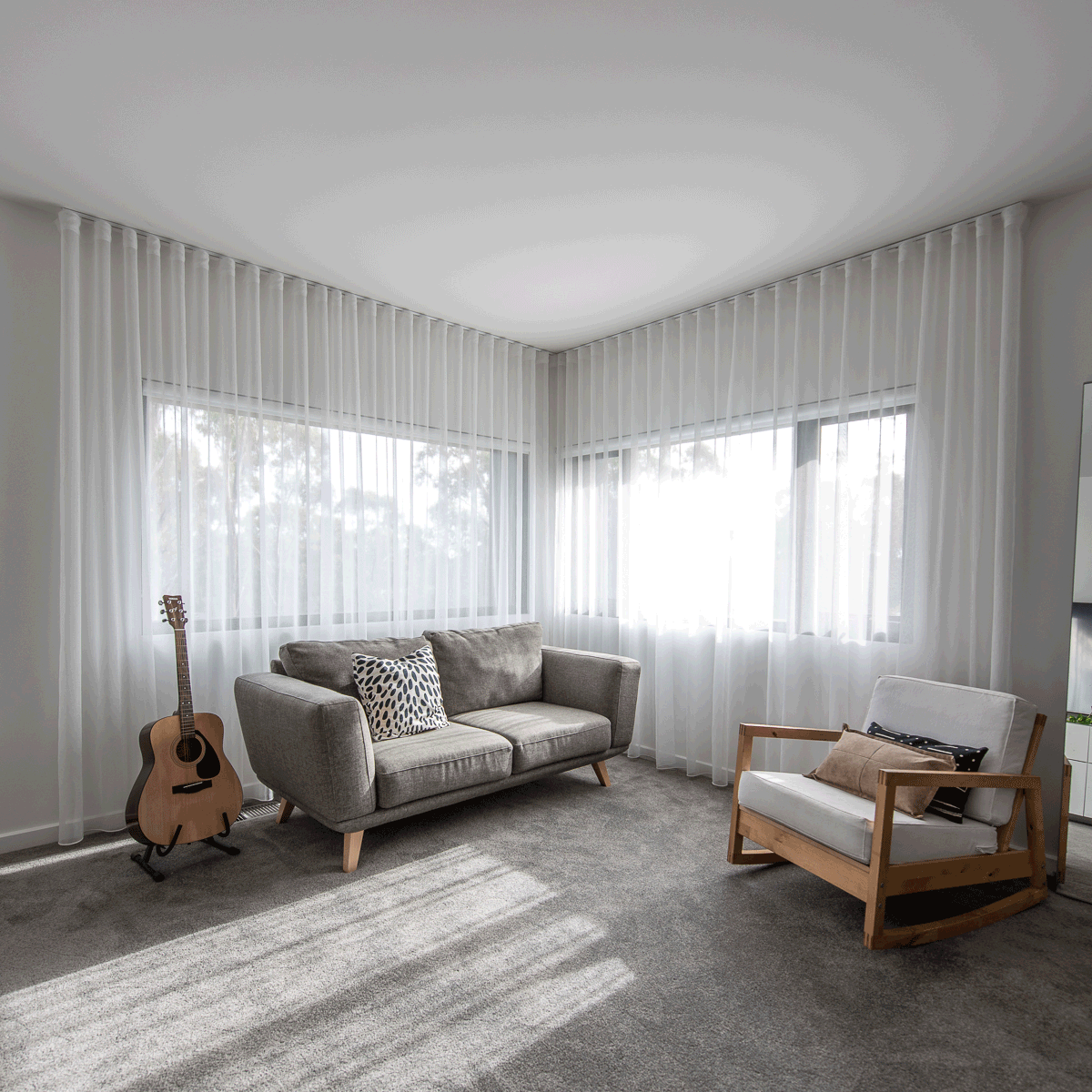 Next steps.
To find the best window covering for your corner window, visit your local dollar curtains + blinds store where an Interior Consultant can assist you. It's also useful to take photos of your window before you visit so we can discuss any potential challenges with you, such as obstructions.
For more information