Adding depth and dimension, a combination of these materials will play an essential role in making your home the centre of attention
The top trends for 2015 will embrace the elements of wood, metal, glass, ceramic and woven textures. Functional, timeless and beautiful, this quintet of materials celebrates the importance of spontaneity, encouraging us to be adventurous and creative.
A mixture of these elements will give your home decor an edge, creating a unique space that is cool yet warm, with a hint of distinctive playfulness.
Styling your dining table, coffee table, book shelf or credenza is the perfect way to introduce these raw and natural elements to your home with ease. Here are our top picks for 2015.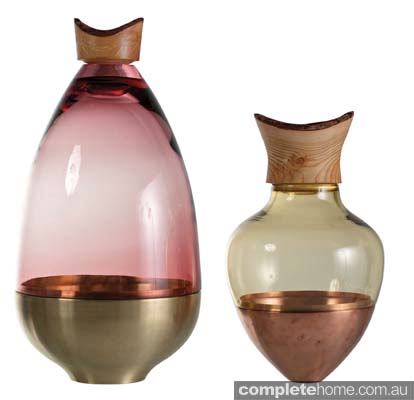 Celebrating L'Art de Vivre, the SV 10 vase, designed by Pia Wüstenberg for ROCHE BOBOIS, is a stunning piece that combines blown glass with a copper or brass base and a larch wood top.
roche-bobois.com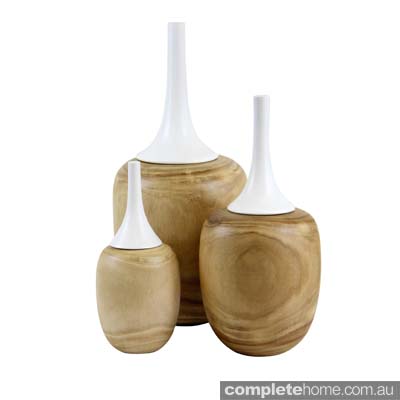 Escape to paradise with SATARA's coastal cool collection of sculptural white lid vases. Made with Paulownia wood, they are perfect for adding a touch of natural style to your home decor.
satara.com.au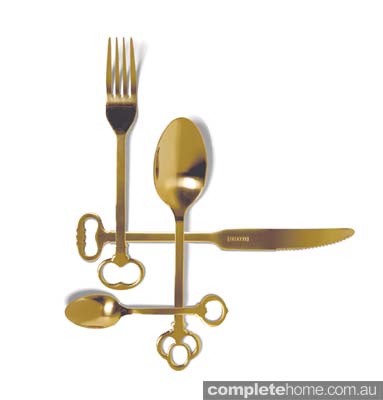 Unlock the secret to unknown culinary universes while dining in style with Seletti's Keytlery gold-plated cutlery set. A guaranteed conversation starter as well as a functional statement piece for the table.
seletti.com.au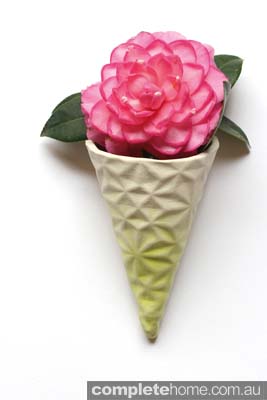 The Ice-cream wall vase by TAKEAWEI is sweet as! One can't go past the lip-licking, powdery pastel shades and inspired sorbet tones.
takeawei.com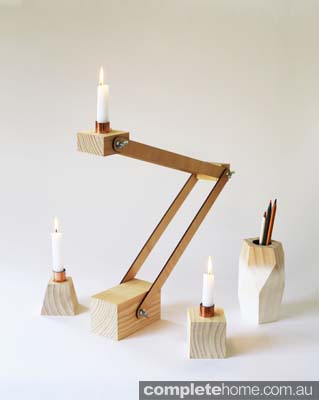 DESIGN FARM's Gloh range teams sustainably produced timber with polished copper highlights. Handmade with love, the vessels come in all shapes, sizes and colours. The Gloh lamp is the highlight of the collection.
designfarm.com.au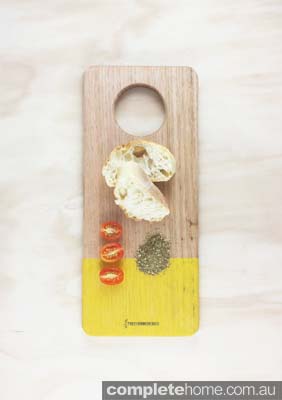 TREEHORN DESIGN's hand-crafted colourful range of kitchen boards are made from sustainably grown Tassie oak. The coloured section of the board is bright and opaque, offering a glimpse of the timber pattern beneath. Mixing the two mediums of colour and natural timber really makes the boards pop.
treehorndesign.com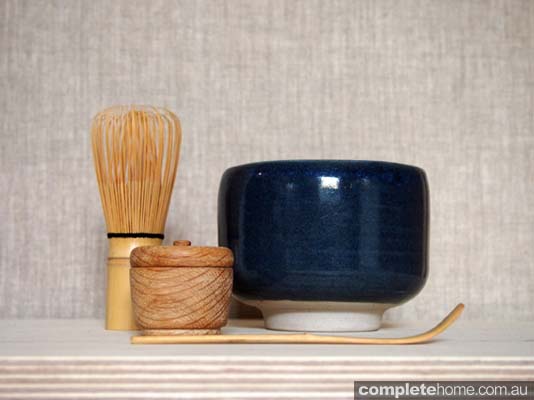 A tea set with a twist: the Maccha bowl set by WINGNUT & CO embraces modest design, natural materials and simple textures. Available in various colours, it is made from ceramic and recycled white oak collected from local workshops. \
wingnutand.co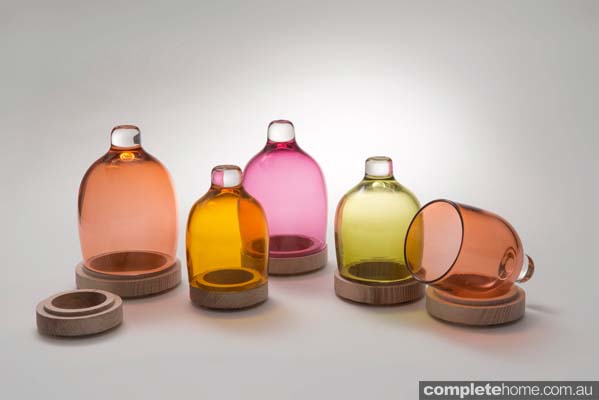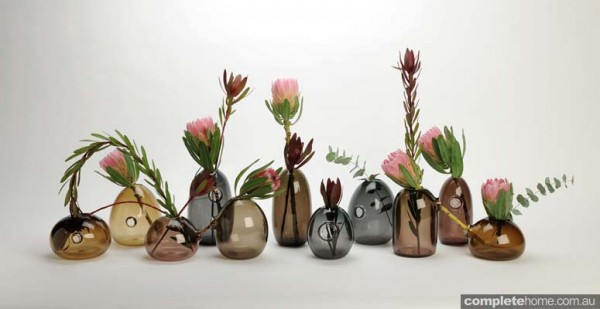 Deciding between "Display Domes" or "Ikebana Australiana" by Melbourne glass artist AMANDA DZIEDZIC was too hard. A hand-blown cloche in bright colours with a turned timber base in Victorian ash, versus a traditional and honoured Japanese-inspired floral vessel that caters to Australian natives. Which is your favourite?
amandadziedzic.com.au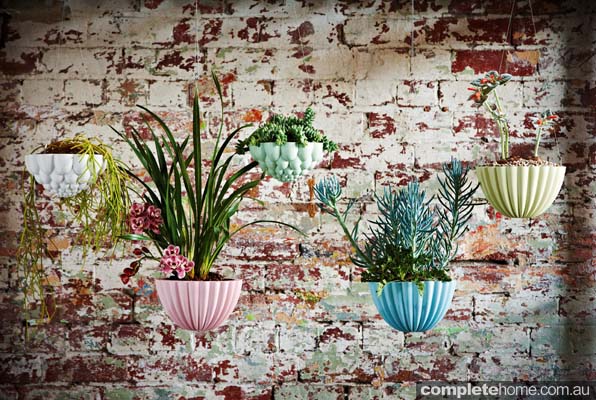 Unique and playful, these porcelain hanging planters by ANGUS & CELESTE are inspired by elaborate jelly moulds from the 18th and 19th century. These pretty pastel pieces are suitable for both indoor and outdoor spaces.
angusandceleste.com.au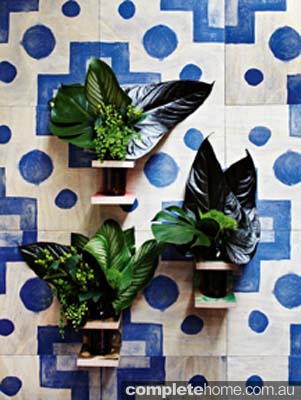 Textile design studio BONNIE & NEIL bring botanical motifs, bright patterns, and a nod to Australian culture with their sensational collection of designs. Their screen-printed timber wall vase and wall tiles are a shining example.
bonnieandneil.com.au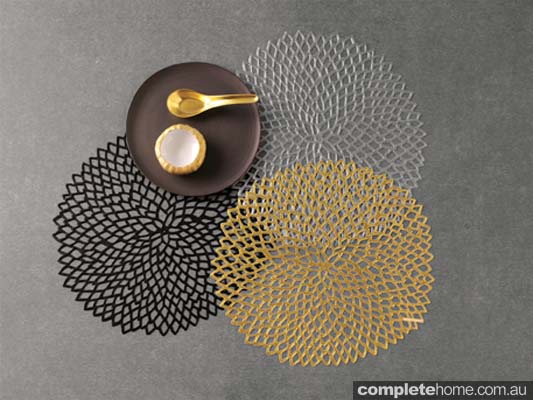 Chilewich's pressed technique uses a woven vinyl textile. This beautiful lace-like place mat is a must-have design for any table and is available from Mud Australia.
mudaustralia.com
From Sweden to Sydney, FUNKIS' handmade timberware, porcelain and clay designs are inspired by Nordic and Japanese cultures and reflect the typical characteristics of simplicity and elegance.
funkis.com.au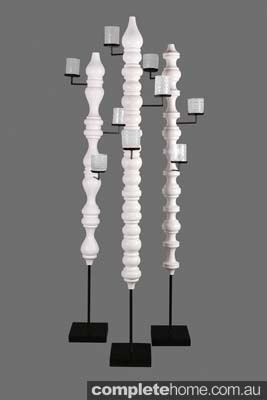 The Flora candle holder from Kish reflects the simplicity of pure white combined with the repetition of pattern and shape to create a beautiful sense of peace and tranquillity. The baluster design references vintage Philippines, inspired by the mouldings used on ventanillas (little windows) to enable  air to flow through traditional Filipino houses.
kish.ph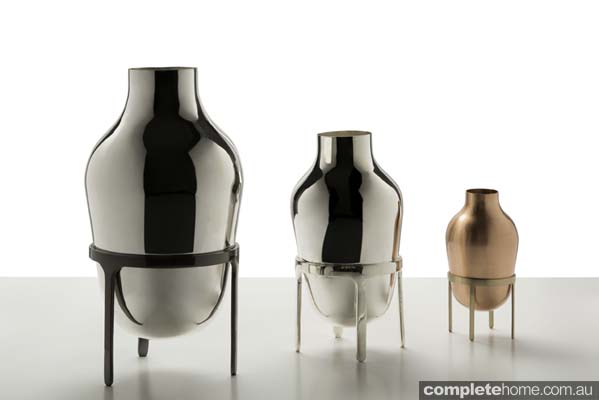 Hailing from Italy, the Titus I, II and, III have been designed by Spanish icon designer JAIME HAYON for the Paola C. brand. Jaw droppingly beautiful, Jamie's coloured glass vases come in gunmetal, brass or copper with a silver-plated or brushed brass base. They're not yet stocked in Australia but can be shipped.
hayonstudio.com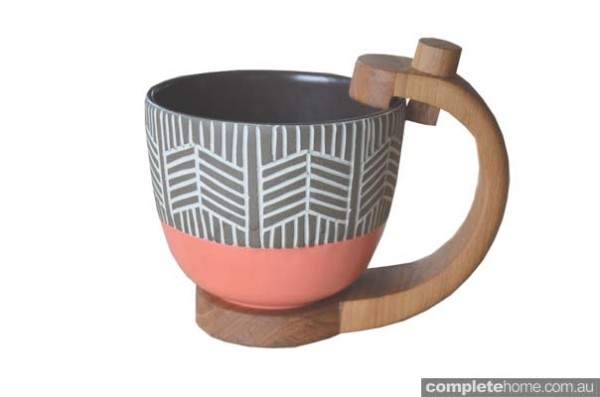 Designed by Australian industrial designer KAITLIN LIDDELL, Koa is a playful range of designer stoneware cups. Each cup is hand-carved by local artisans from urban and rural communities in Bali, then brought to life through kilns that run
on renewable energy.
koabykaitlin.com.au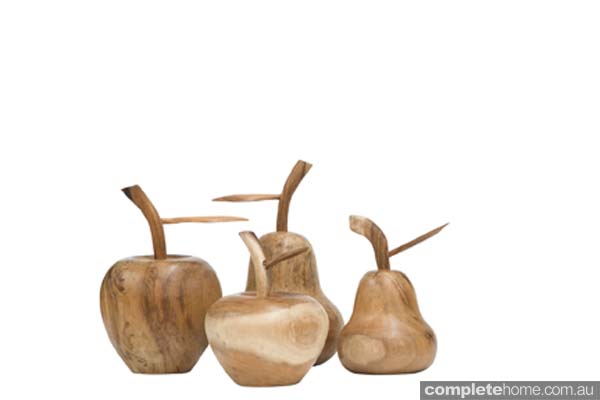 Fruit for thought: MRD HOME's cute timber fruit collection and platter is handmade from suar wood with a natural oiled or stained-black version. Combined, they make a striking table-top feature.
mrdhome.com.au
Edited by Sarah Louise Radhanauth
Originally from Home Design magazine Volume 17 Issue 6