Window fashions are an investment purchase and making a decision can be tough. Jenny Brown of Luxaflex Window Fashions shares her top tips for getting it right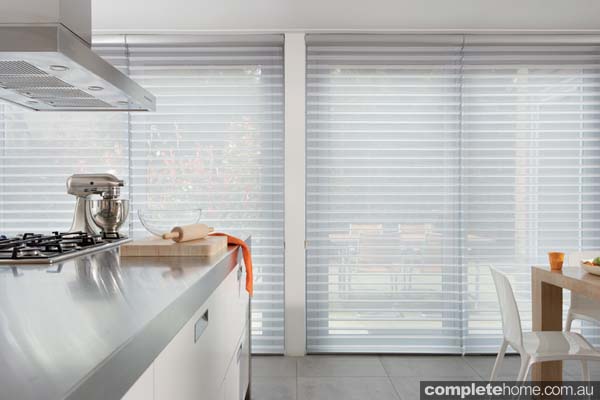 When choosing window coverings, it's important to understand how the light and temperature in different rooms change throughout the day and at different times of the year. If you are buying coverings for an existing home, ideally you should live in the home for at least six months before deciding what window fashions you need. You will find some areas are cold in winter and hot in summer and insulation is important for those rooms. Don't rush in; to make a good decision you'll need to understand the home and your living requirements during the different seasons.
The home's aspect will have a big impact on your decision. East-facing bedroom windows make a morning sleep-in difficult without blinds to darken the room. West-facing windows will make a room extremely hot in summer. Privacy from neighbours or the street is another factor, particularly at night when you have the lights on.
Once you have considered these factors, think about whether you want a consistent look throughout your home or whether you'd like to break it up into different zones. Bedrooms can have varying requirements to living spaces such as lounge rooms and sunrooms, which makes the zone approach a good one. It may also be easier to select coverings for each zone, rather making a decision about the entire home all at once.
If you're opting for blinds, you'll need to think about how you want them to operate. If some of your windows are hard to reach or if you have many windows and would like to be able to lower the blinds with the touch of a button, then motorisation, which is now an affordable option, is a perfect choice. If you have young children or pets in the home, it's best to avoid blinds with operating cords, although all cords in Australia must have child-safety devices by law. Alternative options, like sleek Luxaflex polyresin shutters or Pirouette shadings, can contribute to a beautiful interior aesthetic, minus the cords.
Look for a specialist that sells a large range of window-covering options. Share all the information you've gathered with the sales consultant so they can recommend the style of product and materials that will suit your home before you start to look at fabrics, textures and colours. Choosing the correct type of window fashion is more important to your long-term satisfaction than focusing only on how they look. Bring along images of coverings that you like, whether they're from Pinterest, other websites or design magazines, as this is a great place to start narrowing down colours and styles. With so many choices it's really just a process of elimination to find what suits you best.
If you are going with a fabric blind, take home fabric samples and put them up on your window. Look at them at different times of the day then put them away for a few days. The one that sticks in your mind will be the right choice.
Buying window fashions is an investment purchase, so make sure you ask lots of questions to ensure you will be happy with your final decision. As with any significant purchase, you want to ensure your coverings last and look good for many years. After-sales service is important and going with a reputable company that stands behind its products will ensure you get quality, value for money and a technically superior product.
Blackout
When selecting fabrics, base your decision on how much light you want to allow into the room. Thick fabrics will almost completely block out light, whereas sheer fabrics will let more light in.
A drapery rod doesn't have to be positioned on the wall. It can also be placed on the ceiling if this suits your needs better.
Bathrooms are one of the most private rooms in the home and your window coverings should reflect this. Long curtains won't cut it in this wet environment, but roller blinds are a great option. They are easy to use and won't drag along a wet floor when being opened or closed.
For absolute darkness in rooms such as theatre rooms or bedrooms, establish thick floor-to-ceiling drapes that overlap at least 35cm at each edge. This will prevent any light from bleeding into the room.
The more fabric you add to window coverings in a media room or home theatre, the better the room's acoustics will be.
Curtains or drapes can be a vital factor in allowing your home to retain heat and keep the cold out. The thicker the better.
1) Pirouette shadings by Luxaflex. luxaflex.com.au
2) Pure linen curtains from Lavender Hill Interiors. lavenderhillinteriors.com.au
3) Vertical blinds from the Aria collection, available from Carpet Court. carpetcourt.com.au
4) Exterior shutters from Newport custom shutters. newportshutters.com
5) Newstyle Luxaflex polyresin shutters. luxaflex.com.au
6) The Evo awnings range from Luxaflex features five different styles: Evo STC, Evo Channel, Evo Cable, Evo Drop and Evo Pivot. luxaflex.com.au
7) Interior shutters by Newport custom shutters. newportshutters.com
8) Custom-made Wallis blinds from the Aria collection, available from Carpet Court. carpetcourt.com.au
For more information, visit luxaflex.com.au
From Home Design magazine Vol. 16 No. 6