Style and functionality come together in perfect harmony with this beautiful kitchen redesign from mystoryco.
Prior to the revamp, the kitchen looked outdated with its small benchtops and brown and cream palette. There wasn't even an oven! There was also an unused room next to the kitchen that connected to the lounge, but more on that later. The team at mystoryco certainly had their work cut out for them, but the end result showed what an amazing job they did. Modern yet timeless, the new kitchen follows a clean minimalist aesthetic, providing a contemporary chic look with its monochromatic palette.

There's a lot to love about this updated space. What truly sings out to us are the gorgeous Staron Supreme Morning Sky benchtops from Austaron Surfaces, with their 80mm-thick edging. The colour mimics the beautiful morning sky and gives the kitchen a splash of style. The benchtop material itself is super durable and easy to clean, making it perfect for large families or anyone who loves to make a mess in the kitchen. Last but not least, its waterfall end entices you to run your hand over it and bask in its luxury look.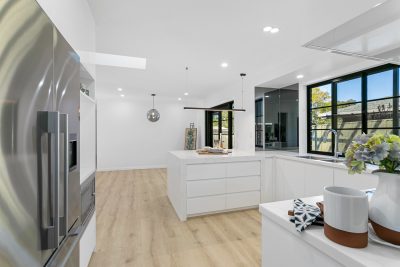 As for the previously unused room, the mystoryco team closed that off and created a butler's pantry and hallway to separate the space. Furthermore, the butler's pantry was designed to close off the messier parts of the kitchen, keeping the space looking fabulous all day long. The extra room even provides additional storage capacity.

While we're on the topic of storage, this new kitchen has it in droves. From a spice drawer to hidden-away bins and even a tea towel caddy, these ample storage designs all have pull-out functionality, which means they blend seamlessly into the space rather than stick out awkwardly. It's practicality in every sense of the word, and the ample storage options make hiding appliances incredibly effortless.
Finally, the large windows allow for plenty of natural lighting to filter into the space throughout the day. For evenings, however, the area can be gently illuminated by the LED strip lighting. Featuring strong and sleek lines, LED lighting is now a top choice for many contemporary homes due to its energy-saving abilities and generous longevity.
Design Kila Clarke (mystoryco)
For more information: Austaron Surfaces