Banish the clutter with quick tips for organising your pantry from Tanya Selever of Tansel Stainless Steel Wireware.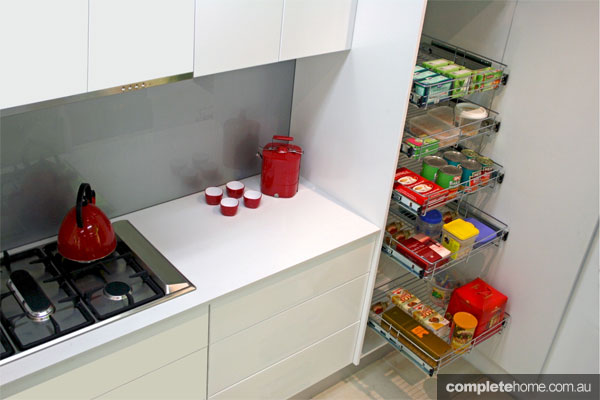 Thinking shelves? Think again
If depth of your cabinets is 400mm or more, shelves may not give you the desired access. Having shelves scalloped (into a U-shape) will improve visibility but reduce storage space. Shelves also need wider height spacing, further reducing storage. If your budget doesn't stretch to include pull-outs, insist your cabinet maker uses adjustable shelves so later you can remove them and add the functionality you need.
Space constraints
If your space doesn't allow for a large pantry, work with what you have. Individual wire baskets or a pull-out pantry best suit narrow cabinets because the mechanism doesn't take up precious space. (The width of some internal drawer systems may results in 10cm+ loss in surface storage area.)
Soft-close, self-close or just old-fashioned close
With so many options, here are some quick tips for helping you choose:
Full extension: This refers to the mechanism, extending 100 per cent. Anything less than full extension will mean a section of the mechanism (and what you're storing) will remain inside the cabinet.
Soft-close: With weight, the mechanism will close the last 20-30mm. This is a great feature for door-mount storage.
Self-close: Commonly described as "push-to-open", these systems will appeal to those with a generous budget.
Which one? Your budget will mostly determine which option is best. At the minimum, choose full extension to give you maximum visibility and functionality. The rest is icing on the cake!
Top 3 pantry storage tips
1. Keep it simple!
The more complex the mechanism, the more chance things can go wrong in the long-term.
2. Work within your budget
If budget constraints limit your options, consider just adding two to three pull-outs where you need them most or look for products that are suitable for DIY installation.
3. Check the warranty & choose quality
Ask about warranty and check the fine print to ensure you don't have to replace the product sooner than you think.
By Tanya Selever, managing director and product designer at Tansel Stainless Steel Wireware.
From Kitchens & Bathrooms Quarterly magazine Vol. 20 No. 1