This Melbourne-based company saw a gap in the building market and is now offering a design-led solution for consumers wanting an architecturally designed home, without the stresses that often come with it.
Founded in 2019, Ruum is revolutionising the way we build with an innovative model that rethinks the traditional pathway to architect-designed living. The traditional option of a one-off, bespoke architectural build can bring about a beautiful result but can often be a complex, arduous and sometimes overwhelming process. Ruum offers a carefully defined model, with distinct steps and cost transparency, in addition to all the benefits of architectural design.
For Ruum's founder Elliot McLaren, it was at the seven-year mark of his 15-year career journey when he noticed a chasm in the market. "I witnessed people coming into the volume building market trying to use the price transparency and upfront nature of that market to try to facilitate better outcomes," he says. "These customers were spending more and more money, but they had no desire to go down the traditional path to an architect-designed home because they felt there was just too much uncertainty with that process." This led Elliot to question traditional means of building and offer an alternative solution, and so the Ruum model was born.
Ruum commissions leading residential architects to design houses that are a pure expression of their vision for modern Australian living. These collections of architect-designed houses are replicated only a limited number of times before being retired — similar to a limited-edition work of art. This limited replication unlocks design and construction efficiencies, while ensuring transparency in costs and timeframes. Ruum oversees the entire process, from planning to handover, acting as the project guardian and the central point of contact and advocacy for the client and builder. All the client needs to do is bring the land, and Ruum will gladly assist with any questions regarding a block's suitability to accommodate a particular Ruum commissioned home.
"Ruum really is an access platform for the customer from the very start, not just for a product, but for a process that advises them through the buying process. We have several clients at the moment in both Victoria and New South Wales that are searching for certain parcels of land and when they identify something, they'll speak to us and we'll make sure the home works. We'll ensure the orientation of the product is suitable and together with the client we're able to put them in a position of awareness so risk is mitigated," explains Elliot.
This collaborative process between all parties ensures clients are given all the relevant information from the very start, with Ruum priding itself on its transparent nature of operations which includes giving clients costings upfront. "I think informed customers make informed decisions and an informed decision is a good decision. Good for the customer, good for the builder and good for the architect," he says.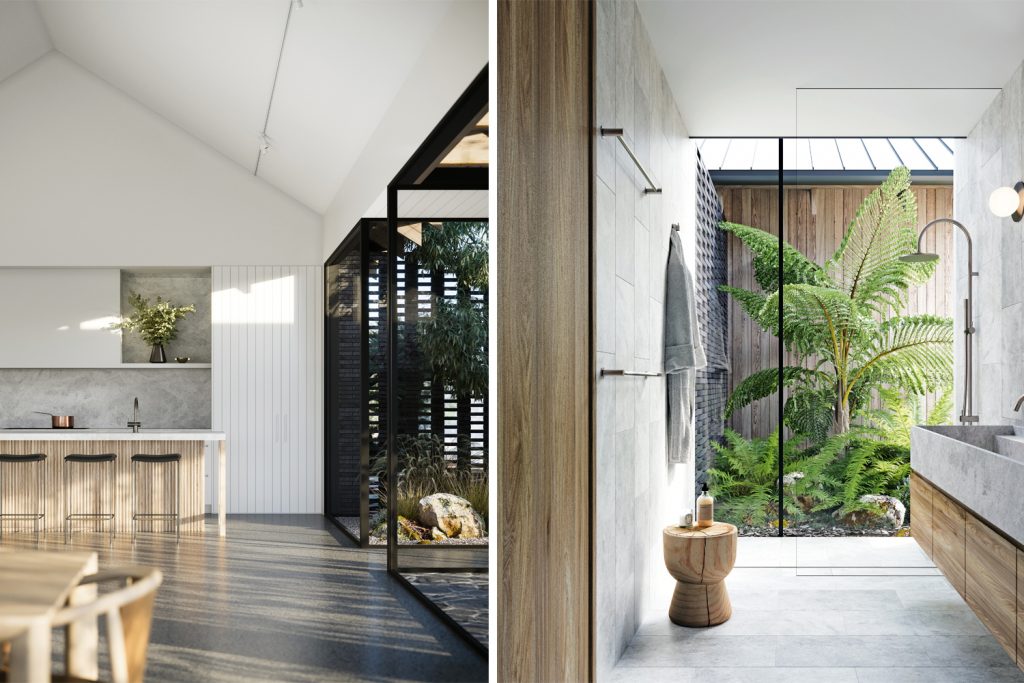 Ruum customers are directly benefited by knowing the costs upfront, mitigating price uncertainty or blowouts. Customers can rest-assured knowing that it is a well-procured product, and that the builder has been involved in the development from the very start, so nobody attached to the Ruum model is scratching their heads, wondering how to execute the project.
Elliot concedes that working with architects who are residential specialists is imperative. The beauty about the Ruum model is that they are not limited to any one particular architect, allowing them to seek out leading or emerging architects that have a passion for residential architecture.
"It takes all of the people on board with the Ruum model to share a genuine desire to make good architectural design more accessible, so I suppose possessing genuine belief to want to make an impact in that space is important," he says.
This notion of catering to "modern Australian living" is a key element to the homes designed within the Chamberlain and Escape collections offered at Ruum. Multi-adaptable spaces that are flexible and fluid are paramount, particularly in a post-pandemic climate in which many are spending more time in their homes than ever before.
Partnering with Australian-made suppliers where possible is also integral to Ruum's ethos. From designers to artisans, Ruum's vision is to set a benchmark for the highest-quality materials and craftsmanship. "Where we can, we have a real affinity with Australian product. All the taps are handmade in Melbourne through Sussex. The Krause bricks are handmade by a third-generation family business in north-eastern Victoria using a local clay in the goldfields to get a beautiful rich tonality in the bricks. "Ruum believes in supporting Australian designers and artisans wherever possible," says Elliot.
Including highly respected appliance brands such as Fisher & Paykel, Australian furniture company Kett, Artedomus, Made by Storey and landscape architect Phillip Withers, Ruum has an extensive list of partners, truly making it a one-stop shop for its customers which enables them to deliver an end-to-end service.
Ruum's inaugural collection of homes were designed by Chamberlain Architects and consists of five designs that are currently available for purchase. The Ruum Escape Collection features designs suited to those who want to live and work remotely on flexible rural or coastal sites. This collection features designs from Chamberlain Architects, Andy Wong, Architects EAT, FMD Architects and Tom Robertson Architects, and will be available in summer 21/22. The homes are commissioned a limited number of times per state to maintain exclusivity.
"The limited-edition delivery ensures two things. One, it ensures that the client still accesses the exclusivity that they deserve, but the limited construction of a home also gives the builder knowledge and awareness from project one and extrapolates that through the life of a home. The by-product of that is the unlocking of construction efficiencies that just do not exist in a one-off market," he concludes.
For more information