In this adobe adaptation, the new and polished has been avoided in favour of the handmade, handcrafted and second-hand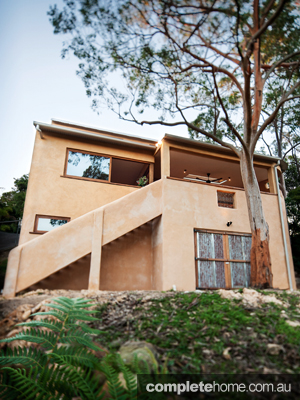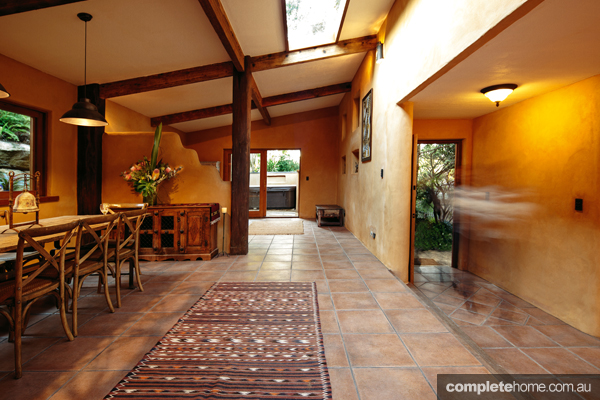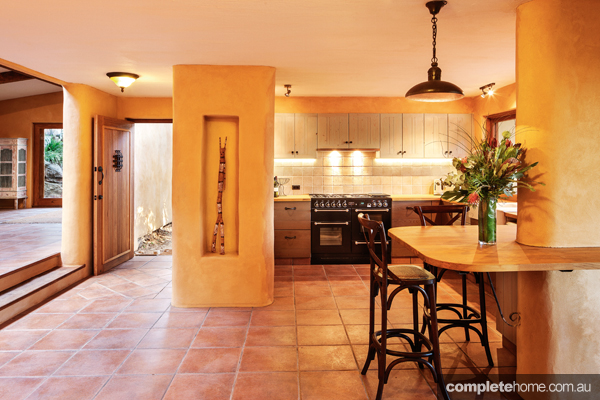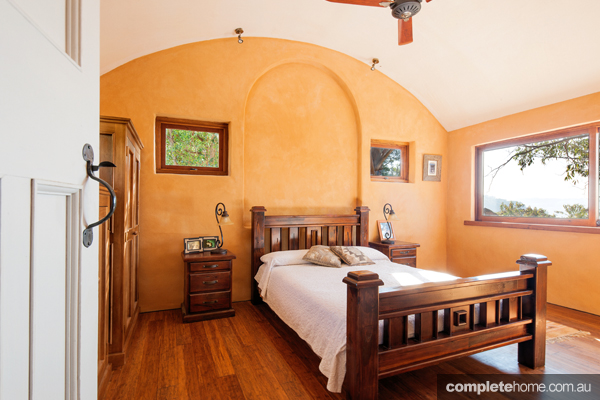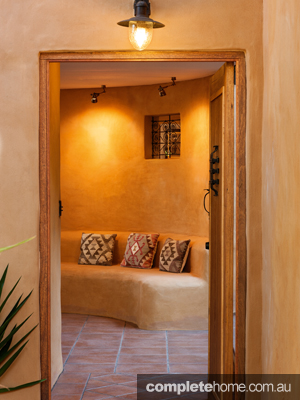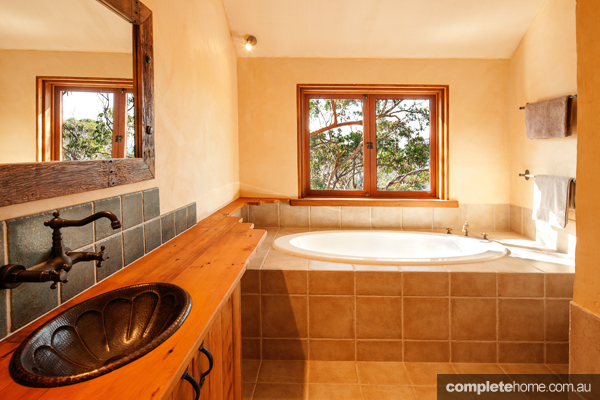 HOUSE Hornsby Heights Adobe
LOCATION Hornsby Heights, NSW
COST $550,000
DATE COMPLETED May 2013
EPISODE 4 SERIES 4
Kerry Mulley and Judi Shepherd never thought that subdividing their existing block and transforming the second half into their dream home would be such a long journey, nor did they think the result would be more than they could have ever wished for. A mud monument that emerges from the earth to create its own unique entity is the product of an incredibly trusting relationship between builder and homeowner, a build-as-you-go approach and a trailer full of mud.
Kerry and Judi are avid collectors of history; Kerry infatuated with Native American culture and Judi interested in shipwrecked artefacts and Indigenous art. Their years of travelling have enhanced their admiration for the warmth and feel that these cultural pieces, as well as the Santa Fe adobe style of home, evoke. However, building this traditional clay house that was originally meant for the desert was a gamble in the bushy landscape of Hornsby Heights, just north of Sydney. But the couples easy-going nature and passion for difference was key to a successful and inspiring build. "We wanted something similar to a Santa Fe adobe house, something that has a nice warm feel to it, with lots of character and that is different from the norm … we wanted a house that was a creation and not just a normal building," says Judi.
On 650m2 of rocky, sloping land, the plan was to build the typical curvaceous, mud-rendered adobe house using as much environmentally responsible and recycled materials as possible. Finding a builder that could make this dream a reality was tricky but, in hindsight, this project wouldn't have been the same without Peter Bertuleit and Andrew Minter. Designing adobe homes for 40 years, Andrew was a necessity, however it was Pete the builder's passion of recycled materials, his carefree nature and build-as-he-goes approach that struck a chord with Kerry and Judi and has resulted in a lasting friendship. "We would talk before Judi and I went to work in the morning and Pete would put about 20 ideas to us and we would make snap decisions," says Kerry.
Adobe is a mixture of sand, clay, water and a fibrous or organic material such as sticks, straw and manure or, in Kerry and Judi's case, sawdust. A traditional building made in this style would usually be built using handmade adobe bricks, however, due to the different environment and materials available in this modern age, a few adaptations were made for Kerry and Judi's home, including slight changes to the structure. Basic timber frames were used to construct the home's skeleton, which was clad in corrugated iron and then rendered in adobe. A curved, iron roof, instead of a conventional flat roof, was also decided upon and was an unintentional contributor in creating a sense of spaciousness in the home's interior. Many adobe details were preserved in this design however, including the curved surfaces, traditional handcrafted taps, basins and handles, large timber beams on the ceiling and window panes, as well as the moulded holes in the walls, commonly known as niches, which house Kerry and Judi's beloved collectables.
It wasn't the unusual nature of this build that disrupted the carefree process but a large sewerage line that ran right through the middle of the dining room. Not being able to move this obstacle meant they had to embrace it, and what began as an inbuilt shelving system became a relaxing and unique bench seat that moulds into the home's fluid form. Like all the other spur-of-the-moment decisions that Kerry and Judi made, they took it in their stride, covering the sewerage line in concrete then mud render, which they upholstered and now use as a humorous conversation starter with guests.
"One of the most exciting parts of the building process was the day the mud arrived," says Judi. A benefit of building with a natural material such as clay meant all Pete had to do was find it. Luckily enough, a swimming pool excavation in the nearby suburb of Terry Hills provided the trailer load of clay that would inevitably cover the entire house, inside and out. A risk to this rendering method, however, is that due to clay's varying colour and consistency, the same shade can never be replicated.
"We imagined off-white for the inside of the house but what we got was so much better," says Judi about the mustard-yellow imperfect render that coats the structure. When wet, adobe is the stickiest substance that you could imagine yet when dry it's strong and has an excellent thermal mass that will protect the building in the case of a natural disaster, particularly a fire. In addition to this, Pete placed an invisible fibreglass mesh over the render that tightened as the mud dried, binding all the materials in the adobe together to make and an almost indestructible surface.
Upon approaching the home, it is this rustic facade amidst a beautifully contrasting landscape that sets the tone for what is to be found inside. Immediately, you notice the curved corners and lines that fill the space, making the structure feel as though it was built as a whole. From the Victorian farmhouse-style kitchen to the old wool-shed aesthetic of the exposed corrugated iron in the laundry, and the Aboriginal and South American accents of Kerry and Judi's collectables, this home is full of history. However, the choice to build sustainably and opt for the handmade and crafted over the new and the polished is not necessarily a cost-effective way of building. "Although you may feel better about using recycled materials, it isn't a money-saving method at all," says Kerry. "It is much the opposite". While the clay, corrugated iron and timber were free, the intensive labour was the most-expensive cost but even though the budget went over by approximately $50,000, Kerry and Judi could not be happier with the end result — their own interpretation of what this type of architecture can really achieve, functionally and aesthetically, in an environment that is so different from its origin.
"We are very, very pleased … this has been on the agenda for years and the way it has come out … the tactile experience of the spaces and the ability to walk freely between them and see the way the light plays off the walls, that's the best thing," says Kerry.
"Our dream was to have a beautiful house made of mud and have it built the way we wanted … just the fact that they (Pete, Andrew and their team) could do that for us, and would do it, is an amazing thing," says Judi.
PROJECT TEAM
ARCHITECT Minter Designs (minterdesigns.com.au)
BUILDER Natural House Builders (naturalhouse.com.au)
STRUCTURE
Earthworks Ron Flew Excavations (ronflewexcavations.com.au) Structural steel R.E.M. Metal Fabrication (remmetal.com.au)
FIXTURES AND FITTINGS
Tiles Cerdomus Tile Studio, from BIGA+, Waitara (cerdomustile.com.au, bigaplus.com.au) Bamboo flooring Genesis Bamboo in Balinese Teak (genesisfloors.com.au) Basins The Copper Depot (thecopperdepot.com) Taps SinO Faucet (cinder.zlr) Fans Early Settler, Recollections (earlysettler.com.au, recollections.com.au) Kitchen benchtop IKEA (ikea.com/au/en) Kitchen sink IKEA in Double Butler style (ikea.com/au/en) Upright stove Falcon (andico.com.au/falcon/home) Fridge/freezer Haier Australia (haier.com.au) Dishwasher Bosch (bosch-home.com.au) Washing machine & rangehood Fisher & Paykel (fisherpaykel.com/au) Dryer Electrolux (electrolux.com.au) Laundry sink in Belfast style 1901 Sinks (1901sinks.com.au) Spotlights Beacon Lighting, Emac & Lawton (beaconlighting.com.au, emac-lawton.com.au) Spanish-style Oyster lights & iron lamp Beacon Lighting (beaconlighting.com.au) Pendants over dining table Early Settler, Recollections (earlysettler.com.au, recollections.com.au) Switches and power points Tradco Hardware (tradco.com.au) Rustic iron door handles Handforged Traditional Ironmongery (handforged.co.uk) Rustic iron kitchen drawer handles Tuxford Furniture Hardware (myworld.ebay.co.uk/old-timer40/) Rustic kitchen cabinet door knobs Early Settler, Recollections (earlysettler.com.au, recollections.com.au) Southwest Forge rustic ironware Hardware Hut (thehardwarehut.com) Antique Moroccan iron inset in curved seating area Mr Brassman (02 9960 2817) Moroccan sconces Mr Brassman (02 9960 2817) Antique Moroccan iron inset on verandah Eco Outdoor (ecooutdoor.com.au) Bath iBath (ibath.com.au)
FURNITURE AND FURNISHINGS
Beds Early Settler, Recollections (earlysettler.com.au, recollections.com.au) Two brown lounges Oz Design (ozdesignfurniture.com.au) Spanish-style sofa Early Settler, Recollections (earlysettler.com.au, recollections.com.au) Iron-frame mirror Metroscope (metroscope.com.au) Wardrobes Ox Pine Furniture (oxpine.com.au)
SERVICES
Plumbing James Barrie (ozplumb.com.au) Tiling AB Coates Tiling (0417 453 290) Electrician Benz Electrical (0417 569 978)
WORDS / Karsha Green PHOTOGRAPHY / Nick Wilson
From Grand Designs Australia magazine Vol. 3 No. 1