We show you why knocking down your old home and rebuilding is an attractive option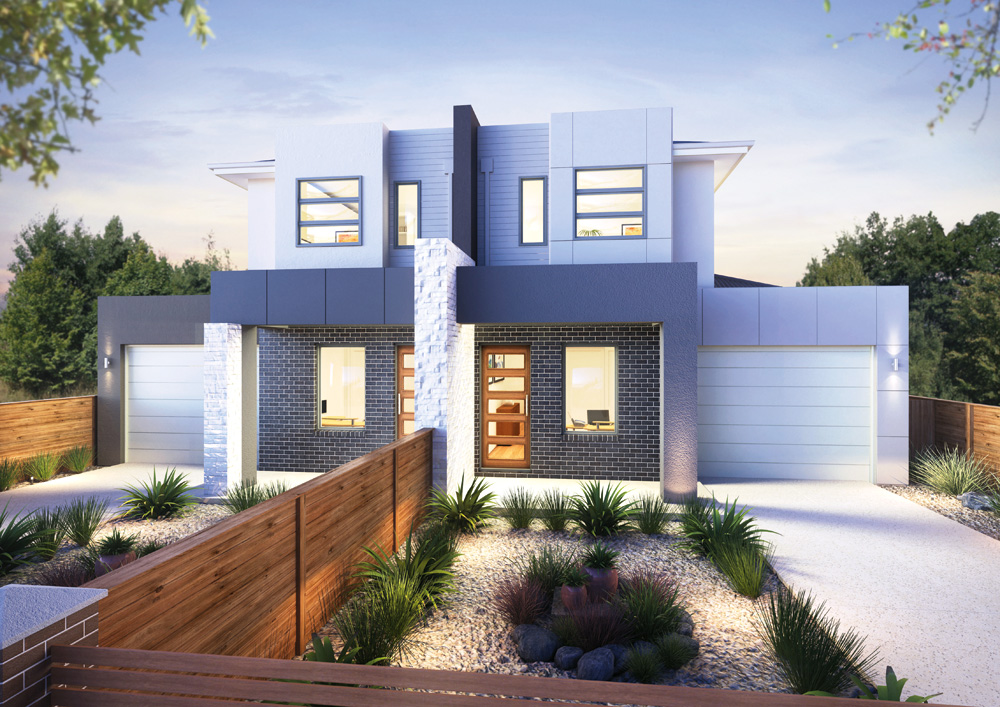 With Australia's growing population, the amount of vacant land is becoming increasingly limited and expensive. Knocking down an old home is an extremely viable option as it means you can choose the home you want and stay in the area you love.
Master Builder and TV personality on Channel Ten's The Living Room, Barry Du Bois, says that knocking down an old home and rebuilding is often a cost-effective option to achieve a home that is more suitable for the occupant. "A rebuild can give a homeowner a more low-maintenance home in the size of their choosing. For example, you might actually want a smaller home to suit your lifestyle," says Barry.
Whilst renovations have typically been a popular choice for homeowners, the costs involved can quickly outweigh the final result. "An older home might have good bones, but if it has lots of band aids all over it then it is easier, and sometimes even cheaper, to give it a heart transplant and have a fresh start," says Barry.
Additionally, older homes, even those that have been updated, tend to require copious maintenance compared to a newly built home. It is also worth noting that homes built before 1987 are likely to contain large amounts of asbestos, so a total knock down and rebuild is a good solution to remove this.
Overall, the wholistic value built into a home or neighbourhood can be priceless, says Barry. "Personal relationships and the security of a community can sometimes be tricky to find and take years to build.
If you are choosing between moving home or rebuilding to stay on your existing plot, this, along with being able to go to the same schools, shops, transport options and other important landmarks, can be a reason to rebuild."
Finding your builder
As with any building project, the most important tool to achieve the results you want is the ability to communicate effectively with your builder.
"For any project, I want the same things and ask each builder for the contact details of their last five building projects and compare how similar they are to my project," says Barry. By doing this you will be able to effectively understand whether the builder you are consulting is capable of the project you want to undertake.
Asking questions with regards to how the builder would plan to undertake the project will give you further understanding of their work ethic and quality of service. "Absolutely ask as many questions as you can and if the response to any of your questions is 'You don't need to know that', then that is a red flag," Barry says. The builder should be able to explain in simple terms what is involved, the costs and duration it will take.
Dealing with council restrictions
"Development and building controls are governed by and vary between each state government," says Barry. "Your local council will have a DCP (Development Control Plan) and LEP (Local Environmental Plan), which set out guidelines for all building projects." To avoid any issues arising make sure you check for the specifics in your area.
Heritage-listed homes or other caveats could delay your project so be wary of these before deciding on a knock down and rebuild. Another consideration homeowners are often unaware of is that the development and control guidelines around size and floor ratio may have changed since the construction of the first home. This means that you may not be able to have the same size footprint or layout with the new home. Before commencing your chosen project, consult your local council for all building guidelines.
Barry's top tip
Investment in good planning can pay great dividends. Not only will a well-planned project result in a more sustainable design and a home that gives you longevity because it was created thoughtfully, it will also reduce waste and loss of time.
Knock down and rebuild in The the Hills
The Hills Shire Council council is now offering a $2000 rebate for residents in the area looking to knock down and rebuild. The council is actively looking to encourage this form of building with its knock down and rebuild scheme that is aimed at rejuvenating low-density housing estates within the area's more established suburbs. To be eligible, homeowners must spend more than $250,000 on upgrading their home, with the rebate to go towards landscaping. For more information, visit thehills.nsw.gov.au and search for Knock Down Rebuild Landscape Contribution Scheme.
Knock down rebuild specialists
Hotondo Homes: hotondo.com.au
Masterton Homes: Masterton.com.au
MacBuilt Homes: macbuilthomes.com.au
Originally from Build Home magazine, Volume 22 Issue 1