Lush, green and inviting, this newly landscaped garden is a little slice of heaven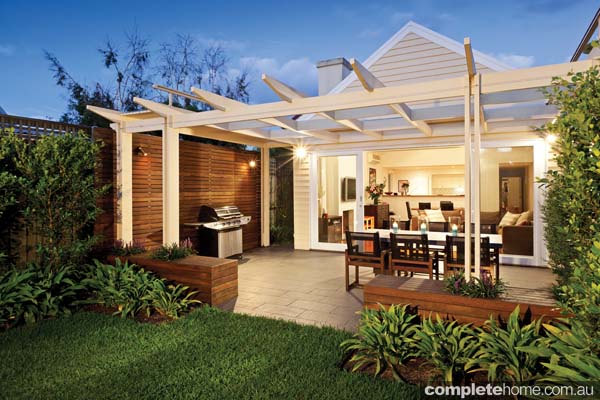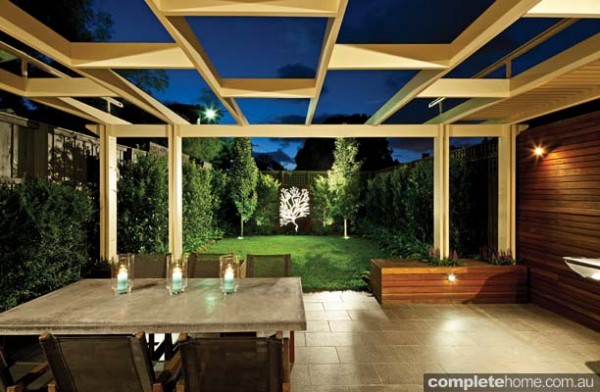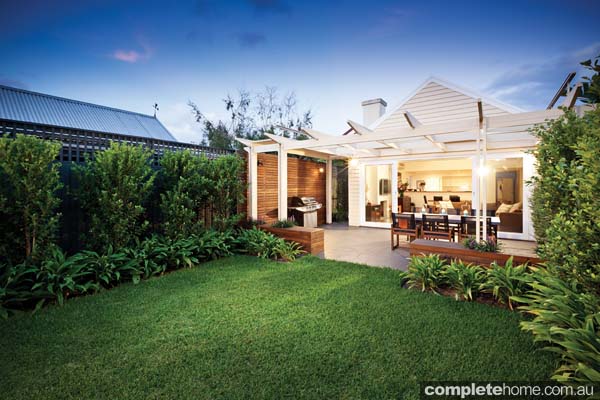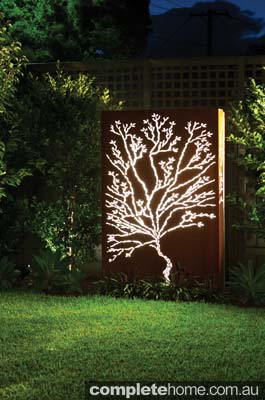 Although this rear garden was quite small, it did face west so there was an abundance of natural light. The other bonus was that the owners were happy to re-model the back of their house to ensure an easy flow between the indoor living area and the newly-landscaped garden.
Sliding glass doors were installed to allow light into the home and forge a seamless connection with the new paved outdoor dining spot. "This space is framed with a painted timber pergola and particular attention was given to ensuring that the design of the ornate pergola tastefully integrated with the design of the house," explains landscape designer Justine Carlile.
To one side of the dining area is a barbecue that sits in front of the merbau timber privacy screen. The same timber was used to build two bench seats, which incorporate planters filled with evergreen turf lily. They produce lovely purple blooms from late summer to early autumn. The timber contrasts the black granite paving with the grey of the polished concrete outdoor dining table.
"The dining area looks out over an expanse of drought-tolerant turf surrounded on three sides by bushy ficus, which will grow to provide a tight, dense hedge that offers privacy and definition to the area," says Justine. "At the base of the ficus, New Zealand rock lilies were planted which provide strappy foliage and a display of elevated white flowers in the spring.
"The use of mainly evergreen plant species in this garden has been a key factor in creating interest throughout the year. This includes the use of a thin hedge of hardy evergreen box-leaved privet to one side of the dining area."
A Corten steel light box positioned at the end of the garden provides a focal point that can be enjoyed whether sitting in the outdoor dining area or inside the home. Boasting a laser-cut tree pattern, the light box is flanked by ornamental pear trees underplanted with turf lily. Says Justine: "The light box is multi-faceted in that during the day the Corten steel structure is a sculptural feature in its own right, while at night it turns into a light feature."
Feature lighting is an important part of this landscape, with low-voltage lights set into the timber seats, on the timber wall and around the garden. Small spotlights have also been strategically placed under the ornamental pear trees.
"While the space available for this garden was limited, we were able to make the most of what there was by carefully considering the family's indoor and outdoor lifestyle needs and employing a well-thought-out palette of plants and materials that maximise the space. The result is a functional and attractive garden unconstrained by the site's size limitations," concludes Justine.
WORDS: Karen Booth PHOTOS: Patrick Redmond
Originally from Backyard & Garden Design Ideas Issue 11.6