Curves are a great way to join different angles, and in this garden, the broad curve that embraces the back left-hand corner, combined with the rectangles, gives the design a sense of movement that is especially apparent from upstairs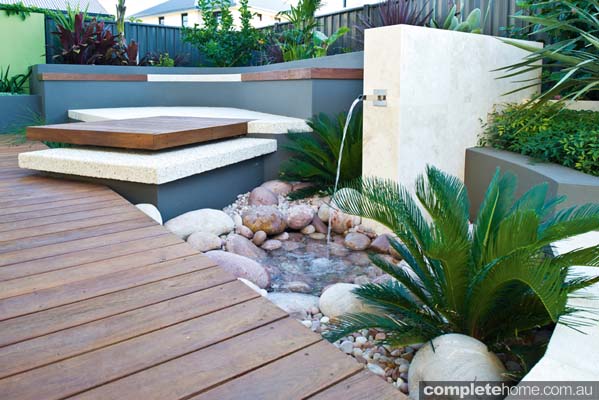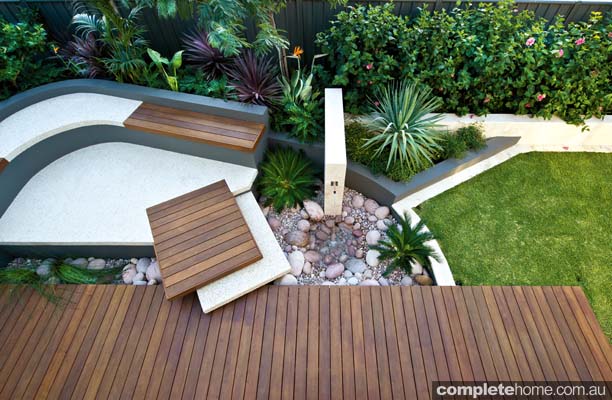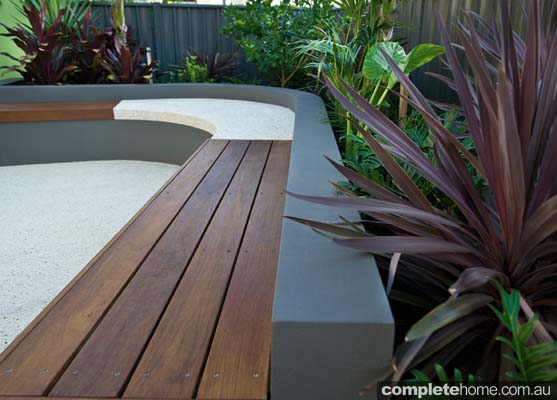 Jos, the owner of this property, wanted a fabulous garden at the back, which she could enjoy alone and also when her grandchildren visited. She also wanted somewhere to sit other than the alfresco attached to the house. There was no need for any outdoor cooking facilities because all the entertaining takes place upstairs, where there is a barbecue on the balcony.
As the balcony overlooks the back garden, it was essential to create a stunning areal view. Towards the back of the site the land dipped slightly, so a retaining wall was built and the original metal fence lifted. This allowed the garden to be flattened and created enough height for some raised garden beds along the rear boundary and an elevated position for a daybed.
The journey from the alfresco to the daybed begins with two floating steppers set on the diagonal. The lower one is made of washed aggregate, its corner hovering just above the boardwalk. The upper stepper is timber and it cuts into a platform that again is washed aggregate. Linking the timber seats of the daybed is a curved section of washed aggregate, which is a useful little platform for drinks.
The retaining wall forms the back of the timber seat. The garden bed behind the wall is at a lower level so the plants had to be fairly tall. They include kentia palms, bird of paradise, elephant's ears, philodendron and cordylines. Continuing along the raised bed there is a row of hibiscus.
Introducing another dimension to a garden can produce spectacular results. We tend to think of having everything above ground, but developing a sunken feature creates a unique point of interest. In this garden, the daybed platform and the two steppers jut out over a dry riverbed of rainbow gravel and smooth stones set at a depth of 300mm below the surrounding surface.
The impression throughout this sunken area is of cool dampness, but in fact there is only one spot where water actually forms a pool — a depression in the river bed. This is fed by a stainless-steel spout set in a blade wall, clad in travertine, which is perpendicular to the back retaining wall. On either side of the pool, sago palms soften the lines of the masonry.
Finally, the back garden also had to include a lawn for Jos's grandchildren. Even so, they love every other part of the garden equally, because it contains so much interest.
This article was adapted from Janine Mendel's second book, Urban Sanctuary, in which this garden is featured.
Written by Janine Mendel
Photography by Peta North
Originally from Backyard and Garden Design Ideas magazine, Volume 12 Issue 2