From home to cabana to pool, this is an exercise in perfectly seamless outdoor design.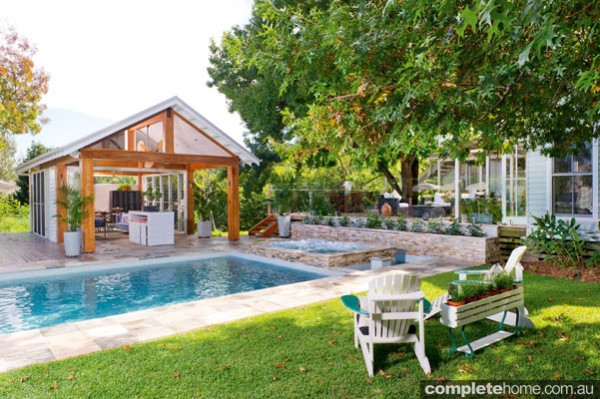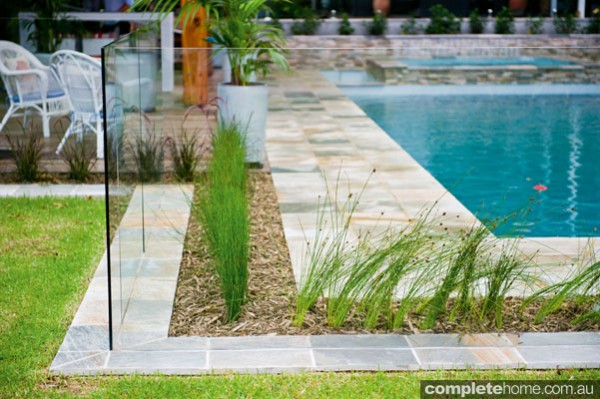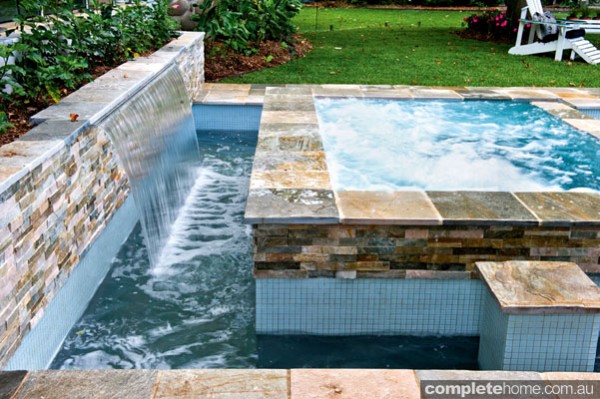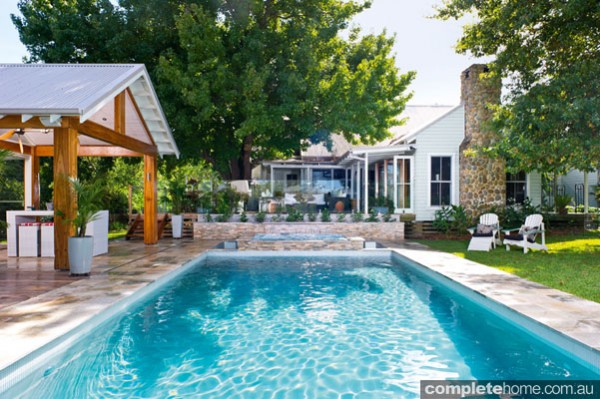 The owners of this acreage property in the north-western Sydney suburb of Arcadia are spoiled for choice. They can entertain friends in the light and airy cabana, enjoy a relaxed meal on the tree-covered deck or cool down on a sultry summer's day in the inviting swimming pool.
The brief from the homeowners to Jakin Pools & Landscaping was to design and build a large pool with a separate spa, an open-plan cabana and a deck area that would flow seamlessly from the rear of the house.
When designing the outdoor living areas, it was vitally important that the new additions complement the design of the house. This was achieved by matching colours and materials, such as using stacked-stone walling that picks up on the colours of the home's external chimney stone.
The cabana, which is a destination in its own right, has a laid-back holiday feel that is enhanced by the recycled-hardwood posts and beams, the cane ceiling fans, and the lime-washed timber ceiling. The louvre windows and bifold doors make it possible to open up the cabana to let in cooling breezes, or to close it to keep out the rain, wind and winter chills.
Just a stone's throw away from the pool, the cabana is equipped with a kitchenette, a large butler's sink, a dining area, and a TV and sound system fitted with external speakers — all of which make balmy nights spent by the pool that much more enjoyable.
For the paving around the pool, Jakin Pools & Landscaping chose quartz stone; for the fencing, they opted for frameless glass; and for heating, they went with an energy- efficient solar system.
The adjoining spa is surrounded by a 9000-litre pond at the head of which is a sheer-descent water feature that adds to the sense of tranquillity. For ease of use, the lighting (pool, spa and pond), heating, pumps and water feature can all be turned on from the house or the cabana.
When family and guests want to simply relax in the shade, they can gather on the elevated spotted-gum deck at the back of the house or sit on the healthy lawn, protected by the canopy of the established trees. The green of the lawn is complemented by the hardy, low-maintenance native grasses planted around the paving at the far end of the pool.
Establishing a seamless flow from the house to the various outdoor areas was extremely important for the owners and by all accounts, they couldn't be happier with the result. They now have their own private outdoor retreat that makes every day feel like a holiday at home.
Project details
Landscape and construction by Jakin Construction Group
Originally from Outdoor Design and Living Issue 28