Install a spa or hot tub for the ultimate in relaxation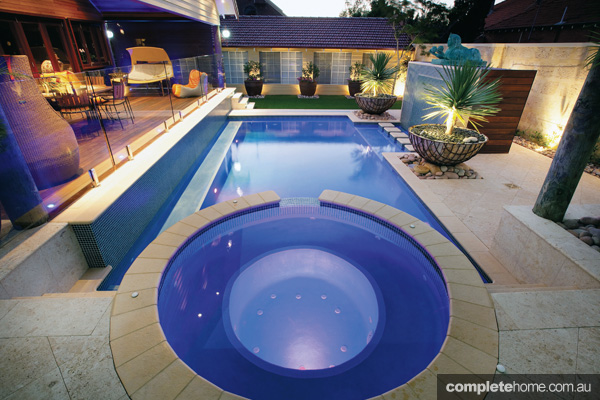 Image courtesy of Instyle Concrete Pools, www.instylepools.com.au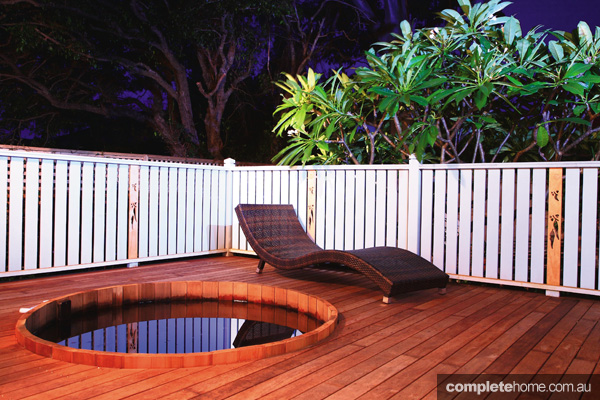 Hot tub from Ukko Saunas, www.ukkosaunas.com.au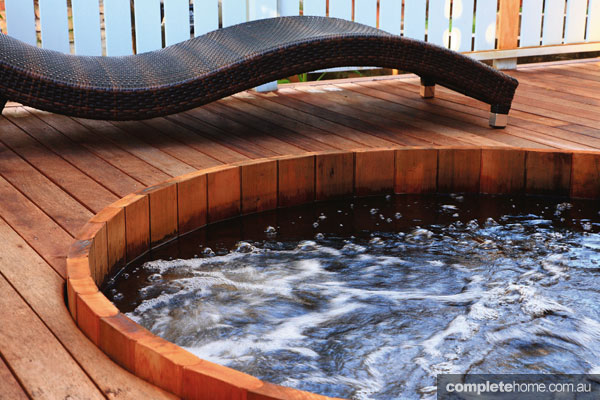 Hot tub from Ukko Saunas, www.ukkosaunas.com.au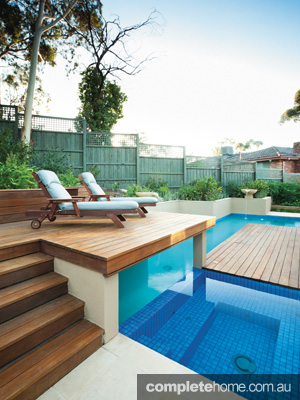 Image courtesy of Outdoor Creations. Photography by Patrick Redmond.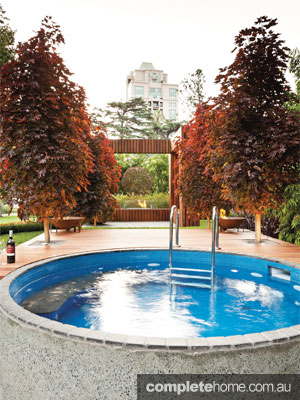 Image courtesy of GreenArt Gardens. Photography by Patrick Redmond.
Image courtesy of NVP Property Group.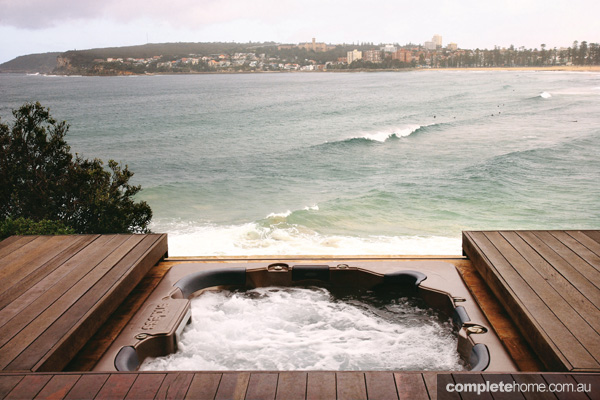 Image courtesy of Antscapes, www.antscapes.com.au. Photography by Peter Brennan.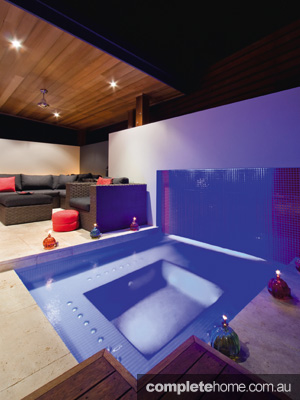 Image courtesy of Summit Pools, www.summitpools.com.au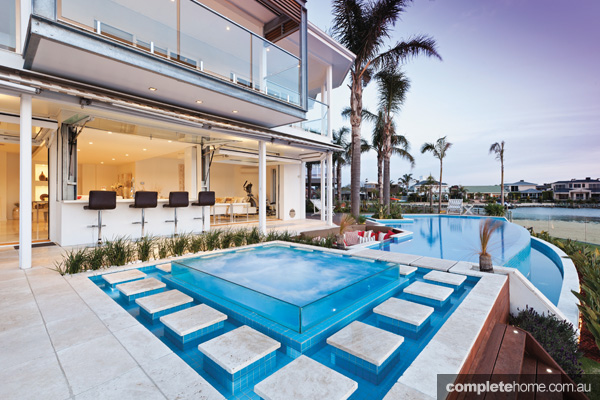 Image courtesy of Brighton Pools, www.brightonpools.com.au
Image courtesy of Endless Spas, www.endlessspa.com.au
What better way to relax in your outdoor area than in a spa or hot tub? Whether you're entertaining or just looking for a place of respite to relax after a hard day at work, these fabulous bodies of water can soothe away the stresses of daily life. In fact, today they can do so much more — with some designed for exercise, too. Thanks to their size, hot tubs and spas are ideal for those who have a petite space or those who want the benefits of water without the upkeep of a pool. As with all big purchases, it's important to do your research and make sure you're getting the right solution for your lifestyle needs.
Sensational spas
Picture yourself with a glass of wine sitting in a spa in the evening while spa jets massage away all the drama of the past week. Like the sound of that? A spa can bring you this all year round, thanks to the water temperature being adjustable. The hydrotherapy jets in spas are sure to have you feeling relaxed and refreshed. These jets, along with the bubbles caused by aeration, massage your body — and the more jets you have the better the massage and therapeutic benefits.
One way to get maximum use out of your spa is to house it under a structure or cover so you can use it no matter whether it's steaming hot or raining. You can opt to heat your pool with either electricity or gas, so there's flexibility for the spa heater to be compatible with your home's main power source. You can choose to buy a freestanding spa or have one built into the ground or other surface, such as a deck. Both have their advantages — aboveground options mean you can move them about as required while built-in models offer more options for design and integration into the landscape. And don't forget to think about fencing for safety.
To keep your spa in tip-top shape it will need to be sanitised and you can choose to use to use saltwater or chlorine. Some experts recommend saltwater over chlorine because it's efficient, effective, cheap to run and maintain, a natural healing agent and is great for those who have sensitive skin or suffer from allergies. On top of this, it has a more pleasant odour than chlorine.
Heavenly hot tubs
Some hot tubs have water jets while others don't, giving you the option of having somewhere to simply plunge and soak. Those without pumps have no heater, pump, jets, plumbing or filtration to worry about. In fact, if you have a sauna, this "plunge" style could be just the thing you need to cool down.
Other hot tubs can be heated and have jets, providing a similar bathing experience to a spa. It's what the hot tubs are made of where the big differences are.
According to Alex Ridwill, director and manager of Ukko Saunas, which makes its hot tubs from high-quality western cedar, the material is not only pleasant to look at and blends into outdoor settings well, but it keeps the water naturally cleaner, too. "A bonus is that you don't need to use chemicals to keep it clean — you can use all-natural products," he says. "Prices can be a little more expensive, but the parts are handmade."
You can choose to locate your hot tub any way you like. You can fully submerge it into decking, so it appears below-ground, leave it above the ground or have it semi-submerged — choose whichever best suits the look of your landscape and any lifestyle requirements you have.
Before buying a hot tub, Alex recommends checking the company's warranty. "Check whether the company stands behind its product and supports it," he explains. Also, hot tubs are available unassembled, so they're easier to get through doorways and into backyards than a spa or readymade pool, particularly if your access is limited.
Swim spas
Swim spas are ideal for those who want relaxation and fitness from their spa. The way a swim spa works is that water is taken from the pool and pumped through the jet streams, producing a concentrated flow of water that can be used to swim or walk in — you can set the pressure of the water to suit.
Swim spas are available in different sizes and can seat up to 10 people when used for relaxation rather than exercise. There are many models on the market with different designs. Some are better suited to swimming than others as they have larger swim areas, depths and better-quality swim jets, while others have more jets and can therefore provide a better massage.
Originally from Outdoor Design & Living Product Guide magazine, Volume 2