Landscape Techniques designed an outdoor pool and garden that seamlessly blend together and beautifully compliment the new modern home.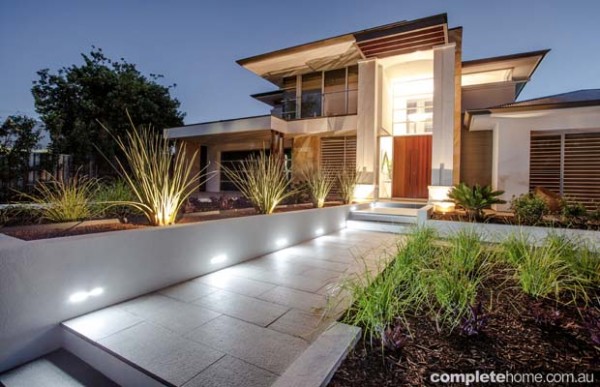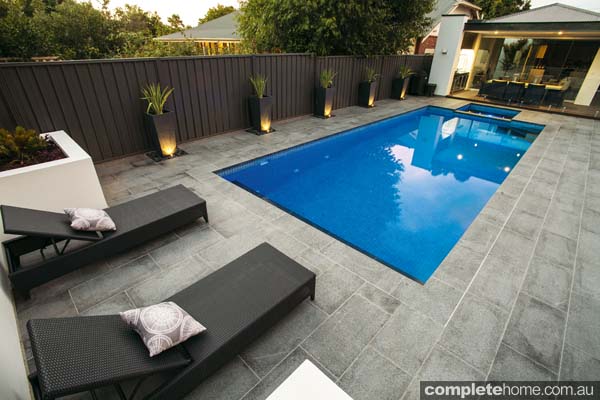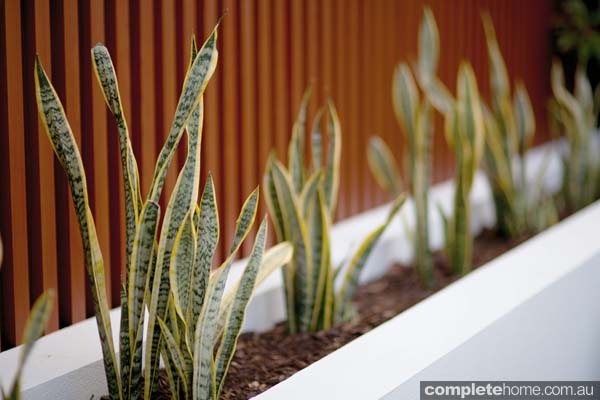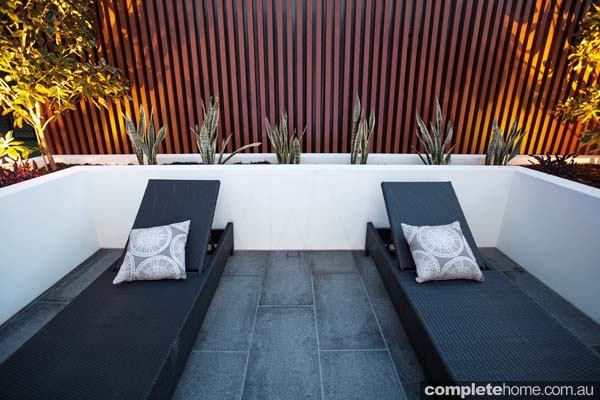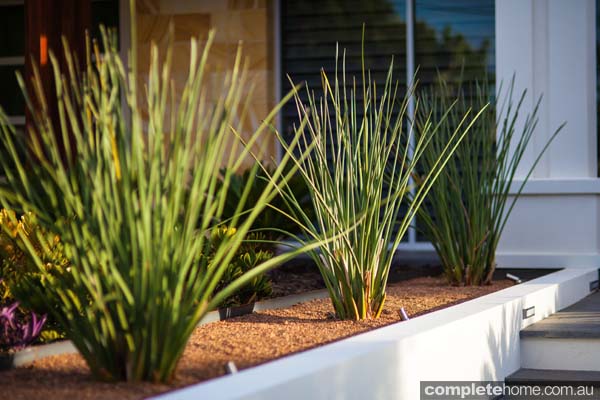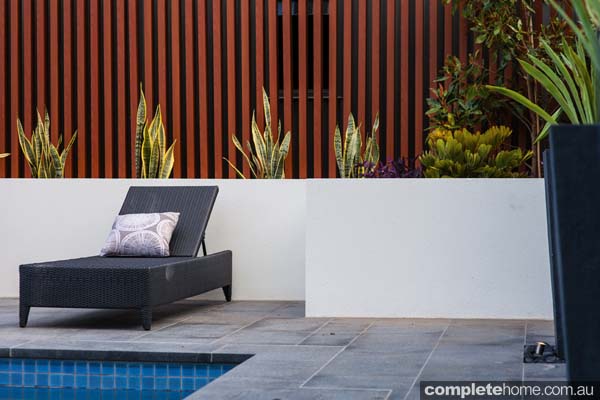 The owners of this newly built Adelaide home wanted a front garden design that would frame the house and accentuate its architectural features. In the rear garden, a poolside entertaining area of generous proportions was required, along with ample — yet discreet — outdoor storage.
Creating a seamless look, the space around the pool and spa is paved in grey granite to team with matching pool coping. At the end nearest the home, there is a timber deck for outdoor dining which is separated from the pool by a frameless glass fence.
"A raised garden bed and aluminium screen hide the shed, which was a necessity," says Josh Hooper of Landscape Techniques. "The virtually no-maintenance screen is powder-coated with a timber-like colouring to create a natural look. The front yard is separated into garden beds of different levels, with a main walkway linking the footpath to the front porch," he continues. "The grey granite pavers carry through to the front pathways, which are offset with white rendered retaining walls."
The hardscape is complemented with a variety of plants including dragon trees, bird of paradise, succulents and grasses, along with more traditional plants such as murraya, magnolia and ornamental pears for screening. With water being such a precious resource in South Australia, two 10,000-litre concrete tanks were installed underground. This water is used for irrigation, among other things.
"The owners wanted to enjoy their gardens day and night, so lighting was a large focus at the design stage," continues Josh. "The front walkway is lit to allow guests safe travel up the three sets of stairs to the porch. The dragon trees and bird of paradise are highlighted to give the front yard more depth and definition at night. The backyard lighting is used to frame the pool and raised garden bed. This combines with the light-blue lights within the pool to create a resort feel once the sun goes down."
The experienced team at Landscape Techniques saw the project through from design to completion and had to be timed to coincide with the building handover. By working in close cooperation with the builder, CK Built, Landscape Techniques was able to achieve this goal.
Project details
Landscape Techniques
2/20 Ellemsea Circuit, Lonsdale SA 5160
Mobile 0402 788 133
Email josh@landscapetechniques.com.au
Website  www.landscapetechniques.com.au
Photography by Mike Hemus
"Front to Back" from Outdoor Design & Living magazine 27