Whether you're undertaking a small paint project yourself or you're having the entire house painted by professionals, you will need to decide on the paint colour and finish to use. We ask the experts to tell us how to choose the right paint finish for your needs and what colours and finishes are currently fashionable.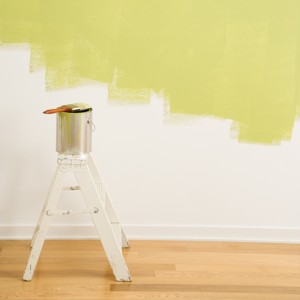 There are many different types of interior paint finishes, all of which essentially refer to the final paint's reaction to light. Different paint manufacturers sell paint in any combination of finishes, so choosing the right paint type is as important as choosing the right colour. 
Different types of paint serve different purposes; paint usage varies from protecting your walls from mould and mildew to creating a beautiful mood with colour and light. Different rooms also place different demands on painted surfaces, so rooms are going to require different finishes. Here are a few guidelines to follow when undertaking painting. 
Before you paint: 
Stripping old paint can be serious work and often yields marginal results. It can be very tedious to get paint out of all the nooks and crannies and, when the finish has been entirely stripped, the wood may not look the way you hoped it would. 
Chemical strippers are normally the least damaging to the surface and work best at removing paint from fine woodwork or irregular surfaces. It's also the safest way to remove paint that contains lead. When using chemical strippers, make sure you wear rubber gloves to protect your hands, eye protection, and for some chemicals, an organic vapour respirator with new cartridges, as well as good ventilation, which is imperative. 
Once you have stripped your surfaces, you will need to prepare. According to Bristol Paints, its "All Prep" is a water-based preparation product designed for interior and exterior surfaces to provide a sound bond for other water-based topcoats. It can also be used in high humidity areas such as bathrooms, laundries and kitchens. 
Colour:
The highly successful natural paint company, Resene, informs us that, "Successful colour schemes have one thing in common, and that's balance." 
Karen Warman from Resene elaborates, "When selecting shades, try to use no more than two or three principal colours, with touches of other accent colours to lift the scheme. When creating mood in a room, consider the following: pale and pastel blues are relaxing and will make a room appear larger. Yellows, oranges and reds encourage activity and brighten a room. Greens create a soothing, harmonious atmosphere; a popular choice for dining rooms. 
"Today's living rooms are often open spaces that link through to dining and kitchen areas. Knowing where to start and finish the colour scheme between each part of an open-plan space can be very difficult. 
There are two techniques that you can use:
• Paint a feature wall in an area between the two adjoining rooms/spaces to create a natural colour break.
• Use a progression of colours, then paint a unifying colour throughout the spaces and accent with the other colours. 
"Living rooms are the ideal place to create focal points or feature walls. Traditionally, fireplaces acted as the focal point of most living rooms. If you don't have a fireplace, select a focal point for your room and decorate around that. The focal point may be a feature wall, lounge suite or similar." 
According to the people at Taubmans, a major supplier of paints to both the public and professionals, the following is the prediction for winter fashion for walls: "Haute couture for the winter season has brought the heart-warming hues of ginger, russet and a hint of purple to the fore, which have been reinterpreted as paints for Autumn/Winter 2009 palettes." 
One of the most innovative paint companies in the world is our very own Porters Paints. Much of the company's success comes from unique paints that are based on beautiful, traditional European paint finishes and lime washes. Lynne Testoni, marketing manager for Porters, explains some of the latest paint innovations the company is currently producing. "We find that a dead flat finish is incredibly popular at the moment. A truly matte finish brings more intensity of colour, and that's a very strong trend at present. 
"Also highly demanded are natural paints. At Porters we are very proud of our commitment to the environment, and there are a number of Porters paints which fall into the zero Volatile Organic Compound (VOC) paint category, and many others in our range have VOC levels which fall below the Australian target level. Essentially, without getting too technical, the lower the VOC levels, the better." 
Quick colour tips from Resene:
• The same colour in different gloss levels will look different. A flat paint will make the colour look darker and murkier than a gloss paint, which will make it look cleaner and brighter.
• Sometimes it is better to pick slightly different variations of colours for different surfaces rather than exact colour matches.
• Play with colour to accentuate or hide room features. Pick warm and/or bold colours to make an area stand out, or a light or neutral colour to help something blend in.
• The more you have of a colour, the stronger it will seem. If in doubt, choose a slightly lighter option. 
Types of paint finishes:
Flat / Matte finish
Matte or flat finish paints dry with no sheen, that is, they don't reflect light, working well at hiding imperfections. Some paint specialists advertise washable matt paint, however a flat paint is generally hard to clean so it's advisable to keep leftover paint on hand for touch-ups. Matt paint is also a great choice for ceilings or walls in rooms that receive little traffic, such as a study. You can also achieve a great vintage look for walls or furniture with flat-finish paint. 
Eggshell finish
If you can imagine the low sheen of an egg, that is the effect your paint will produce for an eggshell finish. Similar to a matt finish, eggshell has a tiny glimmer of sheen when dry and it will wash better than flat-finish paints. Children's spaces can be finished with an eggshell or satin paint on the walls and a semi-gloss for doors and windows. 
Satin finish
Often referred to as velvet finish, satin paint has a smooth, velvety look with a bit more gloss. It is most often used for windows, doors, trim or ceilings, but can also be used as wall paint. It is also particularly suitable for children's rooms, kitchens and bathrooms, or in areas which get a lot of traffic. Paint with a satin finish is formulated to hold up to cleaning and light scrubbing. 
Semi-gloss finish
Semi-gloss paint dries with a significant shine without being too glossy. It is most often used on doors, windows, trims and bathroom and kitchen walls. It withstands water and frequent cleaning. Ensure, however, the surface is properly prepared prior to painting as its reflective nature highlights imperfections. 
High-gloss finish
High-gloss paints are highly reflective by nature; they bring out even the slightest imperfections, so surface preparation is essential if you don't want flaws to be obvious. High-gloss paints are used mostly on windows, doors and trims and are a good choice for painting furniture as they create a modern, durable finish. As a rule, the shinier the paint finish, the better it will stand up to washing and cleaning.