See how a tiny three-bedroom fibro cottage becomes a stunning timber-rich, Art Deco haven.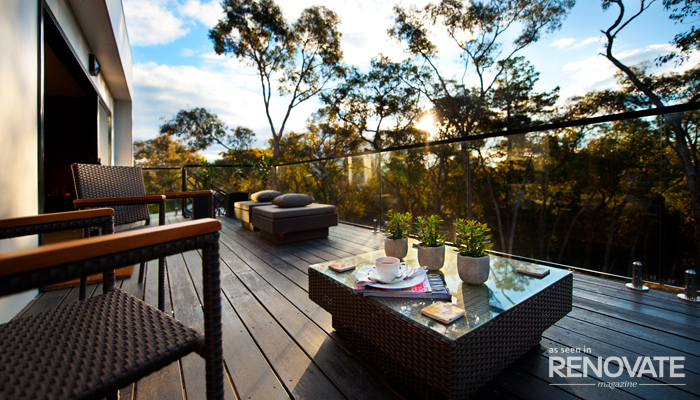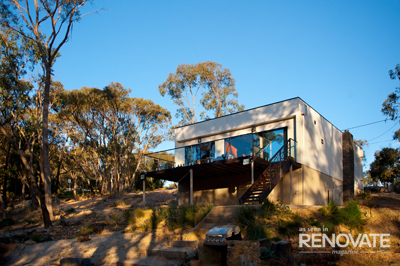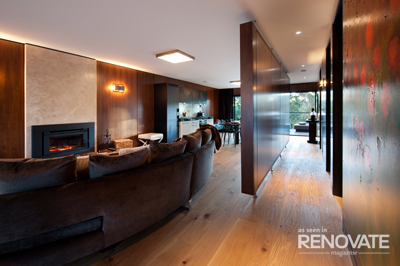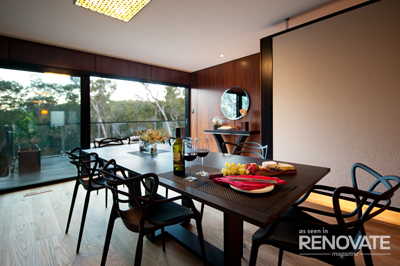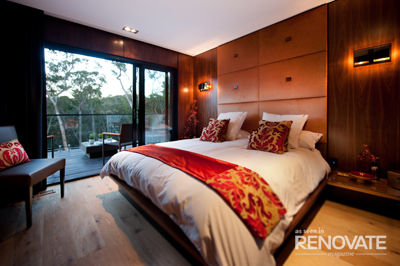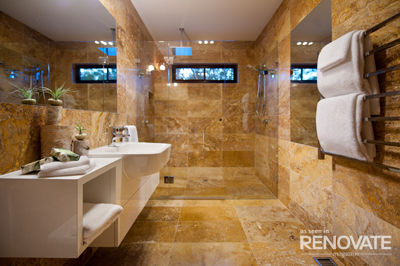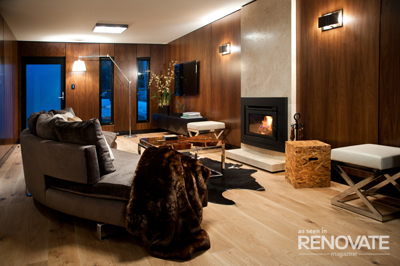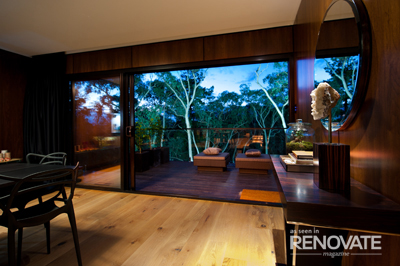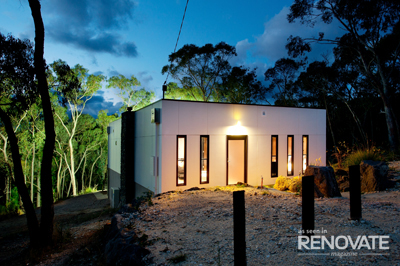 Before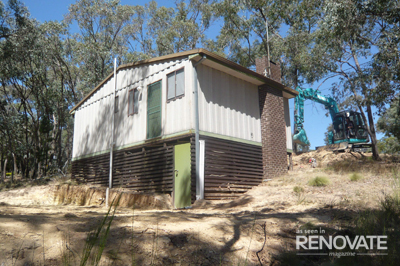 Anita and Colin Bainbridge embarked on an exploration of the Victorian countryside several years ago in search of a holiday home that could transition into a permanent residence down the track. It was a rare getaway from their business, Bainbridge Fine Furniture, where their work and passion is crafting bespoke Art Deco furniture and fitting out complete interiors, inspired by the techniques, materials and finishes of acclaimed French Art Deco designer, the late Emile-Jacques Ruhlmann.
The couple's wish list for their ideal spot included close proximity to Melbourne via an established highway, good walking, and the cosmopolitan lifestyle essentials of great food, coffee and shopping.
Noticing a For Sale sign that had fallen over outside an unassuming quintessential country shack in Hepburn Springs uncovered a true gem. The property had been built by the previous owner in the early '70s and the Bainbridges immediately recognised its structural soundness and iconic form. But rather than rush into renovating directly after purchasing, Colin and Anita spent many weekends visiting what was then a tiny three-bedroom fibro cottage in the company of friends.
"We made a point of doing something different in the area each time — a new walk, trying a different restaurant, checking out little townships nearby, and instead of TV it was board games and the radio around the fireplace," Anita recalls fondly.
With a clear floorplan in mind, the couple commissioned a local draftsperson, Wayne Quinn, to draw up their plans and to ensure compliancy with local building regulations associated with the region's natural spa waters and building for bushfire protection. Additional advice from architect Keith Collins helped refine the orientation of spaces to capitalise on tree-top views.
Buying a pre-existing residence rather than land for a new build proved a wise decision. Thankfully the house was already connected to a sewer, saving the need to install a private treatment system. There were also existing connections to electricity, natural gas and telephone — which can't always be assumed.
Local builder Jamie Rae was commissioned to strip the external cladding and interior, to enclose a former verandah and to add four metres to the rear. This increased the available floor space by 50 per cent, allowing reconfiguration of the bedrooms, centralisation of the main bathroom and the addition of a powder room, while still maintaining a compact footprint. Bathroom and bedroom amenities are to the right side of the home while to the left, an open-plan lounge, kitchen and dining space flows seamlessly from the front door through to rear decking.
Taking on the project from lock-up stage as "one large blank canvas" presented an opportunity for the creative pair to indulge in their many ideas and favourite materials. Bainbridge Fine Furniture is sought out as one of only three companies in the world recognised as having mastered the exacting standards of Ruhlmann's craftsmanship. Making the artisan's work so special is the fact that "it cannot be made for mass consumption on a factory floor — every piece has to be made individually and assembled, then taken apart for polishing and put back together perfectly," Anita explained. Materials used were the most expensive and often included metal work, glass, marble and curves.
"We felt the moderne-style interior was a fitting complement to the box-shaped exterior of the home, which has references to revered modernist architect, Le Corbusier, known for his cube-shaped house designs and their simple open- plan living spaces," said Colin.
Cement composite material, James Hardie Scyon™, was chosen as the exterior cladding given its heavy-duty performance yet light weight and easy application to the stud frame. Painted white, the Scyon™ is set against contrasting black shadowline detailing that functionally absorbs movement without the cracking that occurs in some exterior products. There was the additional agenda of forging visual linkage to the shadowlines surrounding the stained and polished American walnut-clad interior walls. "This is because joins are unavoidable — shadowlines are a way of creating definition or a particular pattern when you're working with panelled cladding materials," Colin said.
Finishes are of the highest quality, with every possible gap in the entire five-star energy-rated house caulked to reduce draughts, dust and to simply add finesse. All cabinet hinges, handles and sealing systems are German brand Hafele, there's edging detail inside cupboards and beautiful Italian Travertine lines both floor and full walls in the bathroom and powder room. Likening the interior to that of a jewellery box, Anita said, "There's the idea that you walk inside, close the front door and become immersed in another world."
Timber wardrobes, beds, kitchen, lounge and bathroom joinery have been custom designed, pre-made and finished off-site at the Bainbridge workshop in Melbourne. Much is wall hung, as if floating — designed to look like an elegant piece of furniture but with consideration to the practicality of cleaning.
The pyramid-shaped surface of the kitchen cabinet faces in two-pack black paint finish is one example of the way the Bainbridges explore opportunities to experiment with dimension, shape, texture and materials. "It's a unique design detail that pulls together traditional and modern, adding visual interest while still being timeless," said Anita. Another is the use of exotic hand-woven wallpapers from New York applied as a splashback behind toughened clear glass, the finish to a hallway screen and as feature walls in the individually styled bedrooms. Its use harks back to the oriental influence evident in Art Deco work. Each bedhead is made from upholstered fabric wall panels detailed with Art Deco-style walnut timber square inlays. Colin's penchant for crafting solid-timber doors of showstopper quality is evident here. Each door is fully sealed, completely airtight and soundproof — a product that's seen strong demand to improve acoustics and add character in apartments.
The furniture is at one with the Art Deco surrounds. The Tusk hallway table is a classic from the Bainbridge collection, while the dining table was designed specifically for the space and can cleverly fold to half-width size for space efficiency. Black dining chairs are indoor/outdoor Stark Master from Kartell and bring a lovely sculptural contrast to the timber without impeding views.
The fitout has involved 52 weekends of intensive labor, personally undertaken by Anita and Colin, the equivalent of a six-month commercial job from inception to handover. Other opportunities that have ensued from their vision to undertake such a unique fitout include the ability to showcase their work to clients, and to allow like-minded Art Deco aficionados to enjoy the experience as an exclusive holiday rental. Aptly dubbing the home Harmony at Hepburn, the Bainbridges say "it's a true haven — a place where we can unwind and de-stress and enjoy time out with family and friends".
This project was designed by…
Anita and Colin Bainbridge, in consultation with Architect Keith Collins 
Interior design by…
Bainbridge Fine Furniture
bainbridgefurniture.com.au
Project plans drawn by…
W.A.Q Drafting & Building Maintenance
(03) 5348 2992
This project was built by…
Builder: J.L & H.M Rae Pty Ltd
0408 386 093
License number: DB-U 32912
FLOORING
Throughout: American rough sawn oak with a wax finish
WALLS
All interior areas (except bathrooms) Polished American walnut-hung panels with shadowlines and black oak inset skirting boards
Feature walls Covered in panels of Weitzner wallpaper
Stair exterior Staircase laser-cut steel
Outdoor walls Scyon board by James Hardy
Room screen Supported on nickel legs with a black oak frame that holds Weitzner wallpaper panels from America
Fireplace wall-to-floor panel Limestone
KITCHEN
Benchtop Black granite
Splashback Weitzner wallpaper behind toughened glass
Cabinetry Custom-designed wall-hung units with raised pyramid door fronts. Timber is finished in two-pack black paint, with a separate section in Sycamore

APPLIANCES
Under-bench oven Blanco
Induction cooktop Westinghouse
Dishwasher Single-drawer integrated Fisher & Paykel
Fridge Fully integrated Liebherr
BATHROOM/POWDER ROOM FITTINGS
Cabinetry Wall-hung unit in White Diamond Abet Laminati
Basin Ideal Standard from Reece
Tiles/walls and floor Italian travertine
Walls powder room Black-stained oak side walls
Sanitary fixtures Wall-hung toilets with concealed cistern
Taps Ideal Standard from Reece
Shower Fully tiled wet room with a Rainhead showerhead and hand-held showerhead from Reece
Hinges Häfele
Towel rail To match from Reece
LIGHTING
Sconce wall lights and light boxes in coloured textured stainless steel
Hallway LED downlights
WINDOWS + EXTERNAL DOORS
Double-glazed toughened glass in aluminium frames made to order by Austral, as were the front and back sliding doors
OUTDOOR
Roof New roof was installed in corrugated iron
Paving Supplied by Ashstone Technology
Decking Merbau stained black
Cladding James Hardie Scyon™
Landscaping Large boulders, rocks and river pebbles from Central Highlands Garden Supplies
More than 200 tubes from Gold Fields Revegetation Management Supplies in Bendigo were planted by Bainbridge
Screening Metal balustrade by Morgana and Sons
Furniture By Bainbridge except the dining chairs, which are Philippe Starck Masters chairs
Accessories Cushions, throws and rugs were made by Anita's suppliers and paintings, ornaments and sculptures were acquired or made by Anita Bainbridge 
By Marg Hearn
Photography by Tim Loft
From Renovate magazine Vol. 8 No. 4