This kitchen was all about letting good design speak for itself and allowing nature to be the feature.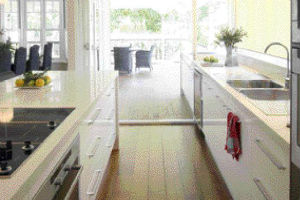 There's something about letting the outside in that gives an instant relaxation and chilledout vibe to any home. Lee Hardcastle from Enigma Interiors certainly fulfilled his client's request by ensuring there was a connection between the verandah beyond and the new kitchen. He designed a space that opens directly onto the side verandah, creating a flow of two spaces that inevitably become one large area for entertaining and relaxing.
The features aren't all about the location, though, with many hidden treasures within the clean lines and sophisticated style. A hidden pantry keeps all food items neatly tucked away while allowing quick and easy access at a moment's notice. A hanging feature canopy also gives a subtle detail that ties in nicely with the home's theme. With the ability to see the kitchen from various places in the home, including the upper level, it was important that the features meshed with all rooms.
Materials remain neutral, with texture variations such as high-gloss Ultra White doors mixed with dark walnut sections giving elements of contrast. All desired appliances were positioned at practical heights, with plenty of nearby space for cooking items. Soft-close drawers move easily and conveniently and the high-tech nature of the kitchen was completed with brushed aluminium kickboards and chrome handles.
This kitchen was all about working with the space that was given. By accommodating the large outdoor area, the main focus and direction of the design was innate. Working with the family's needs and wants was also essential to making it work and the clients are now able to cook, eat and simply enjoy a brandnew living space within their home. r&e
Project Particulars:
Designed by: Lee Hardcastle
Built by: Enigma Interiors
Tel: 07 3390 3244
Website: www.enigmainteriors.com.au
Doors: Createc Ultra White Gloss
Drawers: Grass soft-close
Handles: Kethy, Elite Mainz in satin chrome
Benchtop: 50mm CaesarStone in Quartz Ice Snow
Kickboards: Brushed aluminium
Feature tiles: Laminex Milano Walnut panels
Appliances: Miele Combi set — gas hob, ceramic grill, induction and underbench oven, Miele fully integrated dishwasher, Elica twin MW SS ceiling suspended, Oliveri Nu-Petite sink, Neff coffee machine and microwave
Cost: Approximately $26,550, for design, manufacture, installation, appliances, plumbing and electrical