By Natasha Saroca
Stylish and sustainable, this contemporary cottage proves that life is better when you go green.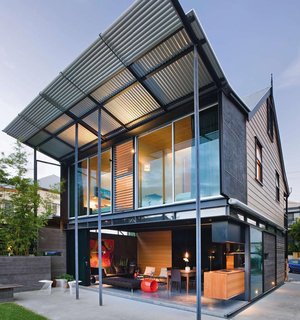 An award-winning architectural masterpiece that combines innovative, sustainable design with sleek sophistication, this innercity dwelling merely hints at the humble 1875 worker's cottage that once stood in its place.
With architect Brian Steendyk at the helm (and heart) of this project, the ambitious transformation was achieved with ease. The stylish abode now offers the very best in modern conveniences, comfort and style, as well as a healthier, eco-friendly lifestyle for the Steendyk family, who call the residence home.
Located in Brisbane's historic Spring Hill, this two-bedroom dwelling is a perfect example of how sustainable design can enhance the functionality and visual appeal of a home and do so without compromising the aesthetic of the surrounding area. At first glance, it's clear that the eye-catching façade of this Spring Hill home maintains the essence of the original colonial-style cottage, but with a contemporary twist.
Rather than demolishing the home and starting afresh, Steendyk opted to recycle the dwelling's original timber structure, raising it by half a storey to provide additional living space. This is just one of the intelligent solutions the designer has used to improve the home's carbon footprint.
In order to breathe life back into the house, a fresh, neutral colour scheme was selected for its façade and teamed with a striking corrugated-steel roof. Simple black balustrades along the balcony and retaining wall, as well as dark timber posts and cement feature panels, complement other character dwellings in the neighbourhood perfectly.
When taking your first step inside the home, you'll see it's equally impressive inside and out. Featuring deep timber reveals, rusted finishes, large openings for the light and air, the main entry beckons you inside and leads you past a generous-sized library to a spacious open-plan kitchen/ living/dining area.
Sophisticated yet simple in design, the kitchen certainly makes a bold statement. A long blackbutt timber bench, complete with roomy drawers and cabinets, takes centre stage in the space, offering plenty of room for people to complete common kitchen tasks with ease. Dark timber overhanging cabinets also provide ample storage space for kitchen necessities, while larger items such as pots and pans can be stowed in cleverly concealed drawers along the base of the bench.
Keeping with the clean, seamless look of the kitchen, finger-pulls have been incorporated into its design, as well as features such as slick stainless-steel appliances and an integrated dishwasher that blends effortlessly with the surrounding cabinetry. Along an adjacent wall, contrasting sections of light and dark-toned timber can also be found, drawing all areas of the room together to create a cohesive look.
Looking at this spectacular space, it's clear that the kitchen offers a winning combination of form and function, but how does it rate in the sustainability stakes?
With a number of eco-friendly elements, this living space has been carefully designed with sustainable principles in mind. Although they enhance the kitchen's modern look and provide an unobscured view of the leafy retreat outside, the sliding doors along the rear of the room serve a much greater purpose. Using thermal glass, which is equivalent to double-insulated glass, the doors allow natural light to illuminate the room and ensure it remains a comfortable temperature all year round, reducing the need for air-conditioning and heating. When the doors are open, the space merges with the calming vista, and fresh air and a welcoming ambience filter through. This makes it an ideal spot for entertaining, relaxed mealtimes or those moments when you simply want to sit back and enjoy the luxurious environment around you.
Another interesting feature Steendyk has incorporated into the design is a generous overhang that shields the rear of the home.
Combined with the northern aspect of the ground-level living space, the overhang protects the family area from the blistering summer sun while also allowing the sun's warm rays to provide much-needed warmth during winter months. The modern, industrial-style burnished concrete floor aids this purpose and conveniently stays cool during summer and stores warmth for passive heating in winter.
Photovoltaic cells have also been affixed to the roof of the home and, thanks to the brilliant Queensland sunshine, the solar panels generate ample electricity to power the house day in and day out. As a result, the building is carbon-neutral, giving the owners the peace of mind knowing they are doing their bit for the environment.
While the living areas are found on the lower ground, the upper level is home to two bedrooms as well as the main bathroom, an ensuite and attic space. Unlike the main living area, the top floor boasts stunning recycled blackbutt timber floorboards, another sign of Steendyk's commitment to making the home as sustainable as possible.
Creating a more comfortable and eco-friendly living environment, manually modulated louvre windows have been strategically placed in the central staircase, attic and other areas around the home. This provides cross-ventilation and allows fresh air to flow through the home while warm air is expelled during the summer months.
Large, spacious and with an airy ambience, the main bedroom is definitely a place anyone would be happy to call their own. Take a stroll through the generous walk-in robe and, through an ultra-chic leather curtain, you'll find an elegant ensuite that is stylish and serene. With a classic white colour scheme and minimalist fixtures, the ensuite is fresh and timeless in its appeal. Long, slim tiles adorn the ceiling and walls, making the already large room appear even more spacious, while Corian flooring in a darker neutral tone is an ideal match for the crisp, contemporary palette. A full-length shower screen and frosted glass wall also provide points of interest in the space, with natural light filtering through the opaque wall to illuminate the central staircase and cast a warm glow over the surrounding area.
Like the ensuite, the main bathroom boasts a sleek, minimalist style, but rather than a walk-in shower, a luxurious freestanding clawfoot tub with a shower rose overhead stands in its place. Both bathing areas also lead to their own balconies, which provide a pleasing view of the streetscape.
To ensure the bathrooms are as energy-efficient as possible, a solar hot-water system was installed to provide heated water all year round. A 14,000-litre water tank can also be found underneath the rear lawn distributing water to the cisterns as well as the washing machine and garden, providing another example of how this home is extremely efficient in its energy and water usage.
An inner-city retreat that offers loads of style, comfort, functional living spaces and a relaxed and welcoming vibe, this beautiful home clearly has a lot to offer. But, perhaps most importantly, the home's inspired eco-friendly design means the dwelling is gentle on the environment, leaving Brian and his family with peace of mind, knowing they can enjoy their luxurious abode and everything it has to offer, guilt-free.
Photography Christopher Frederick Jones
Project particulars:
Designed by:
Brian Steendyk
www.steendyk.com
Built by:
Steendyk Owner-builder
Size:
200sqm property; 163sqm floor area (includes attic)
Flooring:
Throughout: Recycled blackbutt timber floorboards and burnished concrete floor slab
Walls + Ceiling:
Ceiling at entry: Mirror smoke stainless steel from Laminex
Outdoor: Weatherboard retained from original structure, CSS Panther off-form coloured concrete, and Carter Holt Harve Ecoply cladding
Kitchen:
Benchtop: Blackbutt
Splashback: Glass window
Windows: GJames
Cabinetry: Blackbutt, black laminate from Laminex
Other: Miele combination microwave/oven, Miele induction hotplate, Abey tap and sink
Bathroom:
Flooring: Du Pont Corian bathroom surface
Taps: Caroma Liano tapware
Basins: Caroma Cube
Toilets: Fowler Newport Cubed
Lighting:
Natural lighting in combination with compact fluoro, T5 fluoro and LED lighting.
Windows + External Doors:
Existing front door from 1875, G James green Solect 6.38mm laminated thermal glass, Breezeway aluminium louvres
Outdoor:
Roofing: Corrugated steel, custom orb Zincalume from Bluescope Steel
Landscaping details: Bamboo planter bed, "dry" western garden using succulents and low-water-use plantings, and deciduous frangipanis for shading
Environmental:
Solar hot water: Solahart 302L opencircuit thermosiphon system
Renewable energy: 1.2kW grid-connect PV system comprising eco-Kinetics ERA ESPSA170 solar panels, Sunny Boy inverter
Water saving: 14,000L underground rainwater storage from Atlantis
Rainwater harvest: Davey RainBank Automatic Rainwater Harvesting