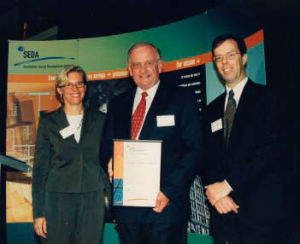 In conversation with Pratt Miniter Consulting founder Fred Miniter about his company's commitment to building sustainable homes
It was way back in 1967 when a young Fred Miniter, the founder of Pratt Miniter Consulting, first became interested in building homes that would be more suitable for Australian conditions. A man on a mission, he went to the CSIRO to find out what was essential and what was missing in the homes on offer in NSW.
 "The information I received from the CSIRO resulted in the re-emergence of the Australian colonial, with correct height and width of verandahs to allow winter sun into the home," explains Fred. "I didn't envisage at that stage that we would begin a trend in housing which is still very much in demand today." Sustainable living has always been integral to Pratt Miniter Consulting's home designs. Fred's knowledge and unique approach to building energy-efficient homes earned him the Sustainable Energy Development Authority Ambassadorship Award in 1999. "All our homes feature, as standard, a whole host of items that are readily available from building suppliers and which provide natural comfort because of their incorporation in each design," says Fred, whose initial research has given him a great understanding of home design trends and the hidden costs. "The standard homes being offered by major companies in 1967 and even in today's market are usually an exercise in providing space without a lot of thought regarding heating/ cooling and how to achieve this situation economically.
The lack of doors looks good and we see strong references to open-plan living, but this space costs a lot of money to heat and cool for comfort." After more than 40 years in the industry, Fred and his company are still designing and building homes that are created specifically to suit Australian conditions. The company has built homes for clients from Western Australia to Cairns, Tasmania to Victoria and all over NSW. "We have even been engaged to design homes overseas in England and South Africa simply because we understand the need to work with the elements. This includes winter winds and summer breezes, and the necessity to use correct materials in each situation."
The company continues to expand its research into usable technology to enhance each new home and also asks various manufacturers to substantiate claims regarding product performance. Fred Miniter has made a name for himself as a leader in sustainability and what he terms "comfort design", and the future for Pratt Miniter is no different.