All you need to know about growing your own capsicum and a tasty recipe to try at home.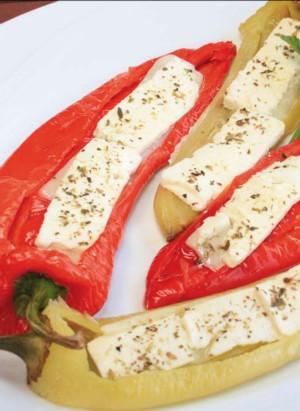 The capsicum:
Capsicum is among the most elaborate vegetables in the garden. Sweet varieties include Californian Wonder and Hungarian Sweet, while the hotter ones are Long Red Cayenne and Tabasco. Capsicum is native to the Americas, cultivated for thousands of years before reaching the rest of the world. The name "capsicum" comes from the Greek word kapto, meaning "bite", a fitting name for a plant that has some very spicy relatives, such as the chilli and the jalapeño.
If it's not a flavour you love, at least consider all the wonderful health benefits capsicum has to offer. It's great for your eyesight and has strong healing properties. It helps reduce cholesterol and therefore the risk of heart disease. It's also rich in vitamins A and C as well as beta carotene, which help to lower the risk of many other diseases including liver conditions. Capsicum is great for those who suffer constipation, too, and it helps slow down fat build-up in the intestine. You can even rub it on your sore muscles after a hard workout at the gym. For capsicums and other peppers to mature, they require 7–10 weeks of stable warm weather throughout the day and night. Capsicum and pepper seeds need more heat for germination than any other plant, so make sure they stay warm.
Growing tips
If you want to grow from seed, sow your capsicum seeds in seeding trays using a good-quality seed-raising mix.
Cover the seedling trays with a plastic bag to create a minihot- house environment. This will keep them warm and help to speed up germination.
Prepare the garden bed by adding organic matter such as manure to the soil and turning it over. Allow the soil to rest for a few weeks while the seeds are busy germinating.
Plant your capsicum seedlings into the garden 6–7 weeks after they germinate.
Allow the plants to grow bushy — they don't require any pruning.
Go easy on nitrogenous manures as too much can cause the plant to grow quickly and produce very little fruit.
Beware of hungry cabbage grubs, caterpillars, ants and tomato worms. Pick off any grubs you find by hand and spray with organic garlic oil if plants become infested with aphids, thrips or whitefly.
Scratch the soil surface every two weeks to break the crust, allowing better air and water circulation through the root zone.
Once you've grown your capsicums and they're ready for picking, here's a simple recipe anyone can make and everyone loves to eat.
Sweet, Cheesy Capsicums
Ingredients:
4 long red capsicums
4 long green capsicums
100g kefalograviera cheese (used in saganaki)
100g Greek feta cheese
Dried oregano, crushed
Salt
Olive oil
Method:
1. Place capsicums on a tray and lightly grill, making sure to rotate them a couple of times so they don't burn too much. Remove from grill and cover with a cloth towel for about 2–3 minutes to allow steam to build up and soften the capsicums.
2. Using a sharp knife, cut through and remove a quarter of the capsicum flesh lengthways to expose the seeds inside.
3. Clean out all the seeds and lightly salt the inside of the capsicums. Then replace the cutout piece and lay the capsicum in a baking tray.
4. Slice both cheese varieties into 3mm slices.
5. Lightly drizzle olive oil over each capsicum then lay both sliced cheese varieties across the top, with kefalograviera at the bottom and feta on top.
6. Place in a pre-heated oven and bake until the cheese begins to melt. Remove from the oven and place the capsicums in a serving tray, sprinkle some oregano over the top and lightly drizzle with olive oil. Serve hot with freshly baked village bread. Maresi!