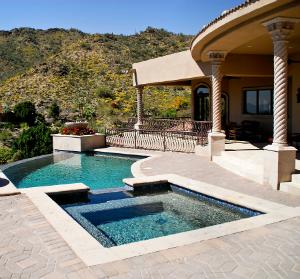 With its relaxed semi-tropical feel, this garden is a haven of tranquility
Photos: Marian Riabic
With its intriguing split-level design, multiple seating areas and invigorating splashes of tropical colour, this is a family garden with a difference.
Located in Sydney's north-western suburbs, the modern house was designed to encourage indoor-outdoor living, which is why the whole property has a wonderful feeling of openness about it — even the undercover alfresco areas. Enhancing this sense of space and interconnectivity was paramount when the time came to redesign the front and rear gardens.
Designed to be multi-functional, each outdoor space flows effortlessly into the next, giving a resort-like atmosphere. The look is 'relaxed tropical', which perfectly complements the architectural style of the house and provides the ideal setting to entertain or simply chill out.
The design is the creation of Andre Pawlik of SAE Landscaping who says of the owners: "They wanted something that would be modern but also fresh and different. For example, they didn't want to use pavers like everybody else does, but rather to make it warm, like something you'd see overseas in Thailand or Bali. The house is very modern and open, so the landscaping plan was to be open to match indoors — and it all flows."
The split-level design, which runs over both the front and rear garden areas, has no less than four seating areas including one in a front courtyard and one by the existing pool. The large space also has lawns and garden beds, which feature plants including canna lily, lily pilly and ornamental grasses — all chosen for their easy maintenance. Beautiful palm trees, which existed close to the pool, have been worked into the design.
Materials such as Blue Board, which disguises the retaining walls alongside the steps, have also added character while garden and deck lighting ensures the garden can be enjoyed well into the evening hours.
It is no easy task to create a garden that maximises the available space, caters for the needs of every family member and makes a design statement, but in this instance, the designer has managed to do just that.
"The best thing we have achieved is a relaxed and tranquil environment that looks a million dollars. It's like living at a resort," said Andre.