With enviable Sydney Harbour views, it seemed almost a crime not to take advantage of them, so a renovation was urgently called for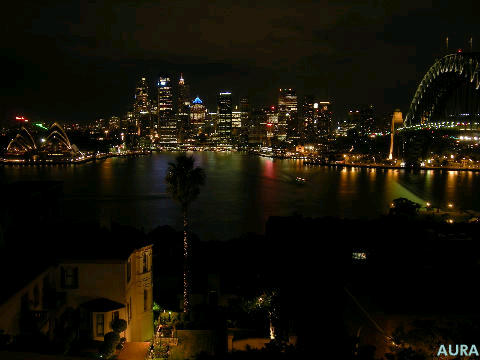 Situated on the stunning Sydney Harbour, it seemed a shame to waste the gorgeous view of these two apartments; originally small, drab and bare-boned apartments with pokey rooms and partitions squeezing the space into smaller spaces.
Ill-suited to its magical location, Archicentre architect Jason Blake said the apartments "gave off a strong project home odour". Cheap fittings, cove cornices and the beige carpet didn't help either. The bathroom, naturally, was of original 1971 vintage and the kitchen was a cheap relic from the 1980s.
The client (an executive with a family) wanted us to combine the two flats and create a large open, modern family apartment befitting the location and outlook with separate formal and informal spaces," Jason said.
Jason's brief was to use the new space to accommodate three bedrooms, two ensuites, a spa, gym, large kitchen, integrated audio/visual communications and smart lighting. Three words would define the entire project: brightness, modernity and warmth.
"The primary design consideration was that all public rooms must capitalise on the harbour view," says Jason. To overcome the challenge of losing the harbour view at night due to internal reflections, Jason used a non-reflective glass and large sliding doors between the living and sitting rooms.
Another challenge was transporting all materials via the lift and replacing the existing windows and doors four floors up. "We did not wish to disturb the occupants of the other apartments, meaning that a labourer was always on site cleaning the lifts and shared lobby at the ground floor daily, demolition was limited to 'gentlemens' hours', and much of the original plumbing waste pipes were re-used."
An art consultant was also called in to hang some contemporary work complementing the architecture, to make it feel like home upon completion.
Apart from a few ideas didn't make the cut (printed graphic glass to the toilet partitions), the project stayed true to the original proposal. Jason would have liked to have incorporated the lobby into the design (interestingly, it's common property), but is generally thrilled with the outcome.
"The new apartment ticks all my boxes," says Jason. "Contemporary, visually warm and exciting, flexible, spacious and plenty of storage. It also has plenty of green points: good cross ventilation, low E high insulating glass, high spec seals to windows and doors, heavy curtains to bedroom glazing, low VOC paints, dimmable lighting and LEDs."
Asked to pick one highlight, he can't, but names several: "The dramatic living room wall panel with multiple depths, storage and lighting. And being adjacent to the deck and that view. Love the kitchen too … huge, slick and warm, and again … that view. That view."
Photography by Rowan Turner Photography 
Project particulars:
Designed by: Jason Blake Architecture.
Studio 311 Flourmill Studios, 3 Gladstone Street, Newtown NSW 2042
02 9519 9811
0422 960 387
jbarch@jbarch.com.au
Built by: Anthony Kazzi of Aura Constructions P/L
Project Manager: Mousa Nader
Flooring:
Godfrey Hirst carpet to bedrooms, living, breakfast room, study, sitting room, halls and entry lobby
Tiles to bathroom floors and walls, ensuite floors and walls, gym spa and kitchen
Tiles: Supplied by Tile Tecnics, Surry Hills (www.tiletecnics.com.au)
Deck: Tallowood or turpentine
Walls:
Living/Dining: Ultra Premium Acrylic in Purest White and Cumberland
Airconditioning: By Osmond Air
Kitchen:
Cabinetry: New Age Veneer, Laminex Charcoal
Benchtops: 20mm Stone Italiana
Splashback: Winnings stainless steel
Oven/induction cooktop/plate warmer/microwave/dishwasher: Miele
Coffee machine: NEFF
Rangehood: Qasair
Fridge: LG
Sanitary Fixtures + Bathroom Fittings:
Taps: Supplied by Rogerseller, Surry Hills
Vanity: New Age Veneer benchtop
Lighting: Design by Jason Blake and Shaun Dudley of Filament
Windows and External Doors:
Dulux powdercoated
Sliding Pilkington Optiview Glazing glass for sliding doors
Glass to other windows – Pilkington Comfortplus neutral
Smart home: Designed by Smart Home Solutions (audio, visual, lighting installation)
Curtains and window coverings: By Peeping Tom Curtains, Dee Why
Joinery: By Oceanic Kitchens, Forster