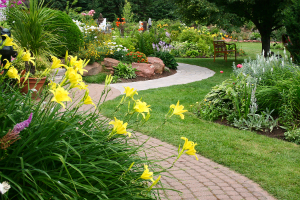 Blending natural materials for stylish surrounds and shade solutions
For all of us, our backyard is our place for relaxing with privacy but also, hopefully, in a peaceful, pleasing context, free from irritating unsightly aspects.
We no longer speak so much of "backyards" but rather of our "outdoor setting", reflecting our desire these days to have a relaxing space to retreat to outdoors, alone or with family or friends.
Upgrading our outdoor space can be a modest or a major project. It will always involve our need for privacy, for unsightly areas to be screened, for shade and shelter and for integration of design throughout the setting.
Natural quality materials can often be used to provide all these without massive costs. Natureed®, for example, House of Bamboo's reliable cladding material, is ideal to clad an unsightly fence, to create a privacy screen for a deck or garden, or to screen out a carport or facility area, as well as to bring shade to either existing pergolas or to areas needing shade. Whether you have a small context like a side patio or balcony, or a full garden, think about how these materials could work for you.
House of Bamboo's natural materials are ideal to bring simultaneously privacy, shade and an integrated natural texture to garden or pool surrounds. If there are walls or fences of different materials or of inappropriate appearance, a cladding material can be used to bring cohesion to the setting along with privacy. Screens can be used to hide clothes lines, sheds, pool filters, air-conditioning units or carports. Fortunately, these reasonably priced quality materials can be installed in creative ways to professionally complement varied landscaping styles.
Natureed®, House of Bamboo's renowned and exclusive hardy product, works beautifully as a durable, termite-resistant reed material for imaginative, although usually simple, applications. House of Bamboo's comprehensive range of Bamboo Surrounds® (including bamboo flooring) and innovative structures can be used creatively for outdoor (and indoor) projects, whether you have a small balcony or patio space or a full garden or pool setting.
For ideas on improving your outdoor area for screening, privacy, texture, shade and more, contact House of Bamboo or visit their website.
HOUSE OF BAMBOO
13 Erith Street, Botany NSW 2019
Tel: (02) 9666 5703 or 1300 665 703
Email: info@houseofbamboo.com.au
Website: www.houseofbamboo.com.au